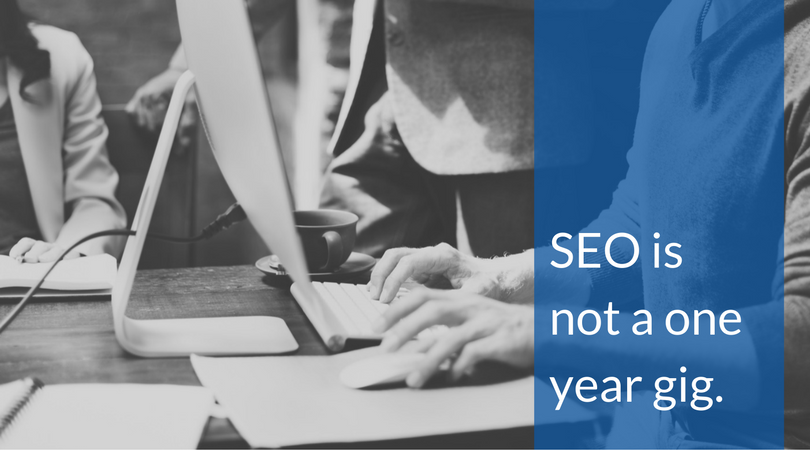 SEO is akin to a Hegelian dialectic; change is helical, and "what is sublated (aufhebung) on the one hand ceases to be and is put to an end, but on the other hand it is preserved and maintained". Okay! Now that I have your rapt and deserved attention, let's use this model to answer a perennial and important question: what does year two SEO look like?
Clients are usually delighted with a new holepunch and all of the progress SEO is going to make in year one. There are all the new ideas, new implementation, new results, and slowly, over many changes, year one rolls into year two. That is a point – and especially for years three, four, five, beyond – where a lot of agencies falter. The client may be extraordinary pleased with the gains they're seeing and want to sign up for a new contract, but then are handed a list of ideas…that are basically the same as year one. "Wait," you might think. "I'm paying you to do this again? I mean, it got results, but aren't we done now? Isn't there anything new to try?"
Yes and no. There are SEO tactics you have to repeat over and over again, and for very good reason. Some may be monthly (reviewing traffic gains), some quarterly (revisiting keywords), and others can be safely repeated only yearly (like a backlink audit, assuming Penguin hasn't caused you upheaval and you haven't been playing with link buying fire). On a year-by-year basis your SEO agency absolutely needs to be reviewing and repeating certain tactics.
But that can't be the only thing they're doing. That will build a strong foundation, sure, but will it give you a lasting competitive advantage? SEO changes and yet is preserved and yet is maintained. There are three crucial stages to an SEO program that play out over time, and some can only be done after a year or two of the program – because that's when your website is robust enough for some really top-of-the-line cutting-edge marketing efforts. Our Hegelian dialectic is to audit, optimize, and boost – and then to do it all again.
Stage One SEO: Auditing Performance
First we must identify all of the out-right errors to immediately fix. A house has to be in good repair before it can be built on, and so in this year one stage we are asking: "What are your immediate goals? Where are our areas for improvement, prioritized by importance and availability of correction?"
Year One Audits will likely include:
A

Technical Site Audit

: Reviewing errors and identifying solutions for the site's meta content, like title tags, meta descriptions, headers, and image optimization.

A

Reporting Audit

: Reviewing the health, performance, crucial updates, and reporting opportunities for accounts like Google Tag Manager, Google Search Console, Bing Webmasters, Google Analytics, and other analytic accounts.

A

Site Architecture Audit

: Reviewing the URL optimization, internal links, and link architecture for easy-to-use navigation, SEO performance, and smart crawl budget.

A

Server Audit

: Reviewing crawler errors, sitemap creation and budget, and redirect chains.

A

Speed Audit

: Reviewing the mobile and desktop performance and what programming changes are needed to boost speed on all devices.

A

Content Audit

: Reviewing the on-page text for SEO, Branding, and User Experience touchpoints.

A

Backlink Audit

: Reviewing where potentially dangerous links are for removal, where good links are to maintain and monitor, and where new inbound links could be created.

An

Accessibility Audit

: Reviewing the website for accessibility errors, ensuring that your website is equally available to

all

users and

meets ADA requirements

(boosting SEO and saving you from a potential costly lawsuits in the process).
As you might guess, this is an enormous and time-consuming task; for a very large website, it wouldn't be extremely unusual for year one to include only conducting audits and correcting the errors identified. This stage is necessary before any more advanced steps are taken, because:
Otherwise you're wasting money. (Why pay more for PPC ads when you could get a well-ranking site that organic traffic for free, or billing hours of website updates when a total site refresh would be better and cheaper in the long run?)

Otherwise you're wasting time. (Optimizing the site piece by piece is, while great, not going to make the immediate and large difference fixing these identified problems would be.)

Otherwise you're wasting knowledge. (These steps include implementing and totally understanding the health and behavior of your website, without which you'll have no clear idea of what should be done next and what progress you've made.)
Year Two (and On) Audits can skip some of these steps, as they'll already be taken care of or being monitored monthly (like reporting and server errors). We do need to repeat others, as maintaining the health of your site is vital: changes in keyword focus could mean an update of your title tags, for instance, and new technology could mean that your old page speed scores are no longer adequate. (For a perfect example, compare the push to responsive design to the new push to AMP.) However, as your site is already properly maintained and optimized, we can add some new and exciting opportunities:
A

Technical Site Audit

A

Speed Audit

A

Content Audit

A

Backlink Audit

A

Usability Audit:

Reviewing how users actually behave on the website – and whether small but key changes could boost education, returning customers, time on site, conversion rates, and other key metrics.

An

Audience Conversion Audit:

Reviewing the audience demographic behavior and determining if your targeted market is the same as your actual market; creating strategic decisions based on the age, gender, geographic region, preferred device, other interests, and key demographic information of your audience.

A

Traffic Audit

: Reviewing the balance and opportunities for improvement amongst various channels, like paid traffic, Local SEO, email marketing, social traffic, organic performance, and more.
These stages in year one and beyond answer the immediate needs and immediate goals of your business. As every year we review, redo, and push forward, we can also think about your specific KPI's.
Stage Two SEO: Optimizing Performance
The second thing an SEO agency does is review, based on the conclusions identified in our audits, what is going to make the biggest and most important difference to you obtaining your KPI's. We are measuring our results to identify the next step and opportunities so that you can dominate your niche. Focus here is on, "What specific KPI's are we reaching for? What does a successful ROI look like for you? What are your five-year goals?"
Year One Optimization:
Meta Tag Optimization

: Review and creation of on-page optimization for higher keyword ranking and CTR.

Content Optimization

: Review and creation of on-page content and blog articles to improve brand loyalty, traffic, and buyer interest.

Image Optimization

: Review and creation of both the best images for branding and the best alt text for accessibility.

URL Optimization

: Review and creation of clean, simple, and clear URL's to improve the link architecture and clicks-to-conversions steps for your customers.

Schema Markup

: Review and creation of code to help search engines better understand and return important information about your website. (Identified by Google as one of the

top #3 most important SEO tactics for 2017

, by the way.)
Year Two (And On) Optimization will include all of these tactics, as pages are constantly being added and changes made on the website, and as these are fundamental building blocks to any SEO program. Once we are reviewing and adding rather than creating from whole cloth, however, we can also think about:
Advanced Reporting:

Review and creation of custom reports that dig in deeper than YOY organic traffic boosts, like, who is your most-read blog author? What are your top ten performing products of which you also have overflow stock of? How do social visits compare to directory profiles? How does shifting around the ultimate ownership of goal success in each step of the conversion path inform our budgeting ideas?

Content Marketing:

Review and creation of unique content that goes beyond the evergreen and dives into guest articles, infographics, video, ebooks, whitepapers, and other materials that best fit your business.

Unique SERP Results:

Reviewing keyword results and identifying where we can exist

outside of the traditional ten blue links

, like a knowledge graph result. Getting this "rank zero", above paid and local and all other organic listings, is an incredible way to (freely!) boost your search presence.
These optimization models push us to greater and greater success each year, meeting and creating new KPI's. There's one more stage in our mock of thesis-antithesis-synthesis: performance boosting, dedicated to meeting your long-term and very highest goals.
Stage Three SEO: Boosting Performance
Year One SEO absolutely requires auditing and should have room for some optimization. Year Two SEO repeats some auditing and pushes heavily on new optimization. Now we have the space to ask, "What are your long-term and highest goals? Where do you want to be in ten years?" This level of performance boosting is perfect for year three and beyond (though will be started as soon as possible by your agency). That's because it requires a strong and powerful SEO campaign to start with, a solid marketing foundation on which to experiment with data and push results. It's one reason why, assuming you have a good relationship with your agency, you'll do so much better sticking with them: you're in danger of losing progress and returning to year one steps with any new person handling your account.
When working with an agency who's handled your success for years and knows you well, your seasonality and company and particular needs, you're in a powerful place to boost performance every year again and again and again.
Year One Boosting:
Keyword Research:

Reviewing keyword adjustments to boost ranking and CTR for specific pages and long-tail purchase paths.

Traffic Origin:

Reviewing the balance of a full portfolio of traffic (like direct and referral) while boosting organic's total.

Micro-Moments:

Reviewing

how can you be there for your customers

when they most need an answer or address or purchase, in those little slices of life we don't otherwise think of in a traditional marketing model.

Competitor Research:

Reviewing what your competitors are and aren't doing, and how we can capitalize on their strategies to meet your brand differential.
Year Two (And On) Boosting:
Semantic Keyword Research:

Reviewing how keywords relate to each other semantically to better reach complex search terms and serve your site well in a post-RankBrain world.

Device Performance:

Review what low performing but vital pages aren't doing well by mobile/tablet/desktop and how can we improve that performance. Would certain content pages do better on AMP, for example?

Visitor Performance:

Reviewing the ratio of new versus returning customers, and better capturing a new market plus gaining returning customers with selective marketing like remarketing or email blasts.

Market Demographic:

Reviewing how audience demo matches up with low performing but vital pages and turning up their performance by tuning into your customers.

Engagement Performance:

Reviewing what low performing but vital pages have a high bounce rate (and shouldn't) and low time-on-site (and shouldn't) and adjust the site to better meet your customer's needs.
These steps are based on low performing but important pages, as raising up those will do the most immediate benefit – but by this stage we're also ready to maintain high-performing pages and care for low-performing but not vital pages. The truth is in year one, you and your agency have to prioritize: and that means, sensibly, paying more attention to your home page than a thank you page. But that thank you page could be the key difference between repeat and one-sell customers. When will you have the time to address it?
That's why year two needs to repeat and adapt on year one. As a dialectic, SEOs redo every important tactic again and again, making sure no new errors have slipped through, that nothing needs to be tweaked for better performance. That's a vital first step. But we can do more than that, and year two – and beyond – offer the amazing opportunity to truly take your website to the next level. See, wasn't that worth reading about the sublation of seemingly contradictory or opposing factors? You could say it was even ideal.