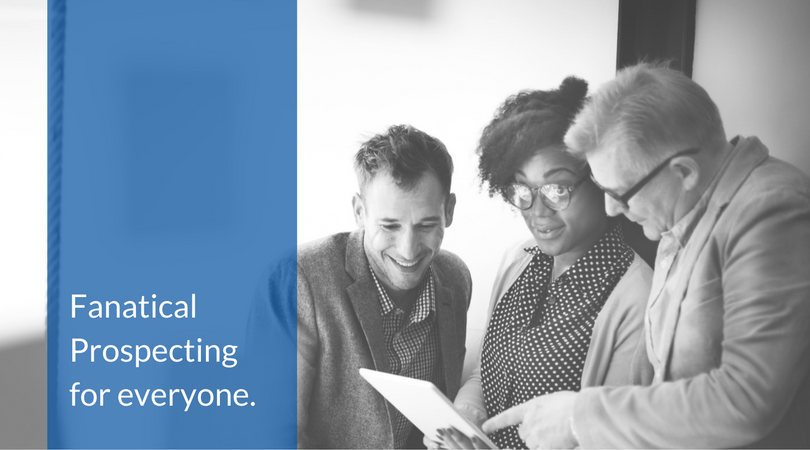 Prospecting is key for any new business team to be effective at keeping the pipeline busy and ready for new opportunities. Jeb Blount's book "Fanatical Prospecting" gives us some important takeaways that don't just apply to new business representatives, but anyone who is trying to keep up with a busy professional career.
What is it?
So what exactly is fanatical prospecting?  When picking up Blount's book, I thought there would be some "tell-all" secret on how to get a potential client to become instantly interested in doing business with me. Unfortunately, in this competitive and ever-changing world, that is not the case. There are a number of variables that contribute to fanatical prospecting – here are a few to take note of.
These Characteristics for Success
If you are an individual that is optimistic, competitive, relentless and adaptive, these characteristics are all  you need to get above the curve. When you possess these qualities you find success by relentlessly filling the pipeline through a mixture of telephone, in-person, e-mail, social selling, text messaging, referrals, networking, inbound leads, trade shows, and cold calling.
Break Up Your Day
Whether you are on a new business development team or working with a specific product, segmenting your work day into time blocks for important tasks is crucial for work productivity. Top performers organize their day into distinct time blocks dedicated to specific activities, concentrating their focus and eliminating distractions within those blocks.
This is something that Go Local Interactive is already very familiar with.  We use "Power Hours" to really focus on tasks that are high priority for the day instead of responding to emails or setting meetings . As we only schedule one "Power Hour" block for the whole agency, it could be beneficial from a prospecting standpoint to schedule these  blocks into three "Power Hours" that are spread across the day—morning, mid-day, and afternoon.
Be Persistent
Another insight that I pulled from the book is how involved and committed one must be to engage and pursue potential customers. On average it takes:
1-3 touches to re-engage an inactive customer
1-5 touches to engage a prospect who is in the buying window and is familiar with you and your brand
3-10 touches to engage a prospect who has a high degree of familiarity with you or your brand, but is not in the buying window
5-12 touches to engage a warm inbound lead
5-20 touches to engage a prospect who has some familiarity with you and your brand—dependent on if they are in the buying window
20-50 touches to engage a cold prospect who does not know you or your brand
*a touch is considered a phone call, email or other attempt to contact
Overall, my biggest takeaways from "Fanatical Prospecting" was that prospects want to meet with you for their reasons, not yours. There must be a mutual value in giving each other time for a meeting. The message must represent a sincere interest in listening to them, learning about them and solving their unique problems. Truly effective New Business representatives understand that it is all about asking the prospect the right questions and demonstrating that you can help them and be their problem solver.
For our industry, fanatical prospecting can happen anywhere, at any time. Every single business can benefit from digital marketing, it just takes an optimistic mind, relentless to help solve a business' problem.
---