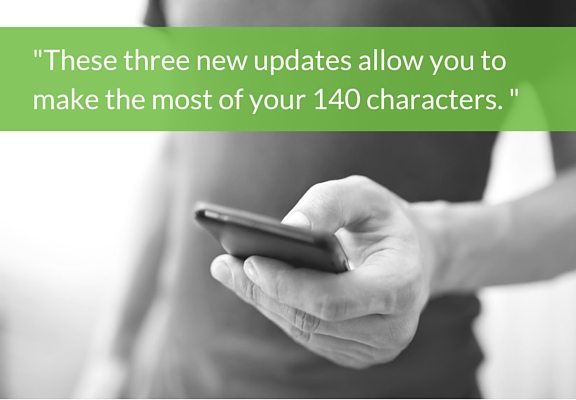 Since the beginning of Twitter, the 140 character limit for the Tweet has continued to evolve and change to suit its users. The original intention of this limit was to create a platform that matched the limit length on a single SMS text message. Currently, users are allowed to attach photos, include links, and create polls. However, these features still contribute to the character limit. Unfortunately, this can prohibit the user from creating a clear and eye catching message.
Thankfully, for the social media savvy, Twitter has adapted once again and saved users from character limit induced stress! According to Twitter's very own blog, in the coming months Twitter will make changes to simplify Tweets including what counts toward your 140 characters. In other terms, this means more bang for your buck.
Here's what to expect:
Replies: When you or someone replies to a Tweet, the @name will no longer count toward the character count. Now you are free to reply and keep all 140 characters.
Media Attachments: All media attachments like photos, GIFS, videos, polls, or Quote Tweets will no longer count towards your character limit. So keep sharing those cat videos and baby pictures – you're in the clear.
Retweet and Quote Tweet Yourself: Twitter is planning to enable the Retweet button on your own Tweets. Now, you can Retweet or Quote Tweet yourself when you think a really good one slipped through the cracks. This is the one we are all most excited about, right?
What does this mean for you?
[Tweet "These three new updates allow you to make the most of your 140 characters."] You now have the freedom to share your photos and replies, without feeling like you are going to see the red negative number in the lower left hand corner of your screen. So, keep sharing those photos and adding your links. Twitter is on your side now.
Twitter's announcement finished with this brief recap:
"We're exploring ways to make existing uses easier and enable new ones, all without compromising the unique brevity and speed that make Twitter the best place for live commentary, connections, and conversations."
Scared Off by the Social Realm?
Keep up to date with the social media section of our blog. Go Local Interactive keeps you up to date on the latest social media platform trends, updates and changes. If it's your company accounts that need a face lift, check out how our social advertising product could turn things around.
---