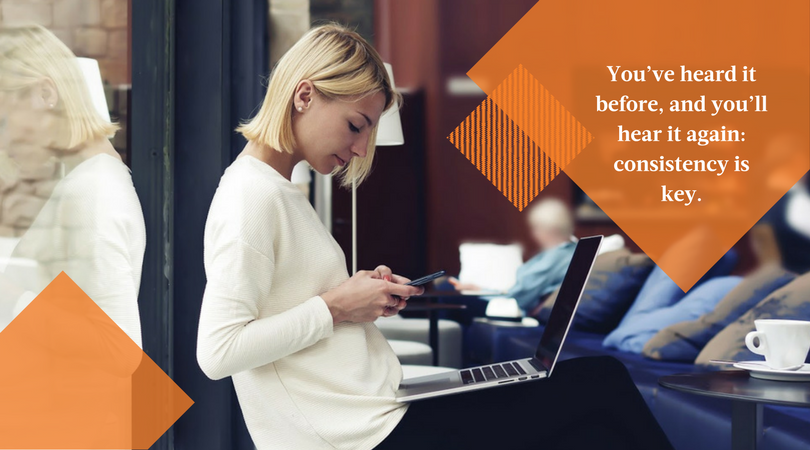 You've heard it before, and you'll hear it again: consistency is key. This goes for each aspect of your company, especially your brand. Though many believe that branding is simply a logo and color scheme, it encompasses more than just the visual elements. Your brand reaches far into every facet of your company.  A great brand provides your company with a solid foundation that serves as a guide for the work you produce.
So how does your brand impact your social media presence?
In essence, social media provides context to your brand. Through the use of consistent graphics, content messaging, and more, you are able to bring life to your company's values and mission. And what is the key to success? You've got it – consistency. When utilized correctly, your branding can positively impact your social media accounts, and here's how:
You are Easily Recognizable in a Saturated News Feed
Your potential customer is served a buffet of social media content every day – messages, info, and images galore. Digital Media experts estimate that most Americans are exposed to around 4,000 to 10,000 advertisements each day (Red Crow Marketing). So how are you working to make sure your company stands out? The companies that stand out are those that are easily recognizable across all platforms.
Another important note is the common misconception that brands should speak to their audience differently on their website than on social media. Of course, each platform serves a different purpose, however, consistent branding across all media is crucial. Think of your brand as if it were a person. Naturally, you'd act differently in a job interview than you would talking to a friend, but you're still you. You have the same values, dispositions, and goals; and while your demeanor may change, these essential personality traits remain constant. Similarly, your brand should remain consistent, regardless of the type of content or platform you're on.
Consistency prevents confusion. Every customer will find you differently, so make sure, no matter how they reach you, that they'll recognize your brand each step of the way. Consistency creates a sense of trust, loyalty, and authenticity within the audience, which brings us to our next positive impact.
Creates Customer Value and Loyalty to Brand
As a brand, one of your main goals should be to create a relationship with your audience, including current and potential customers. This audience wants to make sure they can trust and rely on your brand.  When a customer has a great relationship with and trusts a company, it can be for a variety of reasons —  a great product, service, loyalty program, or overall respect for the company. Whatever the case, this relationship should materialize and be nurtured on your social media.
It's important to question whether your social media aligns with your brand. For instance, if customer service is at the core of your values, this should shine through in everything you do, especially in social media. You can incorporate this into your social media program by responding to customer questions quickly, addressing customer reviews – whether they leave a positive or negative review – and engaging your audience by giving them reasons to come back to your page (i.e. contests, customer spotlights, relevant content, etc..) It is essentially all about using social media as an outlet to create and foster solid relationships between your company and your market.

Making a Better Investment
These days, investing in social media isn't an option – it's a necessity. To succeed, a solid social media strategy needs to be in place. If you are placing a large amount of effort and money into your social media strategy, why wouldn't you invest in your brand? These two programs go hand-in-hand. Your marketing program investment dollars will go much farther by establishing a consistent voice, tone, and look across the board.
In short, if you're investing both your time and money into social media, then it's crucial to establish a solid brand as a foundation. Without determining your brand's personality, your social media content falls short based on a wavering messaging strategy and inconsistent imagery. Sure, it might initially cost you more to strategize and develop a strong brand, but this is an investment that will have lasting benefits in all areas of your company. Actually, investing in a solid brand could save you time and money in the long-run, across all aspects of your business. A consistent brand will create a more efficient process of how your company runs – and who doesn't love efficiency?
Putting It All Together
Your social media platforms should be in place to showcase your company, create relationships, and ultimately make the sell. The best way to achieve that is through a consistent brand as the foundation of your marketing practices. Your brand has a hand in every part of your company, especially in producing a great social media presence.
Take a look at your company's brand. If you feel that your company's brand is not quite streamlined, we can help. With a unique strategy from Go Local Interactive, you can establish a cohesive and consistent brand and a successful social media strategy. Contact us today to get started.