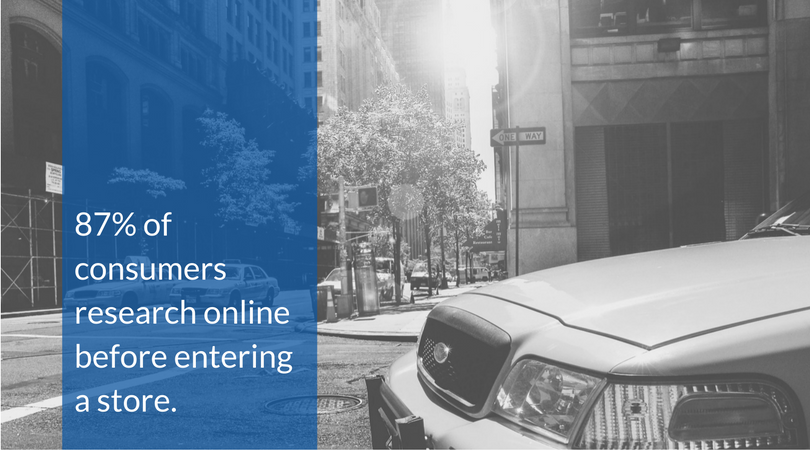 "1 in 3 smartphone users have purchased from a company or brand other than the one they intended because of the information provided in the moment they needed it." This powerful statistic from Google's Micro-Moment guidelines impresses on us three vital needs for any company:
To be there for your customer when they're searching for you
To be there for your customer when they're searching for what you sell – but haven't decided on a brand
To be there for your customer when they're searching for your competitor – and you can be there to win their sale instead
These directives are accomplished with a strong Local SEO program: claiming, verifying, and optimizing your location results on any search, like Google Maps, Apple Maps, or review sites like Yelp. You'll notice immediately that this Local SEO work is all off-site. Because of this focus, many companies' on-page local information gets neglected – and that's very unfortunate.
Without on-page location information your website risks losing Local SEO performance, Organic SEO presence, and a lot of new customers. Keep in mind: 87% of people turn to search first in a time of need, and 96% are using a smartphone to do so. That's an enormous customer base you could be missing out on right now.
Fortunately, being here on mobile and on search for your customers requires a fast tactic you can implement today: location-level landing pages.
Why location pages matter for Local SEO
Along with listing information from data aggregators, search engines look to your website to determine where you're located. In order to provide that correct data you need the NAP data (Name, Address, and Phone Number) for every location you're in present on the website. Now having that all jumbled together on one page obviously isn't ideal, so what is?
Every multi-location business and franchise should have a location finder integrated into its website. Where many companies miss the mark is in the results displayed for these location searches. Often the search results are not indexable by search engines (missing a huge local SEO opportunity) and only offer very basic information that isn't a ton of help to the potential customer. These are your location-level landing pages with NAP data and other content your user might want – like hours of operation and reviews.
With these pages customers can now quickly find the information they need, on-site or in a map result. Local SEO is all about those on-the-go customers who need the information immediately and easily available. They're in the car and don't want to jump through pages trying to hunt down your closing hour. They do want custom content that provides your basic data and incentives for stopping at your location over a competitor's.
Of people who use a mobile search to help make a brand decision:
57% are more likely to visit a store
40% are more likely to make a phone call
51% are more likely to make a purchase
In short: Building out location information with essential data helps deliver your site to potential customers when they need it most.
Why location pages matter for Organic SEO
Alongside visibility for your on-the-go customer who just needs to confirm your address, there are the research-oriented customers who are weighing your service over a competitor's. And location pages are integral for this need too. For people weighing a product decision:
90% of smartphone users haven't chosen a specific brand when they start researching online
73% of consumers say that regularly getting useful information from an advertiser is the most important attribute when selecting a brand
51% of consumers say they're more likely to buy from companies who customize mobile information to their location
Brands have two goals for these location pages: to rank well for a search term (like "coffee shops near me") and win that increased traffic, and then to convince their new user to convert (like advertising that you offer fair-trade coffee or free music or a quiet study space – whatever your user is looking for that you offer). Now, some of your ranking success will depend on SEO optimization and schema markup. For example, you need a clean URL: a clear and obvious destination with the address or city included, formatted correctly. But let's tackle what you can do today, and that's all content.
Having customized content that explains the appeal and services of your location helps boost both keyword rank (because now Google understands you're selling coffee in NYC) and brand loyalty (because now customers know you're the right choice for them). Unfortunately, too many businesses use the same copy on every page with just the storefront address swapped out.  That won't rank you well organically and even puts you at harm for a duplicate content penalty. (Especially with Panda constantly running.)
In short: Building out location information with customized data helps deliver your site to potential customers when they're considering brands.
Why location pages matter for User Experience
And that user focus is really why location pages matter. To quote Google:
"If you want to win the hearts and minds (and dollars) of consumers in their micro-moments, you have to do more than just be there. You have to be useful too. That means connecting people to what they're looking for in real-time and providing relevant information when they need it."
In fact, lacking that relevant location information will not only lose new customers but can turn away existing ones and have a seriously negative impact on your brand.
28% of people who can't find the information they need are less likely to purchase products from the company in the future
Only 9% of users will stay on a mobile site if it doesn't satisfy their needs
But 82% of smartphone users say they use search to find a local business
You have a huge opportunity to offer location pages that provide unique content a user can't get anywhere else – and obviously, you're the expert here!
Custom location content can include driving directions, nearby landmarks, parking tips, store  history, team members, unique services, photographs of the front of the store for immediate identification, photographs of the interior to showcase products – and any other brand messaging you think could convert a customer. The more important information you can provide an interested browser, the more likely they are to stop by later.
In short: Building out location information with helpful data helps win over potential customers into returning customers.
87% of consumers research online before entering a store. Of that time, some can be attributed to product comparisons or brand research or review reading – but a lot of it is location-based, especially for large multi-location companies. People want to know what's near them and what that place offers. Deliver that unique, personalized content on a location-level landing page and you'll see not only Organic and Local SEO success: you'll see a lot more customers.
---