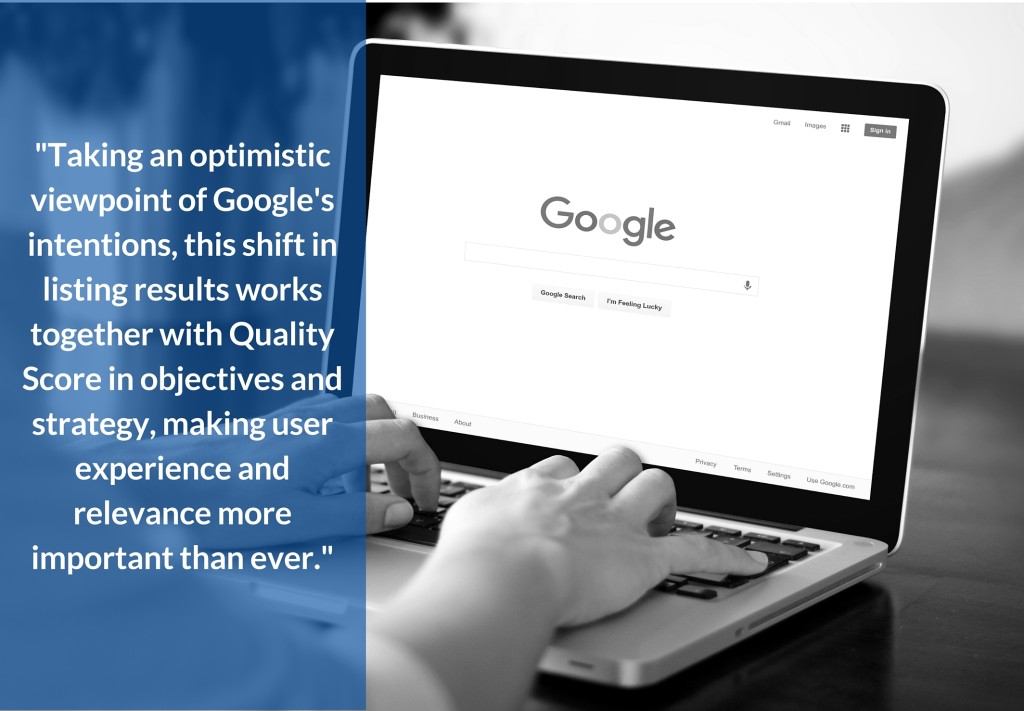 The week of February 22nd saw one of the biggest stories in Search Engine Marketing for 2016: Text ads have been removed from the right rail of the desktop search results. Search Engine Land notes the additional details of the latest design advancement:
Google will serve four text ads instead of three in the mainline area above the organic listings for more "highly commercial queries".

Three text ads will show at the bottom of the Search Engine Results Pages (SERPs).

The total number of text ads that can appear on a SERP will shrink from as many as 11 to a maximum of seven.

Product listing ad blocks and Knowledge Panels (sometimes with ads, as tests continue in these spaces) will show in the right rail on relevant queries.
So what do we think?
Google can position this shift as an improvement to user experience, as it does with many other changes. And this is true! Additional negative space on the page is aesthetically pleasing and increases the visibility and readability of the more important segments. Not to mention, leading by example for web designers everywhere.
However, as with any shift in SERP monetization, this change has likely been yield optimized by Google while in testing. User experience is important, but like any business, Google's primary goal is to make money. So how does Google make more money using less ads? Numerous studies placed the click share of ads along the right rail around 10-15%. Placing more listings in the top bar could lead to more clicks for paid ads, as advertisers fight for relevancy.
"As a consumer, I think this move makes sense because I hardly look on the right side of Google when searching for a product or service." says Nicole Helak, Paid Search Coordinator at Go Local Interactive. "I tend to ignore [right side ads] and only click on the top three most relevant sites. But I do believe this will make paid search more competitive for our clients."
Google's yield analysis could also have accounted for Cost Per Click (CPC) inflation as advertisers compete more fervently for first page bids. So far, Go Local has observed a -3% change in CPC with +7% increase in clicks week over week. It is still early on, and we will continue to monitor the changes.
What do we do from here?
Taking an optimistic viewpoint of Google's intentions, this shift in listing results works together with Quality Score in objectives and strategy, making user experience and relevance more important than ever.
Our team philosophy moving forward will be to optimize Quality Score. This includes tightening keyword groupings in AdWords, optimizing landing pages, and ensuring that ad copy is relevant. One strategy Go Local is putting special emphasis on, is Click-Through Rate (CTR) optimization. Quality Score, like the new page layout, is ultimately a yield optimization technique by Google, and poor CTR keywords can poison an entire ad group. We will be looking to optimize keywords with poor CTR, and ultimately eliminate these to allow the rest of our accounts to flourish.
Also important in the coming weeks, we will be monitoring First Page Bids and Top of Page Bids for price inflation. Again, taking an optimistic view, this shift from right side ads could see opportunity for our clients as other ads fall away. We will also be monitoring Impression Share to identify if our most valuable listings are beginning to fall short of the first page.
If you are looking to optimize your online presence through PPC campaigns on Google and other sites, Go Local can help. Our approach is grounded in user experience through geo-targeted keywords and built out, custom ad copy that helps customers find your business.