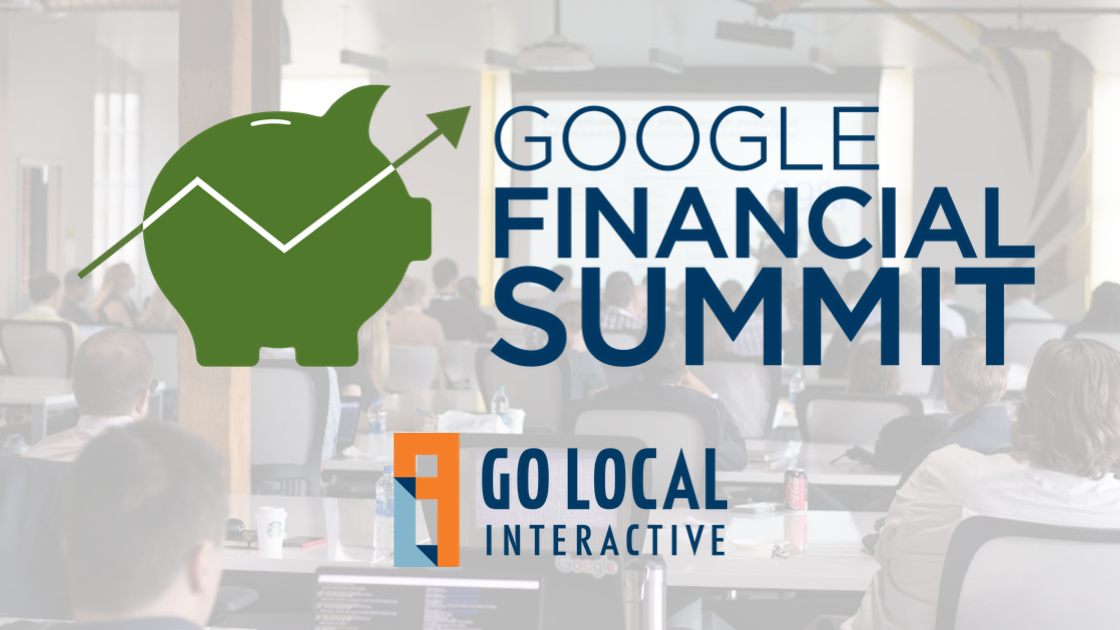 On October 23-24, Go Local Interactive is pleased to host our second Google Financial Summit in downtown Kansas City, Missouri. About 50 attendees from 30 banking institutions are scheduled to attend. 
The two-day summit will feature a variety of networking and educational sessions, including a keynote session with Google outlining new products, an in-depth look into the financial customer journey, and financial industry digital trends. Attendees will also be able to attend workshops, breakout sessions, and 1-on-1 time with Go Local product experts.
Wednesday's keynote will feature representatives from Google as they give an overview of new product information as well as an in-depth look into the financial customer journey. They will also discuss Google's financial industry trends and what your business needs to do to stay current in digital marketing trends.
Thursday's keynote will feature Matt Burnsman, Chief Digital Officer at Axos Bank, as he discusses the need to continuously evolve, drive new efficiencies, and improve customer relevancy in order for your financial institution to remain viable in a competitive market. He will also discuss large scale changes to business processes and technologies that are needed to improve operations, customer service, sales, and risk reduction. 
Thursday will also feature a Q&A session with Google representatives, industry veterans, and Go Local product experts.
Digital Marketing is More Important Than Ever
Like other industries, the financial industry is experiencing a time of transition as consumers shift how they find financial services, how they bank, and what things they look for in a financial institution. Continuing internet penetration and usage has made digital marketing paramount to financial institutions' success.
Banks and financial institutions need to change in part because of generational differences in banking preferences. If banks eschew digital marketing, they will be in danger of losing an increasing share of the population. As an example, we need to look no further than mobile banking–one of the financial industry's core digital products–to see this trend in action:
Share of population using mobile banking in the United States in 2018, by generation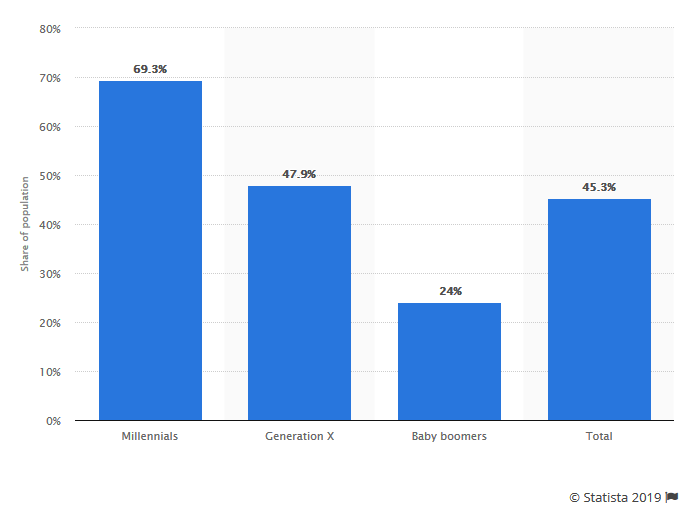 While less than a quarter of Baby Boomers and less than half of Generation X-ers utilize mobile banking, almost 7 out 10 Millennials use mobile banking. As Millennials and Generation Z accrue more wealth and become more valuable customers, more and more of the overall populace will use mobile banking.
Is your mobile banking product good enough to attract those who use it? More importantly, are you targeting and converting an increasingly digital savvy brand of consumers? Is your financial institution dragging its feet or is it moving forward with new strategies and tactics to thrive? Digital marketing can help you achieve your goals in a constantly changing digital world.
Go Local Offers the Digital Marketing Solutions You Need
Go Local has worked with a wide variety of banking and financial institution partners to boost their digital marketing efforts and equip them for the future. We offer a variety of services, including:
If you're interested in more opportunities like the Google Financial Summit or would like to discuss how digital marketing can move your business forward, we'd be happy to help. Contact us today and get started!