First Impressions
To be honest, when I was first introduced to the new AdWords Experience it was not by choice. I was in the middle of my hectic monthly reporting schedule and —BOOM—  it felt like I had a bomb dropped me. Complete curveball. I had known about the new update, but had been putting it off for some time because let's be honest, change is hard. I have been working in Paid Media with AdWords since 2015 and I've only known one dashboard until now.
Get a Free Online Analysis of Your Paid Media
My initial reaction was that it looked a lot like the WordPress dashboard. These two serve completely different purposes. Nonetheless, the aesthetics are arguably the same. Even though it was all new, it felt strangely familiar once I gave it a chance. It felt natural. Using my previous knowledge of AdWords architecture I was able to stumble through it and begin to acclimate myself to the change. An equal comparison is trying to use your friend's Samsung Galaxy when you've had an iPhone for years. All the parts are the same, but they look and feel a bit different.
After some time spent playing around in the new user interface, I decided to switch back to the older version. I really had to get my reporting done! However, it wasn't long before I was back trying out all the new bells and whistles. Since reporting has finished, I've had time to learn more about the new additions. The following are things you should know about the New AdWords Experience as you begin to try it for yourself.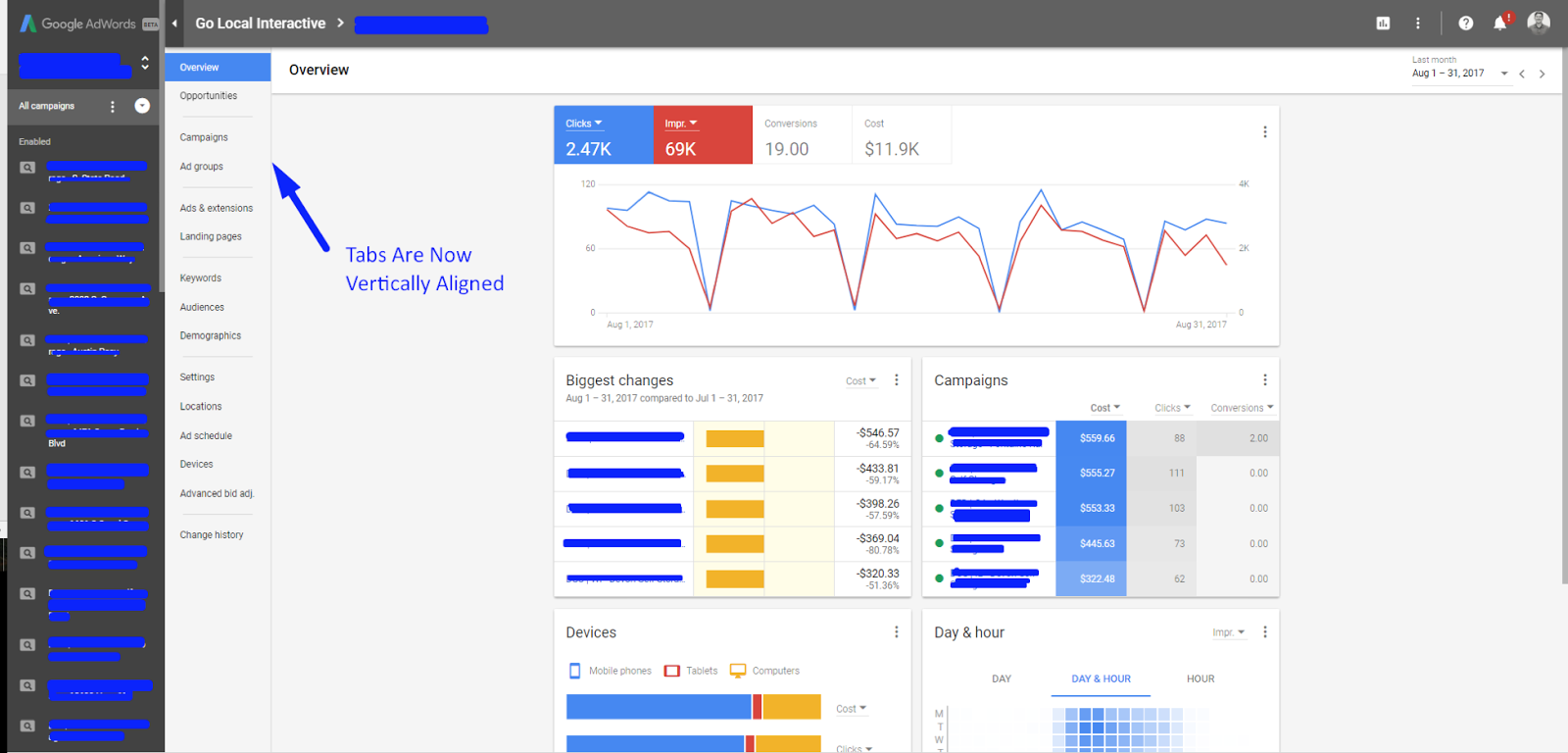 Data Visualization Upgrades
Google has gotten creative and provided some new data visualization tools that enable you to view data trends like never before. One of my favorite features is the daily scheduling heat map that shows customer interaction by hour and day. Another is the bar graph feature that shows performance breakdown by device type. It can help you visualize what portion of influence each device has on your campaign. One of the most helpful portions, is that you can easily use these data visualization tools to help upgrade your client reporting. Both of these features can be found on the overview tab.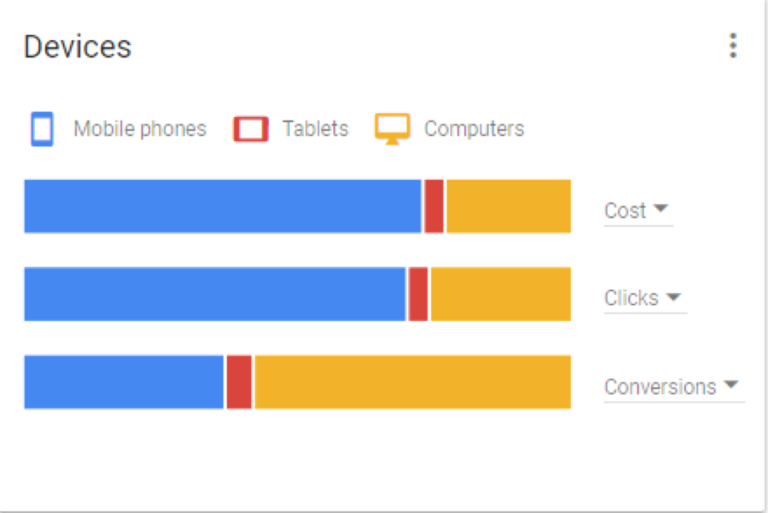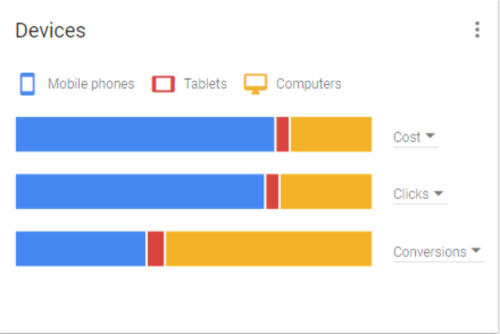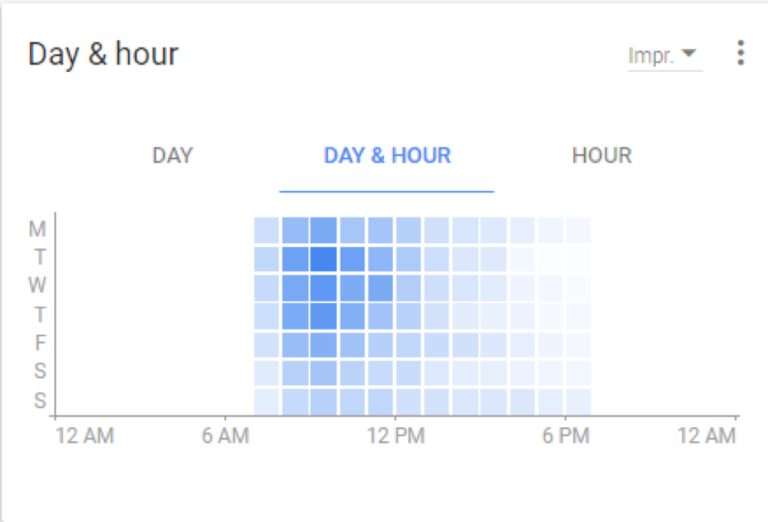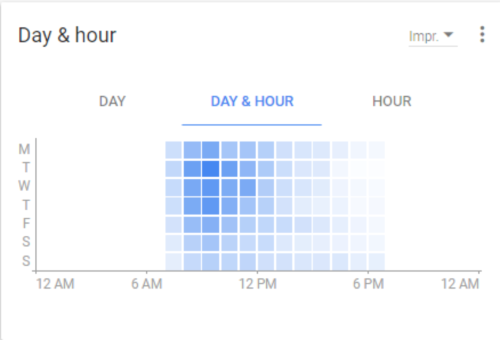 A Great New Tool
Another cool addition is the word bubble organizational chart for keywords. It doesn't exactly add new keywords for you, but it sure can give you some innovative ideas for creating new ones on your own. It places all of your top keywords into separate keyword bubbles you can highlight and readily view performance. Creating keywords this way is not ideal for an initial build. However, it will be a great tool down the road to help you quickly come up with new keyword ideas to increase search volume. The search bubble feature can also be found by clicking on the overview tab.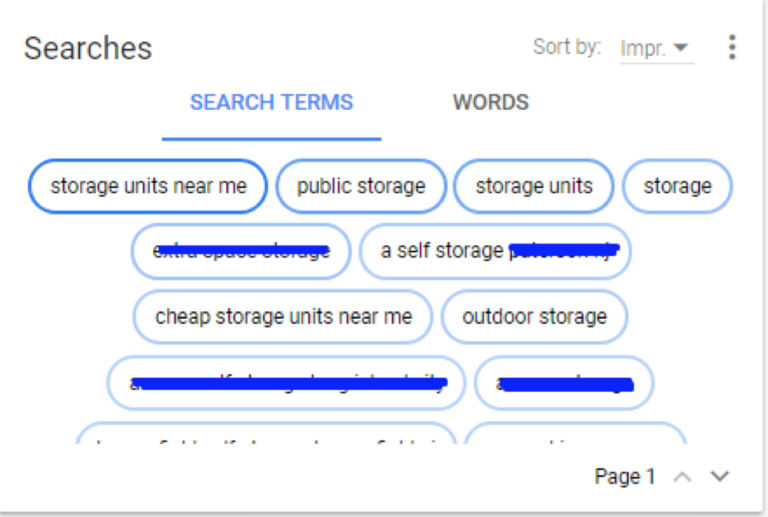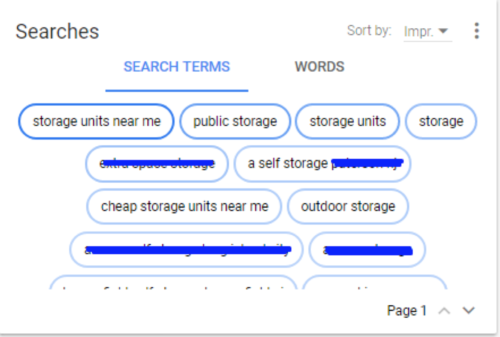 Extensions
If you've spent any time managing an account in AdWords, you know just how valuable ad extensions are to campaigns. They are a crucial part of your success and are one of the best initial ways to increase your CTRs. The new extension about to be rolled out is the promotion extension. I have found that promotional style ads have some of the highest CTRs by themselves. I can only imagine how strong an offer advertisers will be able to make with this new extension at their disposal. Though it is currently in the beta testing phase, I expect it to become a staple extension in 2018.
New Bid Modifier
Bid modifiers are the perfect way to hone in on an audience based on prior or projected performance. Personally, I'm always tinkering and testing the modifiers Google has to offer. On a few of my accounts, I've been able to identify and set a bid preference for some truly productive audiences by using the mobile device bid modifier. In the new AdWords Experience, there is an advanced bid modifier option that allows you to set a higher bid preference for phone calls from call extensions. If a large section of your leads come from phone calls, I suggest giving this modifier a shot.  
Not Everything Is Available
Before you're sold on the new update, you should know that there are still a few things not yet available in the new experience. Bulk edits like copy and paste of ad group settings are not possible in the new UI at this time. Multiple types of targeting like remarketing for display are not available. Neither are the bid adjustments that accompany your targeting methods. It is instances like this that I would recommend you find separate time to experiment with the new UI and leave full-time account management to the older version of AdWords. Additionally, if you find yourself trapped in the latest version of AdWords you can easily switch back by clicking on the three dots icon in the top right corner of the interface. It will be your top line option in the generated drop-down window.

Getting Your Feet Wet
The best advice I can give you is to not be afraid of this new update. It has plenty of new features worth trying out. At first it may be intimidating, but you'll soon find that navigating through tabs feels much smoother. I would suggest you start off doing menial tasks, like changing bids, to begin to familiarize yourself. Flip through the tabs and check out how columns are arranged. Keep your browsing light at first if it feels overwhelming and keep rotating the new interface into your daily routines a little bit at a time. Getting use to the new dashboard will be important in the months to come because Google plans on rolling out the new UI, full-time, very soon. The projected goal is December for all users. Until then, keep practicing!
For more information about the new AdWords Experience visit: https://support.google.com/adwords/answer/6306932?hl=en&ref_topic=6346221