The concept of Google Search has always been a simple one: a user enters a query, and Google does its best to bring up relevant results for said query. As Search continues to grow, Google has introduced additional types of results that are engineered to best answer certain types of queries. But for some of these specialized results, such as the FAQ section, there are direct and actionable steps that you can take to ensure your website is equipped to appear.
How a business can prove its expertise directly in the Google Search Results Page (SERP)
Google Search aims to provide users with accurate answers to their questions as quickly as possible. When a user searches for local businesses, a Map Pack may appear because Google Search assumes the user needs an address, a phone number, directions, or hours of operation. When a user searches for a simple question with a definitive answer—such as "how many seconds are there in a day?"—a direct answer is all that Google Search needs to provide.
These questions, and their answers, are easily parsed queries with easy answers.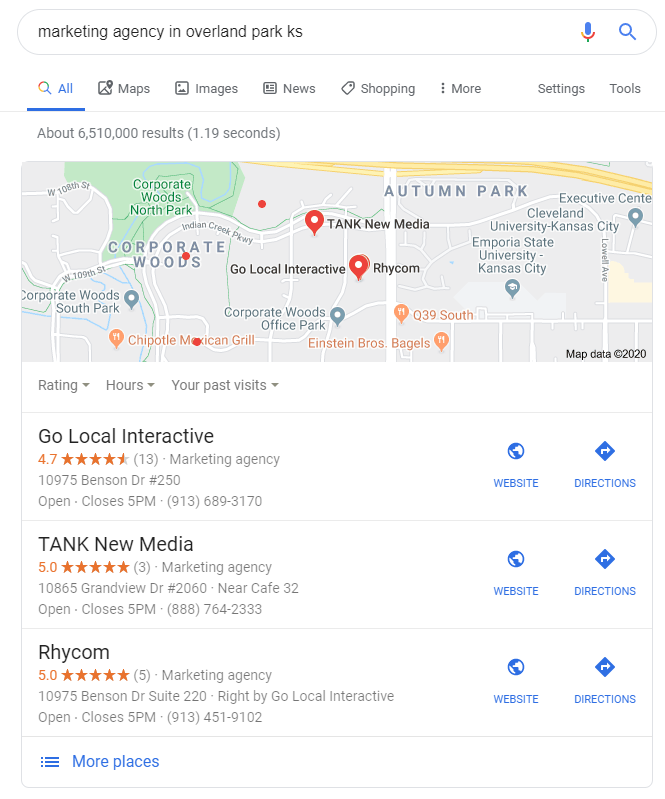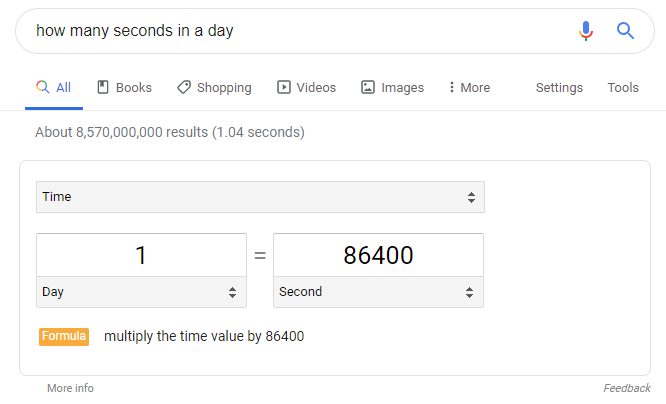 But where a user asks less specific questions with several potential answers, Google Search has historically relied upon the familiar list of websites to provide users guidance. With such results, Google is saying, "We don't know the exact answer, so here's a list of highly qualified sources that will likely answer your question."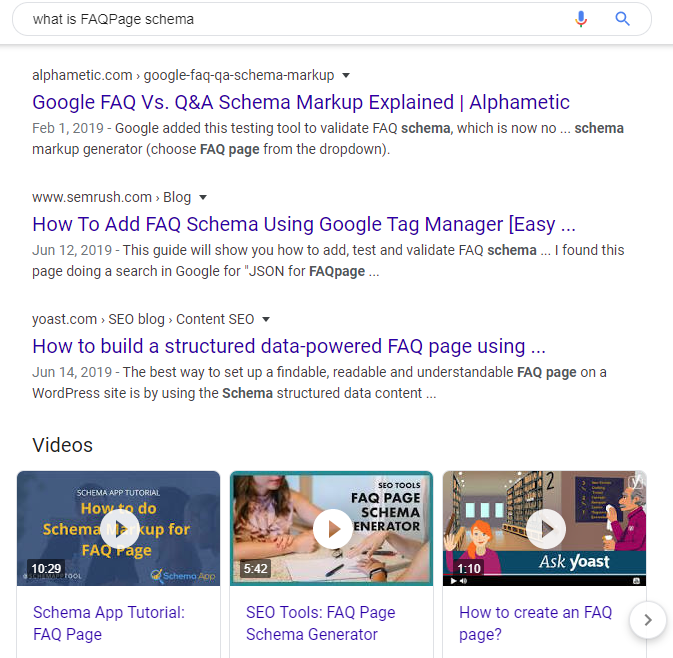 As much as we want users to visit and be engaged by our own websites, Google also wants users to say engaged with its own Google Search results. If Google can keep users on its own properties, it can serve qualified ads to those users. In this way, there's inherent tension between Google Search's motives and our own motives as businesses that rely on qualified website traffic to gain customers. So what are businesses and marketers to do? We should buy Google Ads of course (they work), but we should also do everything we can to own as much of the non-Ads page real estate as possible. This means optimizing your Google My Business listings and writing quality content so that Google Search sees your website as worthy of the traditional list of websites in the SERP.
But it also means structuring your content so that Google Search will display your content directly in the SERP.
FAQ Page structured markup lets you speak to your potential customers
Imagine you are looking for self storage facilities in the Bronx. Your search results page returns the following list of websites.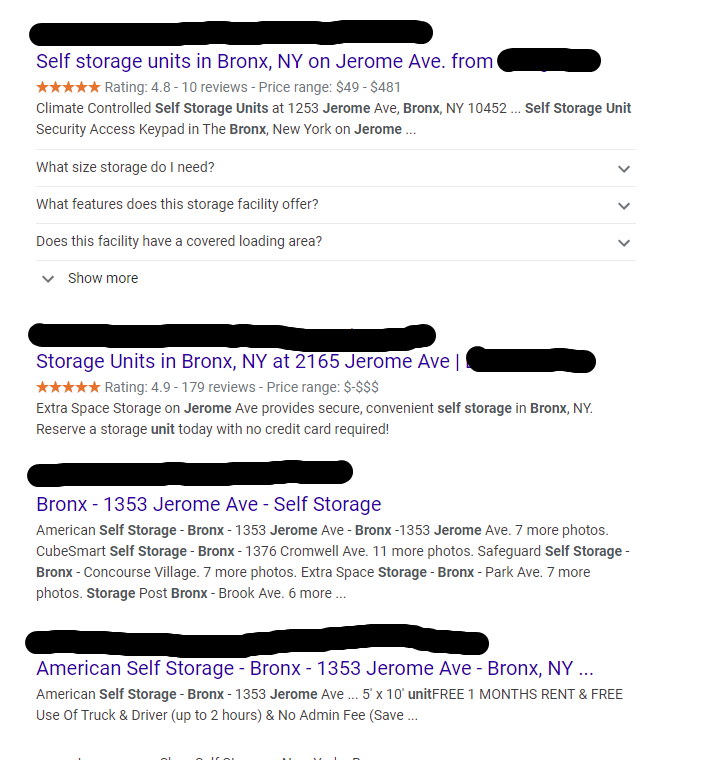 One of these results contains a series of frequently asked questions alongside answers. As the owner of the website, I'd be happy that my content is occupying such valuable SERP real estate. As a potential customer, I'm happy to see a business with such visible expertise.
So how does FAQPage structured markup work?
A full FAQ (I know, it's appropriate) can be found below, but the simplest way to generate the appropriate Schema is use a FAQPage schema generator. We built our own here at Go Local Interactive, but a quick Google search should provide you with several options.
Frequently Asked Questions About FAQPage Structured Markup
What is FAQPage Schema?
FAQs are a traditional list of frequently asked questions alongside their answers. FAQPage Markup (or Schema Markup) indicates the presence of an FAQ, which allows the FAQ to be more easily crawled by search engines.
How do I implement FAQPage Schema?
FAQPage Schema generators can be found online using a simple Google search. Using those generators you can create either a JSON-LD formatted script or inline formatted text (in Microdata or RDFa format). These results can then be pasted into your website's content editor.
Can I use FAQPage Schema to promote my business?
You cannot use FAQPage Schema to have your promotional FAQ appear in Google Search results. As Google states in the FAQ developer's reference documentation: Don't use FAQPage for advertising purposes.
What is the difference between FAQ and QA Schema Markup?
The main difference is that QA Schema allows for user-submitted questions and answers. The FAQPage Schema is designed to be more authoritative and definitive. The Google FAQ developer's reference documentation indicates that QA Schema should not be used if the end goal is to have your FAQ appear in Google Search results.
Could using FAQPage Schema result in less traffic to my website?
Because users can have their questions answered directly in the SERP, it is possible that a website using FAQPage Schema may receive less website traffic from Google Search. However, in our opinion, the benefits outweigh the risks. Such benefits include taking up more SERP real estate, pushing competitors further down the SERP, and proving expertise to your customers which may result in brand affinity and transaction activity.
Are all webpages considered for FAQ placement in the SERP?
All webpages can utilize FAQPage Schema. However, Google Search determines when to show the FAQ in the SERP based on the authority of the page and the search query. Generally, pages that already rank well for a specific search query have a stronger chance of displaying alongside an FAQ list in the SERP.
How many webpages will show an FAQ for each search?
So far, our testing shows only one instance of an FAQ appearing per SERP.
How many question and answer pairings appear in each FAQ in the SERP?
Three question and answer pairings appear in each FAQ. In cases where more FAQs appear in the source webpage, a dropdown option is included to allow users to see even more FAQ pairings in the SERP.
Do I need to notify Google Search when I add FAQPage Schema to my website?
While Google Search will naturally crawl your website, and the individual pages on which the FAQPage Schema appears, we recommend that you submit the modified pages directly to Google via Google Search Console. Be sure to test your FAQPage Schema implementation using the Google Structured Data Testing Tool.
Go Local Can Help You With FAQPage Schema and More
At Go Local Interactive, we've helped our partners set up Schema markup for FAQ pages and much more. If your business needs some assistance in setting up FAQPage Schema or if you need more SEO help, contact us today.