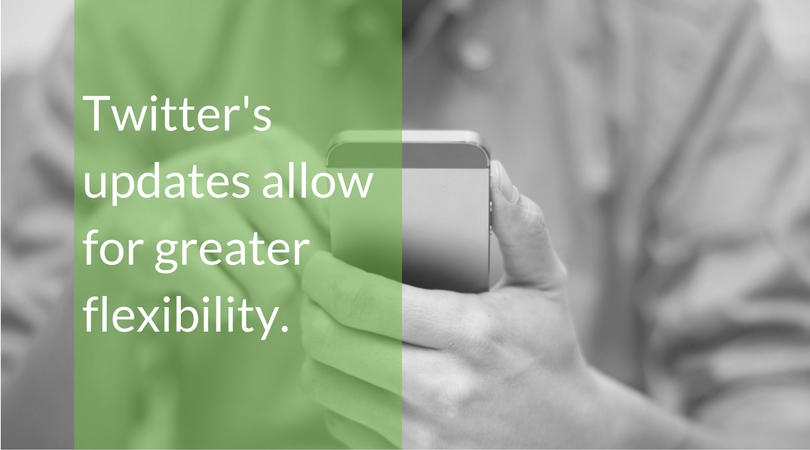 Twitter's claim to fame is the 140-character limit, designed to fit into an SMS message. However, over the past year, reports have come out indicating some changes. In January, Twitter was rumored to expand the character count to 10,000. In May, when Twitter's stock fell to an all-time low, the platform published a blog about an update that would exclude the @name from the character count when replying to a tweet along with media attachments. Finally, almost a year after early reports came out about plans of tweaking the character limit, changes have actually been made.
Say more about what's happening! Rolling out now: photos, videos, GIFs, polls, and Quote Tweets no longer count toward your 140 characters. pic.twitter.com/I9pUC0NdZC

— Twitter (@twitter) September 19, 2016
A week ago, The Verge announced that Twitter's May blog will come to fruition with a rollout, beginning Monday, September 19. In addition, quoted tweets will no longer reduce the count. These changes may lead to a gradual addition of certain content types excluded from the count. It seems like the 140-character count is sticking around, but updates will allow for greater flexibility within the limit.   
Twitter seems to be hitting the mature stage of the product life cycle, as evidenced by this Statista monthly active users chart. While Q2 of this year saw some growth, it is marginal compared to the site's earlier days. These highly anticipated changes could be a strategy for Twitter to regain its market share.  
What does this mean for brands?
Really, this won't change much. But, if you're an active brand on Twitter, you're probably used to condensing your message to 120 characters or less to provide room for media and follower engagement. This update allows you to expand your messaging without facing consequences of losing participation. While different types of media and replies can be included in a tweet without reducing your character limit, URLs still do. This means that link shorteners will still be vital in your company's social media execution. Here's a list of everything that has changed:
Media Attachments

(photos, GIFs, videos, polls, or quote tweets)  will no longer count toward the 140-character limit.

When replying,

@names

will not be included in the character limit.

".@"

is dead. ? New tweets that start with a username will be published for all of your followers to see, no ".@" needed.

It is now an option to

RT or Quote yourself

.
In the past, Twitter has valued the character limit as a major differentiating factor. Will the new updates be enough to increase platform engagement? If not, Twitter will continue to lose relevance and clout, forcing marketers to flock to other platforms, where their content yields higher returns.
---