Want to launch your own promoted pins campaigns, but not sure where to start? Now is the best time to learn more about these campaigns and how it can help your business or clients! Pinterest has even expanded its Promoted Pins option internationally, so you can run campaigns across the pond.
Check out our important tips and on how to run your first Pinterest advertising campaign and see the results you've been wanting!



Get started!
Create a business Pinterest account. This gives you the ability to use Pinterest analytics, and link your account to you website.
Which type of promoted pin should I choose?
There are two types of promoted pins campaigns you can run, a traffic campaign or an engagement campaign.
According to Pinterest:
"Engagement Campaign: Great for when people engage with your Promoted Pin. You should run an engagement campaign if your primary goal is to reach a wider audience on Pinterest.
Traffic Campaign: Great for when people click on your Promoted Pin to visit your website. You should run a traffic campaign if your goal is to drive sales on your business website."
Overall, if you are trying to reach people early in the point of purchase, engagement pins would be a good strategy. They will boost account engagement and get your content in front of more users.
Traffic campaigns are designed to reach people who are ready to make action immediately. These campaigns are designed to drive traffic to your website and sell a specific product.
Set Clear Goals
Before you begin your campaign, set specific and measurable goals!
Engagement campaigns should grow your audience and reaching more customers
Traffic Campaigns should sell a product or drive traffic to your website
What pin should I promote?
Pinterest has specific guidelines on what you're allowed and not allowed to promote.
You are only allowed to promote your own content that has been previously posted. You are not allowed to promote gifs, videos, or images with prices are discounts. Pinterest can also prohibit certain products. Make sure to take a look at Pinterest's advertising standards here.
Want to create your own custom pin? Try using Canva, a user friendly Graphic Design Platform ideal for collaborative work. Canva makes creating your own custom design, easier than ever.
First start by choosing the appropriate Pinterest graphic, which is already in the approved sizing.

Once you have opened the Pinterest graphic template, you are free to let your creativity soar. Try uploading eye catching imagery, fun text overlays, frames and much more.
Make your custom pin eye-catching, with compelling images to drive engagement and clicks.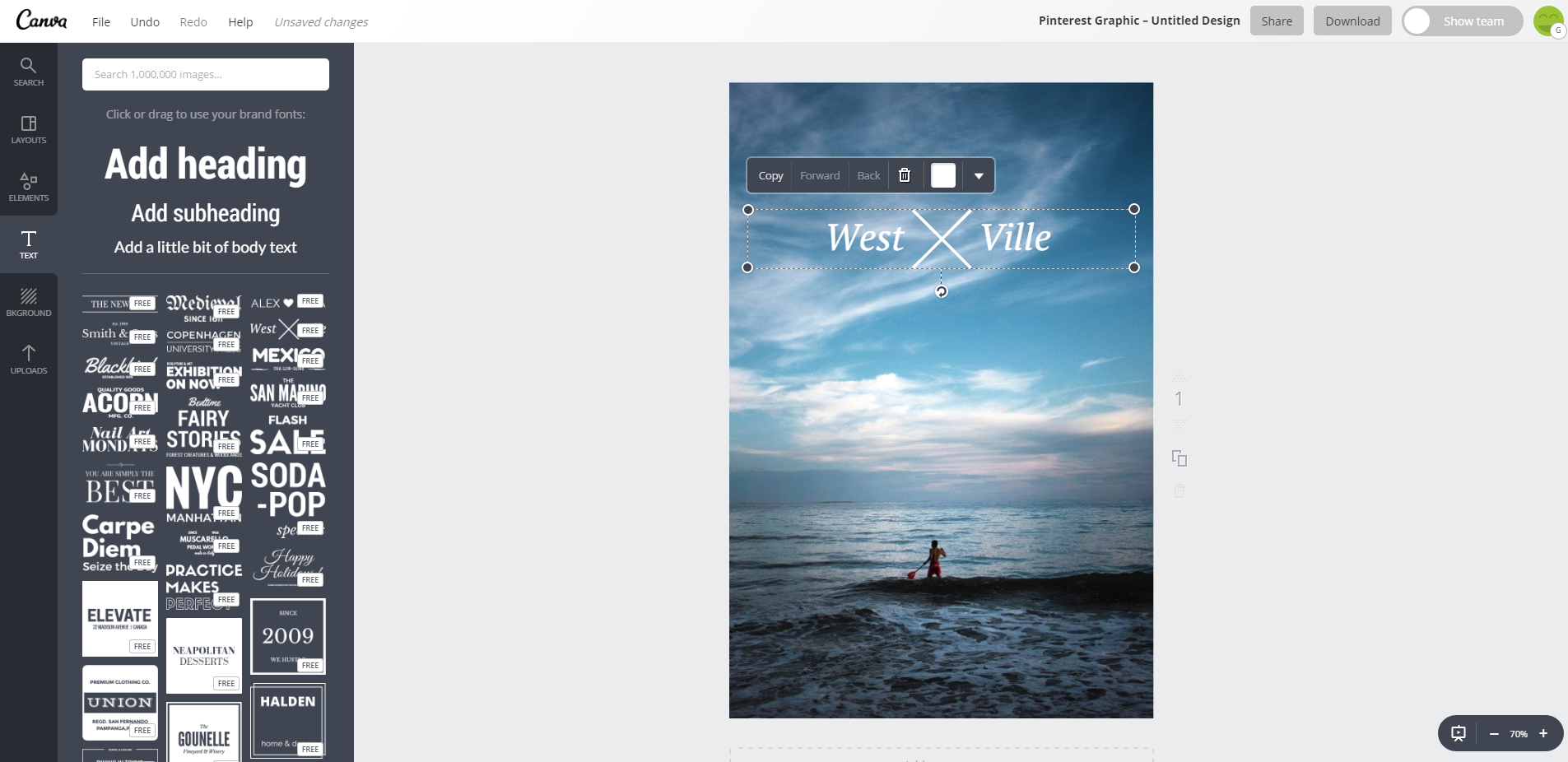 Need more help creating an approved pin? Download Pinterest's creative guide here.
Create your Campaign!
Step 1: Choose your campaign goal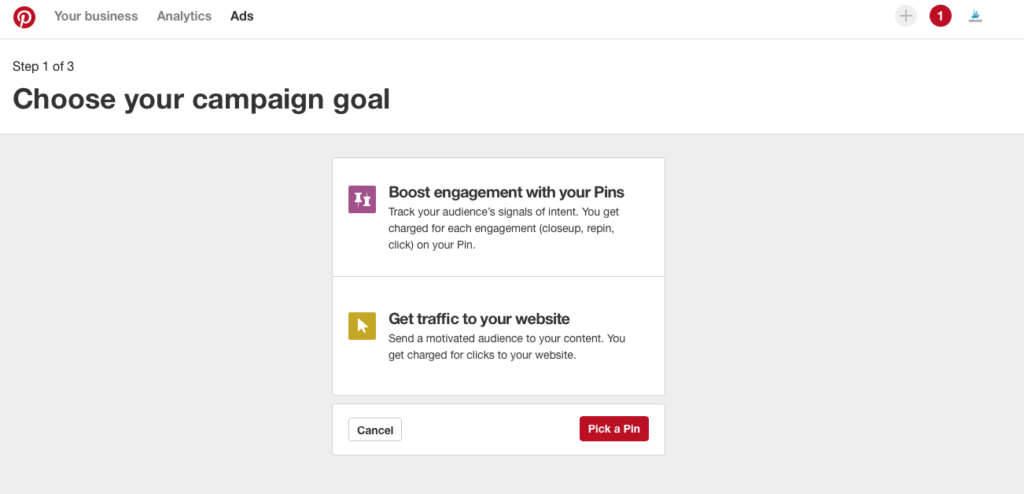 Step 2: Choose your campaign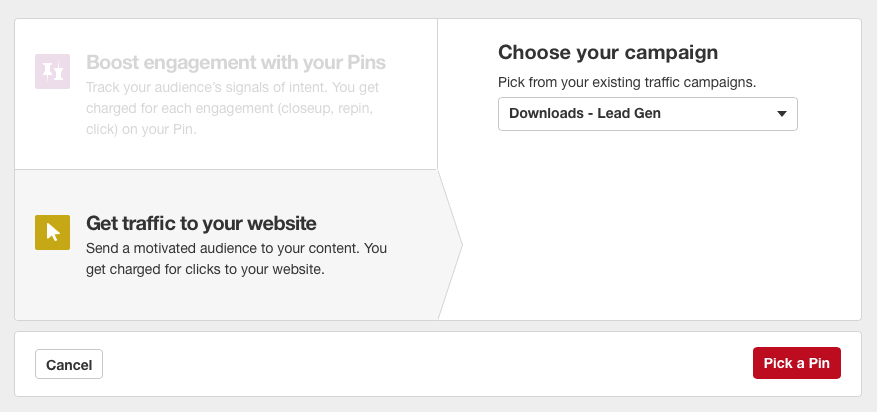 Step 3: Select the pin you want to promote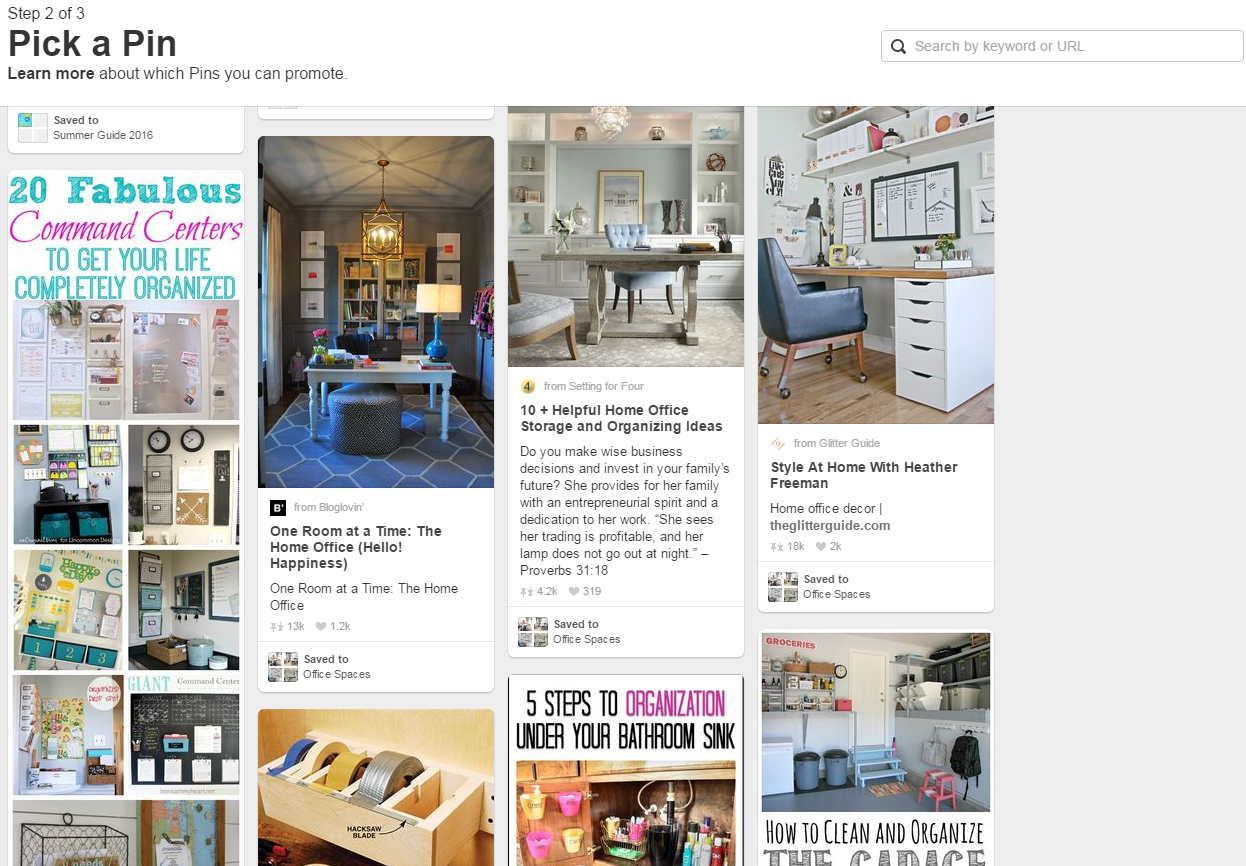 Gina's Tip: If you chose to make a custom pin, be sure to add it to one of your public boards along with the appropriate link so it will show up in your feed.
Step 4: Targeting options
Include a few relevant interests to help your ad show up when users browse through various interest sections.
If you have a predetermined keyword list, you can copy and paste those into the keyword section. If not, you can research keywords to make your ad more searchable.
Lastly, don't forget to target your preferred locations, languages, devices, and gender.
Pricing your Pin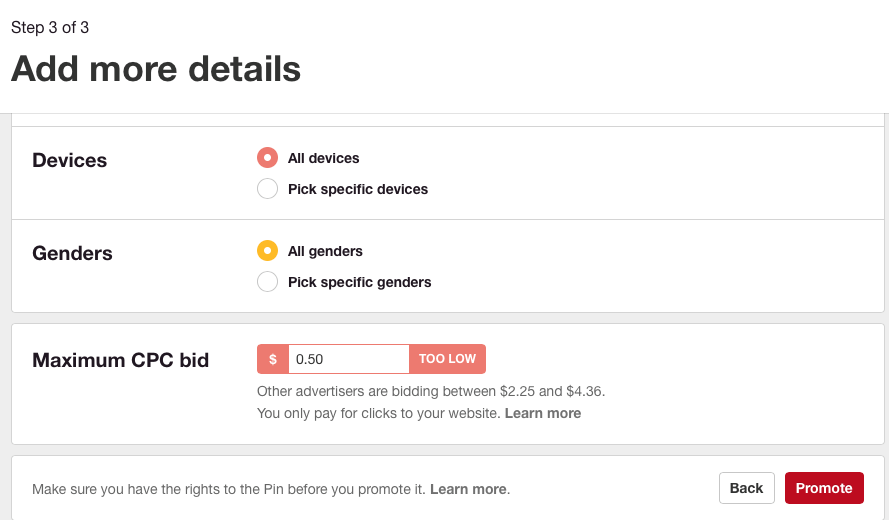 Refer to the Maximum bid box to start. Try choosing a range in the middle of the suggested bid.
Once you gain more experience with your ad, you will be able to pinpoint a better range for your campaign.
Don't worry, you have the option to adjust your chosen budget if necessary.
Promoted Pin Analytics
If you take a look at the Pinterest Ads dashboard, you can see how many clicks, engagements, and impressions for your campaign.  You are also able to see the average CPE, activity, and spend of a given time period.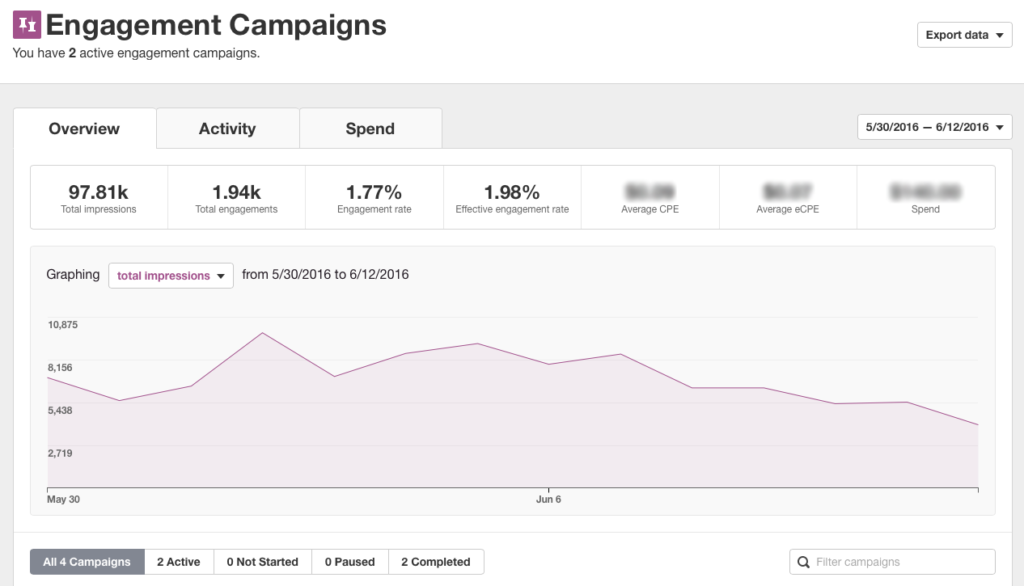 How will you measure your campaign's success?
Since results vary by industry, audience, and interests you will want to compare your results to your set goals.
Make sure to ask yourself:
Did you reach your client's specific and measurable goals?
Did you drive more visitors to your website?
Did your community size grow because of your campaign?
Remember, your data is key. Take advantage of Pinterest analytics. You can even export your valuable data into an organized spreadsheet.
---