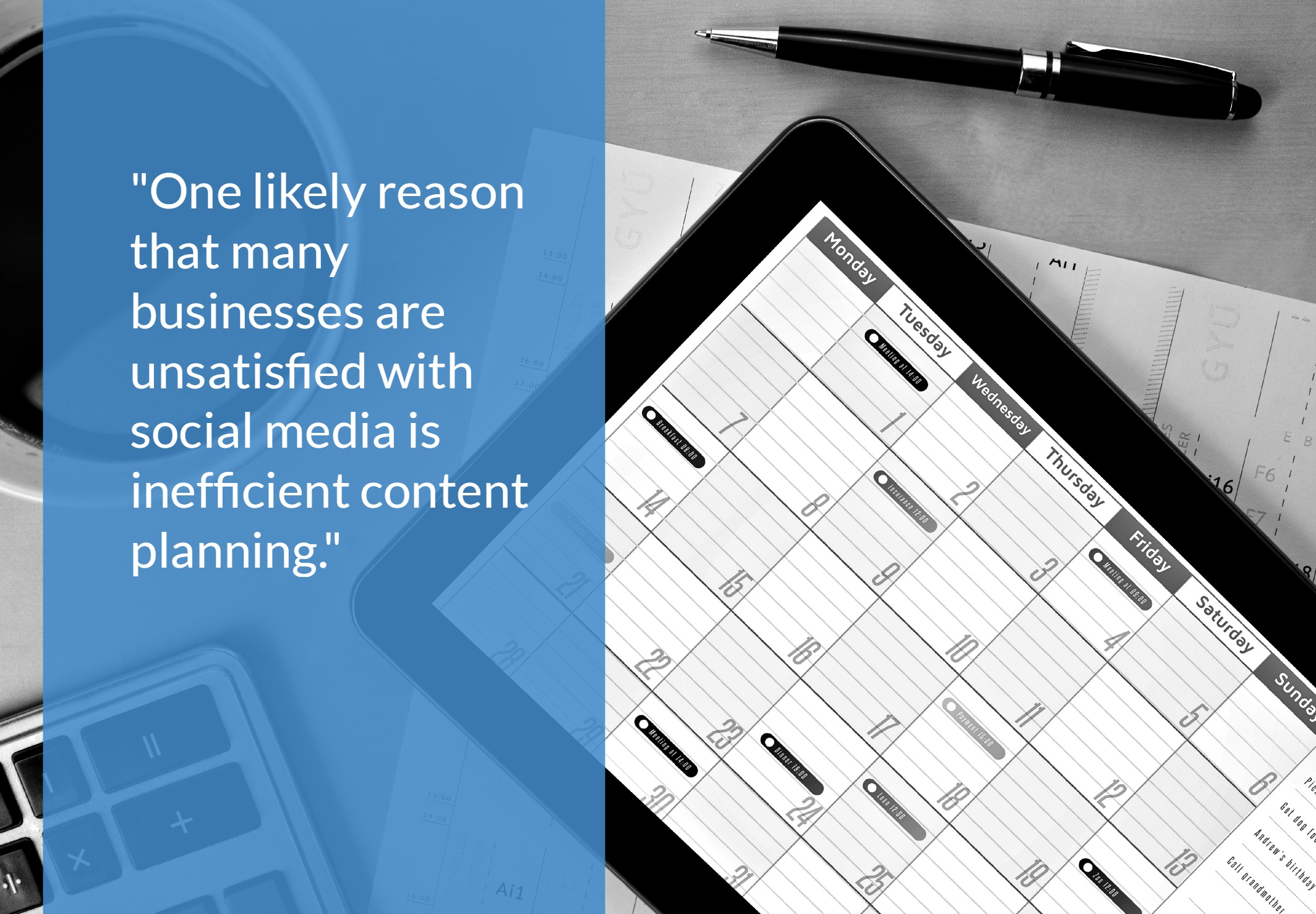 We sat down for a web seminar from the team at Edgar, a social media management and scheduling tool, on how to craft an advanced social content strategy — check out our takeaways from the chat:
These days, almost all businesses have some sort of social media presence – in fact, according to Edgar, 89 percent of them are regularly creating and publishing content. However, some organizations doubt if the results are worth their time and efforts. For example, less than half of small businesses on Facebook believe their presence is actually effective.
So what does this mean? One likely reason that many businesses are unsatisfied with social media is inefficient content planning. Posting updates at random is not only time consuming, but makes these updates more difficult to review and improve upon. It's also inconsistent, as posts are less likely to reach the right audience at the right time. The resolution to this is a simple, yet effective method of writing, scheduling and posting content: batching.
"Batching" is essentially a way to stop wasting time with social media and accomplish multiple tasks at once, and the team at Edgar has divided it up into just five simple steps:
1. Categorize your regular updates
Organizing your social content into different categories can do wonders in simplifying your strategy and developing new post ideas, as well as refreshing old ones. The team at Edgar suggested categories such as "Blog Posts", "Announcements/Promos", "Inspirational/Funny", "Tips/Hacks", "Questions for Engagement" and "Other People's Content." It is helpful to assign each category a percentage to indicate the frequency for that particular type of post.
2. Decide how often to post
For businesses that want to be fairly active on social media, a good place to start is six updates per day, five days a week. This means 30 updates per week, and if you work within six content categories like the ones suggested above, that's just 20 updates per category, per month.
3. Write all your updates at once
This can seem daunting, but it is actually far less time consuming than taking time out of every single day to come up with new content. A tip from the pros is to write three months of content at once. Also, don't be afraid to audit your old content for ideas. You can see everything that you post, but it's likely no one else is going to. Just tweaking an old update with a photo or phrase can give it new life.
4. Schedule your updates
Scheduling your content through an excel sheet or program such as Edgar or Hootsuite is more consistent, helps you post at optimal times, and allows you to review and improve future posts. Once you have your content written and scheduled, it's essentially on autopilot.
5. Batch your interactions
Set aside a time every day to check out engagement and interact. This way you are not distracted by incoming notifications throughout the day and can take care of them all at once.
Don't forget:
Batching doesn't replace live interaction! In order to maintain authenticity, it's important to complement your scheduled content with real time updates and interactions.
Be sure to check out how Go Local Interactive can optimize your brand's social media presence with a comprehensive and custom program.