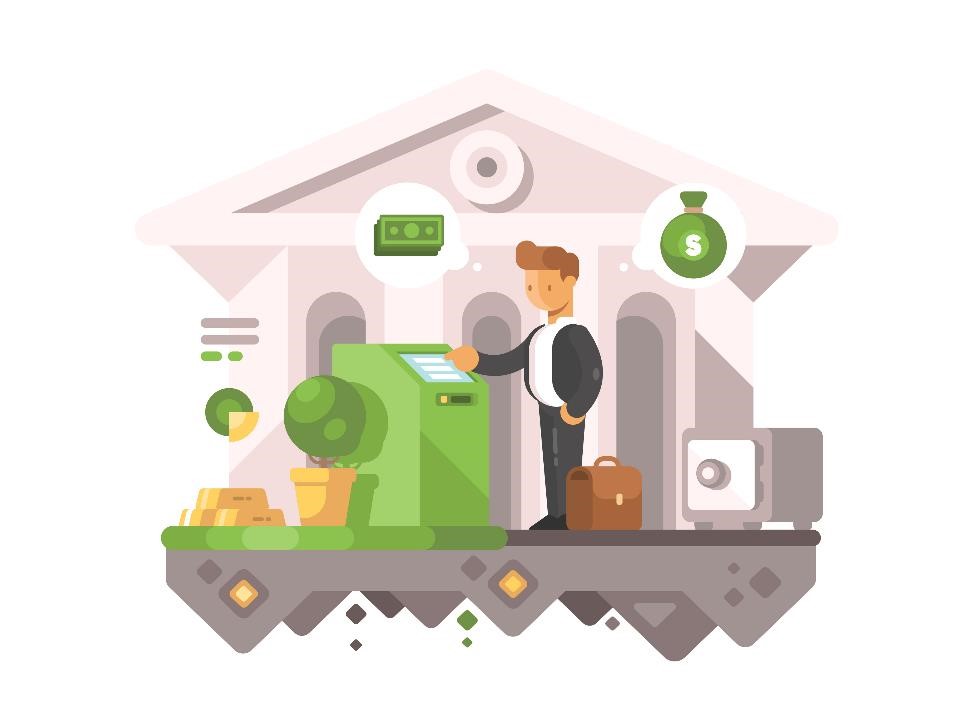 If you closed your eyes and conjured images of a bank in your mind's eye, chances are that there aren't many computers around. Maybe there's a concrete building, with marble floors. You stand in a line that moves slowly. You talk to a receptionist, and you give them a check to deposit. Perhaps you're talking to a financial advisor in a room with a glass door.
For better or worse, banks and financial institutions can have a reputation as formal or stuffy institutions that do things like they've always done. Still, financial institutions are businesses, and they need to keep growing in order to survive. Making a living off legacy accounts is extremely difficult, if not impossible, so banks and other companies have begun courting millennials—with varying degrees of success.
However, millennials aren't as easy to capture and captivate as generations before. Millennials were struck hardest by the recent Great Recession, after all, which came about because of poor lending practices by financial institutions. Raised in a period of rapid technological transition, millennials are also very good at sniffing out brand insincerity. Overall, only eight percent of millennials say they trust financial institutions for guidance.
In order to capture millennials—and Gen Z behind them—financial institutions must embrace how the computer and digital marketing can help communicate their message and their brand.
Paving the Way with Content Marketing
The secret for reaching the elusive millennial demographic is simple and unflashy: Just be yourself. While that sounds like something out of a Disney TV movie, it's a tried-and-true method that works across all industries. In this brand-dominated era, authenticity is its own currency, and it's easier to acquire than you might think.
At Go Local Interactive, we've believed since the very beginning that staying true to yourself is the best method for building strong connections with our partners. A big part of our success comes from utilizing content marketing to provide a tactical approach to content creation—one that's designed to support partner goals and speak directly to their target market. This purposeful content can take many forms—such as long-form articles, static web content, and social messaging—but it all centers around a belief in engaging and educating readers on their level.
The Three Most Common Missteps Financial Institutions Make
While the solution to sagging online engagement numbers is quite simple in hindsight, there are plenty of pitfalls financial institutions may encounter along the way. Here are some of the more common issues we've seen from our financial partners, as well as some organic solutions we can offer as part of our content product.
When Tone of Voice Goes Too Far
Recently, our team was asked to perform a content analysis for a new financial partner's website. The first thing we noticed were their attempts to target a younger, more tech-savvy crowd by touting their online banking program, mobile app, and customizable debit card. This is a smart play—according to the American Bankers Association, nearly two-thirds of Americans manage their money using a computer or smartphone.
Unfortunately, they also tried to appeal to this younger crowd with a more relaxed voice and tone, full of likes and totally sweets and at least one stunningly awkward use of yaaassss!!!!
For young people, the first gut reaction to this isn't "Hey, this is cool!" Instead, it's "This is what some 45-year-old middle manager thinks young people sound like." The content read like the bank was trying way too hard to connect with this perceived younger crowd, which somehow came off as both incredibly desperate and somewhat offensive at the same time.
By going for broke like this, you're not only failing to court younger customers, you risk driving away an older crowd with an approach that is often perceived as lacking professionalism. If your customers don't trust you to handle their money like responsible adults, the last thing they'll want to do is sign up for a money market account.
The Case of the Missing Brand Identity
One of the most important things those in the financial industry can do is establish a brand identity that's more than simply "we're the place where you keep your money." Gallup's institutional confidence surveys have shown that about 3 in 10 Americans have been greatly confident or quite confident in banks since 2008. What they really want is a financial partner that understands their unique economic situation and will work with them to achieve their goals.
In our experience with our banking partners and prospective clients, we've noticed that one of the biggest brand identity problems have been a lack of specific brand guidelines. These banks struggle to find their voice because they don't have consistency.
Take the time as a company to ask the big questions. Who are we? What is our mission statement? How are we unique? Do this before you start creating content, and you'll find more customers will be drawn to your brand's confidence and authenticity.
Lack of Personalization, Lack of Customers
Besides attracting new customers, one of the biggest focuses for the financial industry is personalizing their service offerings. Customers like being treated as if they're priority number one, even if that's not the whole truth. If your company is still putting out blanket calls-to-action on every page of your website, your readers will be less likely to click on them because they're not relevant to their unique situation.
Instead, you should think of each piece of content as a prime opportunity for cross-selling. What services naturally go together? Which services are seeing increased sign-ups, and which are lagging behind?
For example, if you have lots of customers who enroll for a checking account and not a savings account, try touting the latter on the checking account page for its overdraft protection and low startup balance. And if people are interested in your home loans, perhaps they'd also be in the market for an auto loan.
These scenarios may not cover everyone, but those who are applicable will be much more likely to click through and learn more.
Five Simple Solutions for Standout Financial Content
Much like the medical industry, banks and other financial institutions can make good use of content marketing to better connect with new and current customers. Unfortunately, the majority of the industry has yet to get on board. According to a content marketing survey conducted by IMN, over half of banking and financial institutions spend less than 10 percent of their marketing budgets on content marketing.
Sure, you could continue to stay in that comfortable majority and watch as startups and other, more nimble companies slowly siphon away your customer base. Or you could make a splash with an energetic and engaging content marketing strategy that really resonates with your customers. Let us show you how.
Take a Critical Look at Your Web Content
 Are your site's pageviews remaining steady while your bounce rate slowly rises? To understand why people may not be engaging with your website, it's a good idea to pull back and view the entire user experience from their perspective. Performing a content analysis can help single out factors that may be responsible for lower engagement. A good content analysis not only evaluates the content itself, but also site navigation and structure. It should definitively answer the following questions:
Does the page utilize original, purposeful, and engaging content?
Does the content work to build a relationship with the user?
Is the content easily digestible?
Is the tone and voice consistent?
How difficult is it to navigate through the site?
Keep the User Top-of-Mind
A good number of people out there (myself included) are clueless when it comes to financial matters, and are looking for education and guidance. When you're creating content for your service pages, think about the questions or concerns your readers may have and do your best to answer them. For example:
What is this service?
How does it work?
How does it solve a problem people may have?
Why should people sign up for this service?
Why should people sign up for this service with your company specifically?
Are there any requirements for signing up?
The number one rule of the internet is do not waste people's time. The easiest way to avoid this is by structuring your content so it's clear, engaging, easily scannable, and answers questions.
Don't Skimp on Social Content
There's more to content marketing than the words that fill the pages of your website. If you want to truly connect with customers, you need to put your message where they are. Of course, every brand under the sun has a social media account now, so it may not seem worth it to spend time or resources there. But that's actually the perfect argument for developing your social content.
Millennials are the new target demographic for the financial industry, and according to Facebook, this generation drives 40 percent of all financial conversation—likes shares, posts, etc. – on that particular social platform. If you can craft engaging content that will get their attention, it can help you stand out from the crowd and build valuable brand loyalty among a key demographic.
The important thing to remember is there's no "one size fits all" content strategy for all of social media. You'll need to create unique messaging that fits with the tone of each individual platform, such as events for Facebook, polls for Twitter, and photos/video for Instagram.
Educate with How-To Videos
Of course, there are even more opportunities out there to put your brand in front of potential customers if you're willing to get creative. Why not break out the digital camera and create some how-to videos? According to Google, this category of video attracts the most eyeballs out of all YouTube viewers—more than music videos, videogame clips, or lifestyle video bloggers.
With a single how-to video, you can break complicated financial subjects down into simple, digestible bits that will make viewers feel smart and your brand seem trustworthy. "How to Budget Successfully" could appeal to younger, more inexperienced customers, while "5 Reasons to Refinance Your Mortgage" could give homeowners the confidence they need to make an important financial decision.
You Can Bank on Blogs
Blogs have come a long way since the angsty LiveJournal years of the early 2000s, but it's still considered a four-letter word by many in the financial sector. This is truly a shame, because blogs can be an extremely effective tool for driving site engagement with relatively little upfront cost.
Sites like NerdWallet have embraced a blog-centric model with content designed to engage, educate, and inform, which in turn nurtures that all-important brand loyalty among its reader base. Through blogs, their site compares credit cards, explains how to budget for vacation, shows ways to simplify student loans, and more. If you have a financial question, they have a blog post dedicated to helping you find the answer. And they go the extra mile by linking to related articles within their blog network to encourage further user engagement.
We're not saying you need to turn your entire website into a blog. But if you establish an informative blog with a regular posting schedule (and promote them on social media), don't be surprised if your site's engagement numbers begin to steadily creep upward.
Connect with Customers By Embracing Content Marketing
So long as money makes the world go 'round, people will need financial partners. And while the old way of offering great service and stability certainly entices some customers, the internet has leveled the playing field.
But in order to stand out, you need to be bold. Revamp your website. Try out blogs and video content. But above all else, your focus should be on your customers—filling in the gaps in their financial knowledge and motivating them to meet their goals. Create the content that you would want to find if you were looking for a place to trust with your hard-earned money.
At Go Local, our Content team believes strongly in the power of content marketing. We provide "Content with a Purpose" to help brands first reconnect with their core values so they can better connect with their customers in the future.
If your brand is interested in taking your web content to the next level, our dedicated team of content strategists can help you get started. Contact us today for more information.