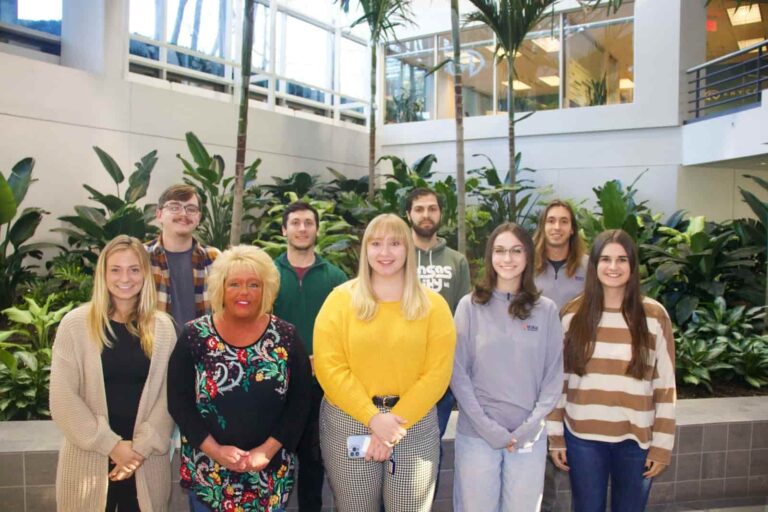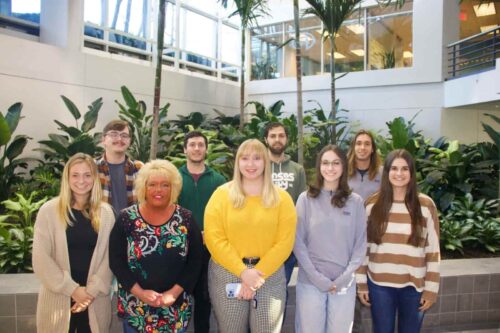 As we sprint through quarter four toward the end of 2022, we've added some reinforcements to the GLI team! In October and November, we welcomed a total of 13 new employees to our ever-growing crew. With new hires joining the Client Services, Human Resources, Search Engine Optimization (SEO), Web, Marketing, Content, and Paid Media teams, we're excited to see our company continue to grow—and share a little bit more about our newest team members.
Meet Our October New Hires
Client Services/Strategy Team
Our first new hire in October was also a returning one! Julia Jorgensen, who had previously interned with the GLI Content team, has now joined the Client Services/Strategy department as an Account Coordinator. Before returning for a full-time role with us, Julia graduated from KU with a journalism degree and minors in business and Spanish. She opted for a role on our Strategy team to pursue her interests in project management and working directly with agency partners. According to Julia, her favorite thing about Go Local is how she has been supported and mentored during both her internship and now her new role, and we couldn't be happier to have her back.
Joining us with a background in the SaaS/tech industry, Anna Bublitz recently started in the Client Services division as a Project Manager. Ready to delve into the culture and approach of our agency, Anna shared that she's excited to lean into the strategy behind the work we do for agency partners. Aside from her workplace skills, we're impressed to learn that she's also been training her dog to speak with soundboard buttons!
Also coming to GLI after working in the SaaS industry, Mallory Phillips joined the Client Services team as a new Project Manager in October. She says she's looking forward to being involved in many types of projects to continue learning about GLI and expanding her skill set. Her favorite part of working at GLI so far has been the welcoming, team-focused culture. Outside of work, Mallory enjoys playing volleyball, traveling, and trying out new restaurants.
HR Team
We take payday pretty seriously here, and we're thrilled to have new team member Wendy Chapman (bottom row, second from left) here to help us with everything related to pay and benefits! Joining the GLI crew as a Payroll and Benefits Specialist, Wendy has over 14 years of experience doing related HR/payroll/benefits work in the health care industry. When she's not at the office, she enjoys spending time with family and playing the game Sequence.
SEO Team
At the end of October, our SEO team added Chase Grossman (top row, second from left) as a new SEO Coordinator. He's excited to delve into SEO and build expertise within the digital marketing sphere. Besides being new to our team, Chase recently moved to the Kansas City area from Lincoln, NE, and says the GLI team has been extra welcoming and helpful as he adjusts to a new role and city. Along with spending time at the gym, playing video games, spending time with friends and family, and generally trying new things, Chase enjoys following sports, especially soccer (he's been playing it himself for nearly 20 years).
More About Our November New Hires
Client Services/Strategy Team
November was also a great month for our Client Services team! Madison Andela (bottom row, first on left), a May marketing graduate at the University of Missouri, is one of our newest Account Coordinators. She's excited to get into all the details of digital marketing and learn more about the interdepartmental collaboration here at GLI and has been enjoying meeting all the people on the team as she goes through training. Outside of work, Madison loves spending time outdoors, reading, shopping, and catching up with friends and family.
Content Team
The GLI Content team has seriously grown in the last year, and Jordan Wolf (top row, first on the left) is the latest addition! With experience as an Editorial Producer for Major League Baseball and a degree from the KU journalism school, he's joining the GLI team as a Content Coordinator. Pursuing an interest in working in a more business-oriented industry, Jordan is excited to get his feet wet in digital marketing and take on a new approach to content writing and production here at GLI. A die-hard KU, Chiefs, and Royals fan, Jordan can be found watching sports, playing disc golf, or going to concerts (he's been to around 50 already).
Marketing Team
The GLI Marketing team also grew in November. Destanee Harp (bottom row, first on the right), a recent business school graduate from the University of Arkansas, joined the crew as Marketing Coordinator in the first half of the month. Along with learning how to use different digital marketing tools, she's especially looking forward to getting involved with running GLI's events, including expos and executive summits. When she's not at work, you can find Destanee crafting with her Cricut machine, watching movies, enjoying weekend events in KC, or hanging out with her friends or her dog.
Paid Media Team
Our Paid Media team also grew this month with the addition of Delaney Hiner (bottom row, center). Delaney is a recent K-State graduate and chose to pursue a role in Paid Media for an opportunity to delve into both creative and analytics-based work within one position. A quick fun fact: After graduating with a major in marketing and a minor in anthropology, she got to spend a couple of months living abroad in England.
SEO Team
The SEO team closed out November on a high note by adding Adrian Rivera (top row, second from the right) to the team as a Senior SEO Coordinator. He has an educational background in design and experience working in marketing in the outdoor hospitality space. Andrian says he's excited to get to work at GLI to continue expanding his skill set and getting the chance to collaborate with all of our company departments. He's also recently returning to the region after living and working in Florida and is having a great time exploring Kansas City with his dog, Donut.
Web Team
Early in November, the Web team welcomed Joel Busch (top row, first on the right) as a software engineer. Joel studied mathematics and statistics at UMKC and brings prior experience with web development into the role. When it comes to his new role at GLI, Joel's looking forward to learning more and mastering the technical aspects of web development. Along with being a fantastic addition to our Web team, Joel might be one to watch for in the celebrity gossip circles. He was voted "most likely to become famous" in high school!
Also in the first half of the month, Madeline Prickette (bottom row, second from the right) started as a Software Engineer in the Web department. She studied to become a full-stack software engineer at the Prime Digital Academy in Minneapolis, MN, and is looking forward to the opportunity to learn new programming languages and gain professional tech experience here at GLI. Madeline is an avid gamer, and enjoys going to the gym and cooking in her free time. She's also an animal lover and even has a pet bearded dragon named Reptar.
Although the Web team already added a few members early in the month, the department's growth didn't stop there. Aaron House also started as an IT specialist in Web in November. He's looking forward to getting up to speed on all things IT here at the office. In the meantime, you might catch him reading on his lunch break, playing pickleball outside of work, or spending time with his dogs and cat. A lifelong KC resident, Aaron's favorite area is the Plaza, especially when the Christmas lights and decorations are up!
The GLI Team of Tomorrow
As we head into the start of the new year, we're so excited to grow alongside all our team members, new and old. We're also making room for even more people to hop on board in a variety of agency roles. The future is certainly looking bright!