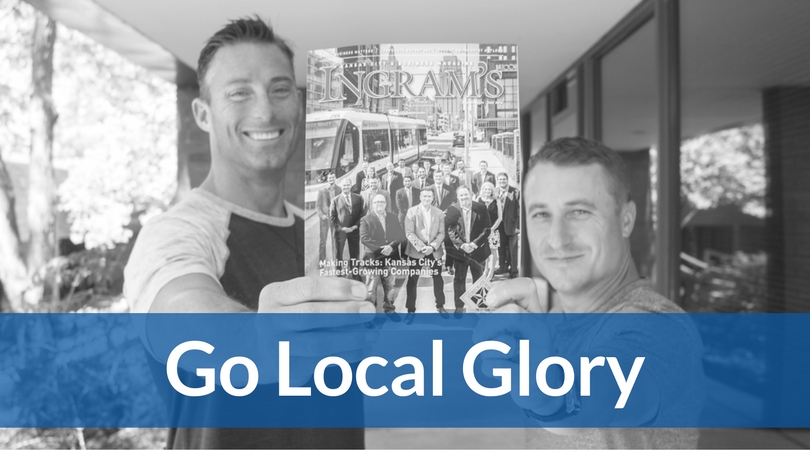 "I remember doing client calls from Jason [Barrett, Go Local Interactive CEO]'s backyard. There would be lawnmowers in the background, dogs barking. It was a really exciting and unique time for the agency," recalls current Senior SEO Product Manager Caleb Ross.
In the early days, Barrett's home was more like a temporary office. Rumor has it that the card table in his basement was where the real magic happened.
Michael Solms, current Vice President of Marketing and Sales, laughs as he remembers a time when he made the trip from Milwaukee to Kansas City for a mid-year meeting. The company was so new that, in an effort to save money, they refrained from booking a hotel. Solms stayed the night at the Barrett residence, in a twin-size bunk bed that Barrett's son was willing to give up for the night.
For each founding member, these moments are cherished. After all, it was those basement beginnings that helped bring Go Local to where it is today.
—
Go Local Interactive is the culmination of three ambitious minds – CEO Jason Barrett, company president Tom Carroll and vice president John Jordan – who were willing to take a risk. A former agency acted as a thread that bound them together, but their drive for better helped them shape a company with a bright future.
From the beginning, it seemed as if the cards fell right into place. The agency that Barrett, Carroll and Jordan had previously worked for was going under, and many of their clients were stuck wondering what would become of their marketing efforts. Luckily, the new and quaint Go Local was ready to pick up the pieces. By leaning on relationships they had fostered over the years with clients, this micro-agency was able to gain – or rather, retain – their very first clients.
The team knew that the key to being successful from the get-go would be by filling their ranks with like-minded members. Michael Solms, Vice President of Marketing and Sales, and Caleb Ross, Senior SEO Product Manager, were some of the first to jump aboard this crazy train.
"I was confident about who was onboard. They explained to me that we would be able to make this agency what we wanted it to be. We could create something special. I was nervous, but I was also excited, and there was no way I could pass up the opportunity," said Solms.
At that time, the only products offered were Search Engine Optimization (SEO), Paid Media, Pay Per Call and Local Listings.
Boy, how things have changed around here.
Go Local Interactive has become a one-stop shop of sorts when it comes to online marketing. Current products include: Web Design, SEO, Local Perceptions, Paid Search, Call Boost, and Social Media. Recently, Go Local has also added Branding and Content Marketing to their diverse menu.
This growth has even been reflected internally. Our agency has a unique culture and brand that stands out amongst others. Go Local employees work hard and cheer each other on. This past year, the office has even started a community service initiative coined "Give Local." Each month, a different department spends the afternoon volunteering at a local charity or non-profit. The Give Local initiative has created a mutually beneficial relationship between the company and the community, and we're excited to see how it grows and develops.
—
Fast forward to 2016, which has been a season of thrilling decorations for Go Local Interactive. Things are moving at a rapid pace, and the agency is determined to keep up. Two of the biggest honors include being named a Google Premier Partner and making the Inc. 5000 List of America's Fastest Growing Companies.
Other exciting accomplishments include making the Kansas City Business Journal's rankings of the 50 Fastest Growing Companies in Kansas City, Top Digital Marketing Agencies, and Top Advertising Agencies. Ingram's, the leading business publication in Missouri and Kansas, included Go Local in this year's edition of the Corporate Report: The Kansas City Area's 100 Fastest-Growing Companies. In addition, Inside Self Storage gave Go Local Interactive the title of Best Marketing Services for the self storage industry.
From humble beginnings to award winnings, there sure is a lot to be thankful for.
Recent Awards