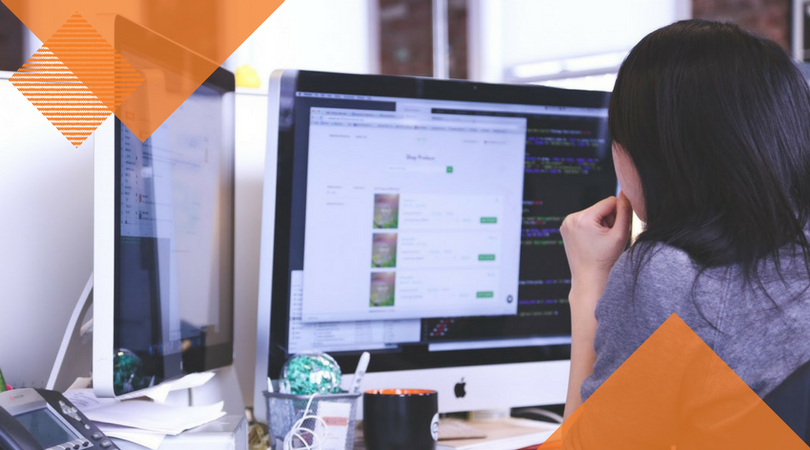 In marketing, data is everything – from proving ROI to determining a strategy, metrics matter. And there are so many ways to capture data in this day and age, that it's hard to sort through it all. Your marketing programs are likely spread across platforms, tools, and accounts, each with their own dashboard.While each dashboard may provide useful information, none of them give a holistic view. For instance, Adwords gives excellent insight into paid media campaigns, but doesn't provide much on organic performance or social trends. By making the information much more comprehensive, your campaigns will be more valuable and usable.
Enter: Advanced Local Reporting
Advanced local reporting brings several sources of data and displays them on a single dashboard based on locations. Data on your locations is everywhere –- Google Analytics, Adwords, Facebook, email campaigns, Google My Business, Yext, Yelp, etc. Advanced local reports are just that: Reports on steroids with a foundation in business locations. It combines data across platforms into one, easy-to-use dashboard, providing a holistic view of your marketing efforts. Seeing how all of your data works together can be vital for analyzing the health and performance of each location, region, and even your company as a whole.

More is More
In this age,  the problem is no longer accumulating enough data – it's everywhere. Even the display of all this data has been improved significantly, as Google Analytics, Adwords, Yext, Facebook, and several other sources of data display their metrics on their own dashboards. But, you shouldn't feel apprehensive about collecting it all, and you shouldn't be concerned about the pitfalls of siloed data.  Advanced local reporting brings together data for a more inclusive, local view. It provides a location-level dashboard that brings together several important metrics from all your data sources to view the overall online performance. By doing so, you can target specific marketing tactics in specific locations.
New Look, Same Great Data
Advanced local reporting doesn't require any new accounts or modes of data collection. To implement, the existing data and accounts are linked into a single reporting dashboard. The dashboard shows not only a high level overview, but breakdowns by location, region, state, service line, and location type. Filtering this data down adds much more value, as issues at the location level (or any other layer) can be diagnosed quickly with all the data in one place.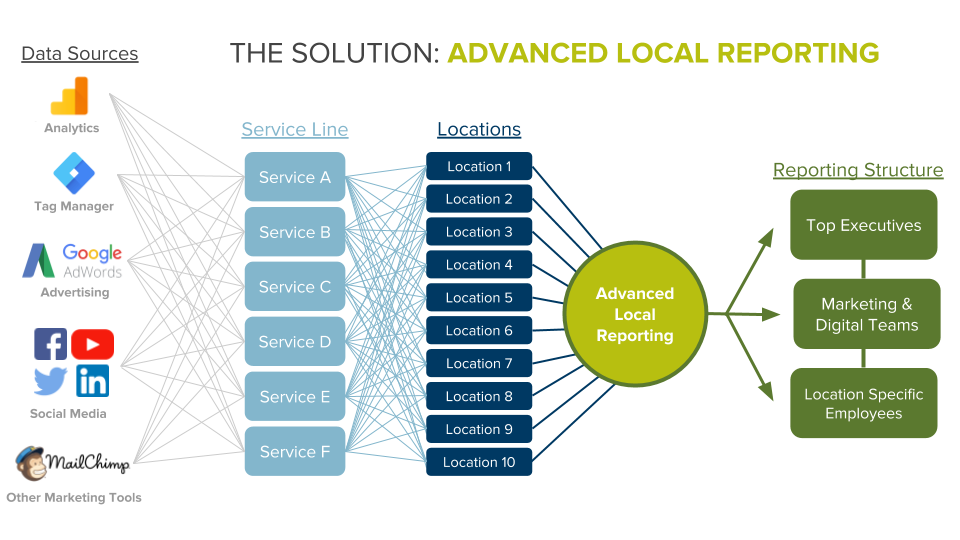 One View, Multiple Data Sets, More Insights
Advanced local reporting can assist decision making by having all the data for your locations in one place. This can help identify location page effectiveness, ad performance, social media performance, and how everything works together. Building off those relationships and insights can help understand the customer experience and prioritize marketing efforts on a local level. This can make budgeting and marketing spend more efficient, while allowing a much more accurate and detailed ROI. Learn more about how our Advanced Local Reporting can streamline your marketing programs – contact us today for more information.