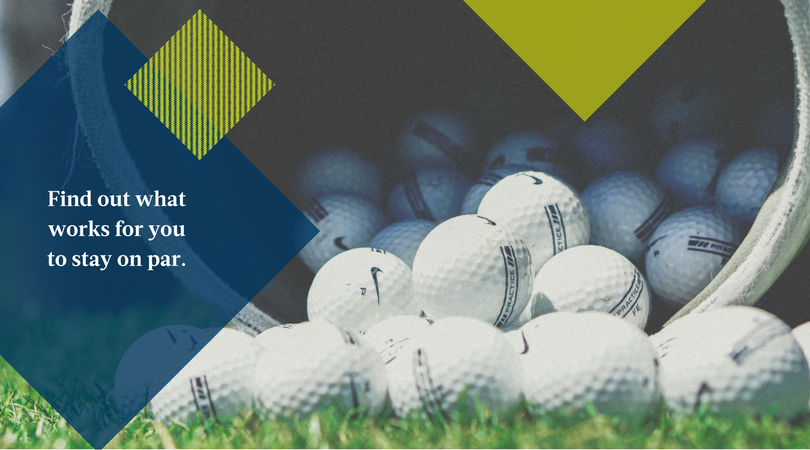 Some of my fondest memories of growing are from the golf course. I was lucky enough to live in an area surrounded by the beautiful, rolling Flint Hills in Manhattan, KS, where Colbert Hills Golf Course resides. Think waves of golden natural grasses blowing in the wind as the sound of meadowlarks greet you on your way to the 18th green. I love that place, truly.
Colbert Hills has strong ties with the First Tee program, an organization that strives to "impact the lives of young people by providing educational programs that build character, instill life-enhancing values and promote healthy choices through the game of golf." In fact, on one 9-hole short course, each tee box reads a different pillar of character – integrity, confidence, responsibility, trust, respect, courtesy, equity, accountability, and the edge to compete. As I've developed in my career, these are qualities that I've applied to my professional relationships with great success.
But those aren't the only lessons I've taken from the greens to the office. Here are five lessons that the golf course taught me about working as a client strategist at a digital marketing agency.
1.  Line Up Your Target
Set your feet when you're ready to hit the ball. Draw an imaginary line in your mind from your right foot to your left and pretend it extends on for infinity. Is it lining up to your target? This is the exercise we're taught as beginners to make sure we're lining up our shot correctly.
When working with clients it's important to first identify the destination. The bottom line is this: are you listening to your client? Do you know what their goals are? Do they match your agency goals? Without confirming these details, you're starting the hole in a hazard.
2. Follow Through
I can visualize a smaller version of myself teeing up my pink Titleist on the first hole. Standing confident, back straight, club just a little bit too big, ready to knock it in the hole. Just as my club makes contact, the ball flies to the right. Immediately frustrated, I look up at my dad.
"Keep your head down, Caroline. Always remember to keep your head down."
If I had a nickel. This had to be one of the hardest things for me to learn as a kid; I wanted to see where my ball was going, and didn't want to miss a second of it. However, my eagerness knocked my swing off kilter and botched my follow-through.
This is what overconfidence can do to an agency team. If you're so focused on the end result (of staying under par or launching a new website) without first considering your current position, then you'll get ahead of yourself and skip essential steps in the process. The follow through is a reflection of the shot itself.
Taking time to focus and remain present pays off in the long run, and eventually you'll get to look up and see the better, more accurate finished product.
3. Take the Wind into Consideration
Located in central Kansas, you could expect gale force winds at Colbert Hills. Specifically, on the tee box of hole number 17, as it stands above the rest of the course. I remember a day when it was so windy that I could lean against the wind and be held up. Hitting the ball off this tee is not like other holes, and you should plan accordingly when you do so.
Each client is different, not to mention each industry. Each has peak seasons and cyclical fluctuations. Client strategists should be familiar with the ebb and flow of their accounts' business. As you would approach each hole differently on a golf course, you must approach each industry and client differently. Take notes, do your research, and for the love of golf – take the wind into consideration.
4. Etiquette, Oh the Etiquette
Historically known as the "gentleman's sport" (feminists everywhere, I hear your cry), golf is built on the premise of etiquette. Players are held to a standard of play that is respected across the globe. Cheating is condemned and even accidentally breaking a rule will have you disqualified. There is an order to everything: who hits first and who putts first. This standard of play serves as golf's "best practices."
Marketing also has best practices, and clients expect transparency throughout the whole process. Your job is not to cheat your way around results, but to pursue them wholeheartedly with "white-hat" tactics. Clients expect honest, respectful, and clear communication. Etiquette means keeping your clients up to date with accurate information, no matter the circumstances.
5. Remain Confident and Consistent
"Caroline it's all in your head. Focus. You can do it," my dad encouraged me through one of my junior league tournaments.
It was my least favorite hole. It wasn't particularly long, but it was uphill and if you didn't hit it on the green you could kiss your pink Titleist goodbye because you'd never find it in the thick gunch below. Every time I reached it, this hole intimidated me.
But here's what I've learned,: success lies in your pre-shot routine. Find what works for you. No matter the quirks of yours, the pre-shot routine guarantees confidence and consistency with each shot. By forming your own habit before each shot, you're more likely to feel confident and prepared with what you're doing.
Develop your pre-shot routine when it comes to client calls, presentations, emails, and anything else client-facing. This comes in many different forms, and many times it means preparation. Come prepared with reporting data, research findings, an agenda, answers to questions the client might ask, and a list of questions you want to ask. The last thing you want to do is be unprepared, unfocused, and intimidated from the start. Find out what works for you to stay on par.
"I never played a round when I didn't learn something new about the game." – Bobby Jones
Bobby Jones sums it up well. At Go Local Interactive, we're constantly pursuing new knowledge and striving to be better each day. Each client teaches us something new, and we work to educate them, as well. If your business has been performing below par lately, maybe it's time to try a different stroke. Contact us today to receive a high-level digital marketing audit of your business and start hitting shots in the right direction.