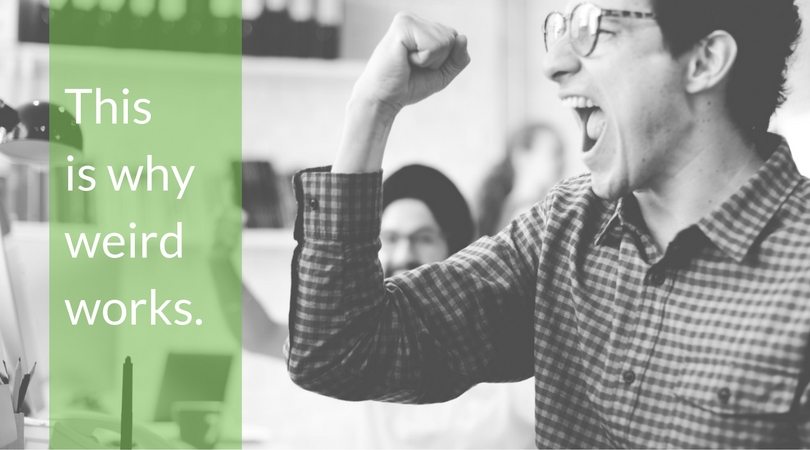 Whitney Manney, funky-fresh fashion designer and artist, presented at Creative Mornings Kansas City this month about how "weird" has weaved its way through her life. Our team walked away inspired, with wheels turning of how this can be integrated into the marketing world.
Weird Origins
One of the most intriguing points Manney shared with her audience was the actual origin of the word "weird". In Anglo-Saxon culture they used the spelling "w-y-r-d", and its significance related to fate, or personal destiny. Nowadays in North-American culture when we refer to something as weird, we mean it's unusual, strange or something we want to separate ourselves from. I imagine someone putting their hand up, saying "That's weird," and taking a step backwards.
How did a word that once meant fate or destiny evolve to have such a negative connotation? I can't help but think that part of the original and authentic goodness still lives inside the word "weird".
It Starts with Transparency
So how does this relate to marketing? Incorporating weird into an agency refers to transparency. At Go Local Interactive, being transparent is one of our core values when it comes to the products we outturn. From the early days, it was decided that whether it is our services, communication or branding, we will strive to be as transparent as possible.
Our product teams and strategists are clear with clients about what services they are receiving as well as what assets they legally own. We don't communicate like robots, either. Employees get to know clients on a personal level and work to deliver handcrafted solutions.
Ok, so we're transparent – what about weird?
If being transparent is important in our work habits, we think that it should also be reflected in our social presence. Like I said, we're not robots, we're real people. We're weird.
That means – we're not into stock photos. We're really good at ugly faces. We have goofy quirks and individual personalities. Although we are all part of a like-minded agency, each of us has individual hobbies and passions. We're unpredictable and we're unique.
Being weird at Go Local is celebrated. In fact, one of our culture mantras is "Embrace Originality." We learn something new about our coworkers each day. Our individuality is showcased in a number of ways – including Snapchat takeovers (shameless plug to follow us at @wearegolocal), employee spotlights on the blog and lively cultural events. By showing the outside world a little bit of our unconventional personality, we're able to give them a glimpse into our daily life. We're real people, who want to give clients real results.
So how does this relate to marketing?
 When people realize that a business isn't just a business but rather a team of real people, then a door opens to real communication. It's in that moment that trusting relationships are built and clients are more apt to be loyal to an agency or product.
To be normal is to be weird. If you're not showcasing your quirks, you're creating an untouchable aspect to your business. So to sum things up; it's easiest to build brand relationships when you're your most genuine self. If you're going to flaunt transparency, let it be true across your whole brand.
Lastly, we want to close with some wise words Whitney Manney shared: Own your weird, protect your weird and respect the weird of others.
Manney – we like the way you think.
---