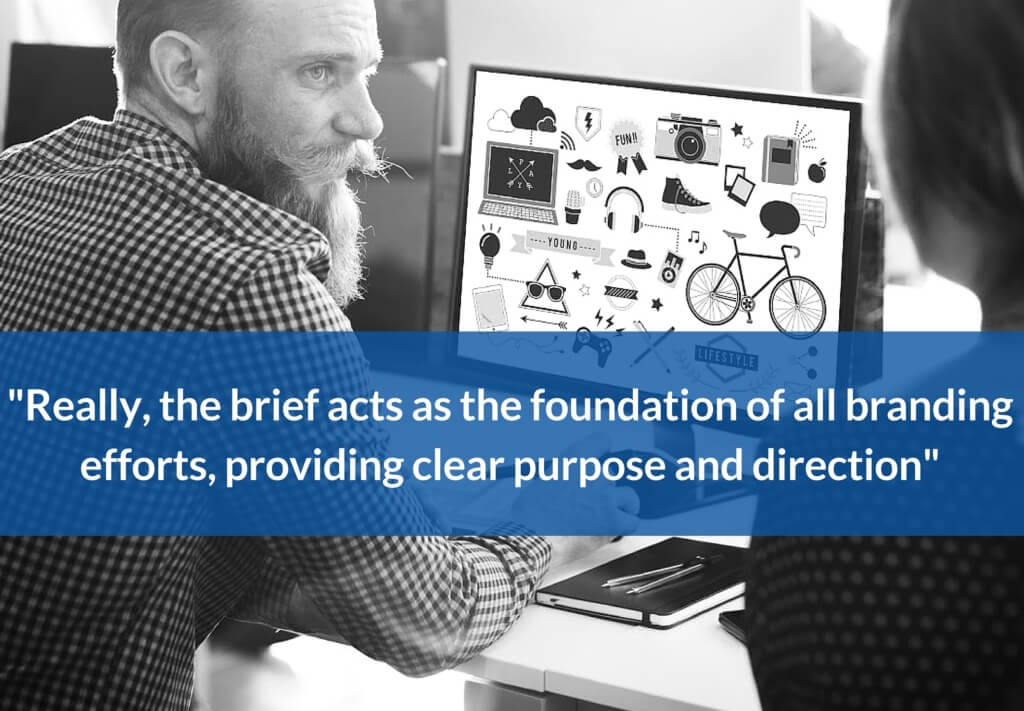 If you don't know what a brand brief is, don't panic.  In this article, I will go over why it's important and how a brand brief is used.  But to kick things off, a brand brief is an internal document that embodies the likeness of your company.  Really, the brief acts as the foundation of all branding efforts, providing clear purpose and direction.

Believe Me, It's A Necessity
The strongest brands establish their core values and then build their brand identity around those values.  The values act as the foundation and should shine through in everything that represents the brand.  In fact, "64% of people cite shared values as the main reason they have a relationship with a brand" (BOP Design).  And this document should be able to answer any question that anyone should ever have about the company.  What is the purpose of this business?  What is its goal for the future?  What sets it apart from everyone else?  What is its brand personality?  And so on and so forth…
Here are a few key reasons why every company should create, update and actively use a brand brief:
+   The brand brief should act as a guide for employees.  It provides direction, meaning and promotes consistency and productivity.  For instance, if on the fence about how to respond to a client, an  employee can refer back to the brand brief and make sure that their answer is in line with the core values.
+   It is also a tool for onboarding new employees.  It clearly explains what the company stands for and provides concrete guidelines for how the company should be perceived and represented.
+   It allows the executive staff, who are often the visionaries of the company, to put their thoughts on paper and easily communicate brand expectations to the company.
+   The brand guideline document stems from the brand brief.  The guidelines offer even more detailed information about the brand's personality, language, imagery, design criteria, etc.
The larger the company, the more difficult it can be to ensure that everyone is on the same page.  By incorporating the brand brief into employee orientation and reinforcing it as a living tool, you are alleviating confusion.  You are also confirming that your customers are receiving consistent interactions no matter who they are talking to or what medium they are using.  In fact, consistent experiences are becoming increasingly important – "60% of US millennials expect consistent experiences when dealing with brands online, in-store, or by phone" (BOP Design).
Brand Brief Basics
While every brand brief will vary slightly, some common elements to include are:
+   Vision: Where you want to go.  This will look to future goals.
+   Mission: How you will get there.  The mission will support the vision.
+   The Big Idea: This is often used as the company tagline and indicates action.  Once the big idea is selected, it acts as a theme.  An example would be Nike's "Just Do It."
+   Core Values: If you had to choose 5 – 7 values that accurately represent your brand, what would they be?  We have found it helpful to add thought-provoking questions in reference to each core value.  For example, if one of your values is customer service, you may add the following question to this section – "Would I recommend this same strategy to a friend or family member?" The point of this is to offer answers to your employees and help guide them to make decisions based on the company values.
+   Brand Promise: Once you make a promise, you must keep it.  Customers are fast to turn their backs on companies that don't keep their word.
+   Voice, Tone, Imagery: If your brand could talk, what would it say?  Who would it sound like? What would it look like?  Who do you want to appeal to?
+   Culture: This one will likely vary greatly from company to company.  There are so many ways to construct your culture that is uniquely representative of your environment and structure.  You could choose about 7 cultural sayings that sum up your work environment.  An example might be, "Celebrate People."  You might also try summing everything up in one sentence.
+   Competitive Advantage: Here, list what makes you different from your competition.  Why should customers choose you over other companies?  Don't talk about the features and benefits of your products or services here – this should tie into your values.
+   Target Audience + Key Markets: Describe the audience you're working to attract and/or the ideal vertical.
+   Key Competitors: Consider your competition and be specific.  If you have multiple product and service offerings, break your competitors out in different categories.  For example, if you sell apparel, you may have different competitors for men's and women's clothing.
So, now you know why a brand brief is so important for the success and future of your company.  The identity of your brand should stem directly from this document – meaning that every single touchpoint should relate back to your brand brief and core values.  In doing this, you are thoughtfully creating a reason behind absolutely everything that your company produces.
In Part Two of this article, I will give instructions and pointers on establishing your very own brand brief.  
Click here to learn more about branding and get in contact with our branding team.