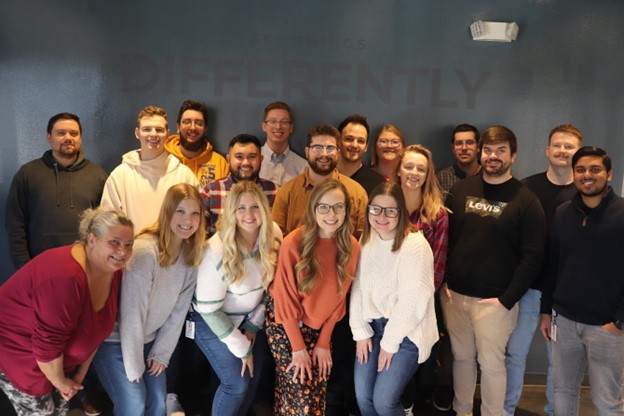 The early signs of spring may be just starting to pop up here in Kansas City (between snow days, that is), but the GLI team has been seeing all kinds of fresh new growth over the past few months. As we transitioned into 2023, we even moved into a new, bigger office space all our own. While our move meant gaining a tremendous amount of square footage, we're even more excited that we got some serious new talent right around the same time. In December and January alone, we welcomed 21 new team members.
Amid this season of growth, nearly all of our departments have onboarded new team members and are heading into the near year with not only the excitement of welcoming new faces but also the ability to reflect this growth with new company goals. Learn more about our newest team members and all the skills they're bringing to our team!
Meet Our December New Hires
December brought many of the expected aspects of winter—all the way from holiday cheer to icy highways. This year, however, it also brought new team members our way! The GLI HR, Client Services, and Paid Media Teams collectively welcomed five new hires as we wrapped up 2022.
Client Services/Strategy Team
This December, Garret Estrada-Winchel (middle row, second from right) joined GLI as an Account Strategist. Coming to GLI with previous account management experience, Garret says he's excited to bring his skills to the digital marketing sphere and learn more about the work of each department. His focus and primary goal as an account strategist is to be the voice of the agency partners and help them see their goals be met and surpassed, and he says that making a positive impact is especially important to him in his work. Outside of the office, Garret enjoys following local sports, and also has been recently enjoying barbecuing with his smoker.
Also coming to GLI in December, Shelby Sutton (first row, on right) started her new role as an Account Coordinator shortly after finishing her business studies at Washburn University in Topeka. She was drawn to apply to the client services team for the opportunity to build relationships with agency partners and provide support to them through collaboration with the extended Go Local team. So far, she says that one of her favorite aspects of Kansas City and Go Local has been the passion and enthusiasm everyone has for the activities they're involved in. Outside of work, Shelby especially enjoys reading, watching soccer matches, and enjoying a good competitive game night with family or friends.
HR Team
The GLI HR team is thrilled to welcome Katherine Reed (first row, second from right) as a new HR Generalist. Katherine comes to GLI with experience in several previous roles in HR, employee experience, and learning and development. Although new to the team, Katherine's been jumping in with all kinds of projects already, including a company intro event for the new hire group. Katherine says she enjoys working at GLI because the team as a whole really embraces a human approach and truly believes in their work. New to both Go Local and the Kansas City area, Katherine says the people here on our team and in Kansas City have been super welcoming already. When she's not at work, Katherine especially enjoys playing piano and reading. She's even set a goal to read 125 books this year!
Paid Media Team
The Paid Media team is excited to have new December employee Farhan Sadique (middle row, on right) on board. Farhan is joining Go Local as a Paid Media Coordinator, and is coming to the team with experience as a Marketing Strategist at UMKC. He says he was drawn to working at GLI for the opportunity to take on new training and development within the Paid Media Department and the agency as a whole. Since joining the team, he's been enjoying the fun, energetic environment here at the office. Outside of work, Farhan enjoys playing tennis, reading, and cooking. He's also a big Manchester United fan!
Web Team
In December, the web team added Josh Garcia (top row, on left) as a Software Engineer. A K-State computer science graduate, Josh chose to work at GLI for the opportunity to deepen his knowledge and experience in web development. He says his favorite part of working at GLI so far has been the helpful and welcoming team. Outside of work, Josh enjoys spending time with friends and playing video games.
Meet Our January New Hires
2023 started off with a lot of excitement here at GLI. We moved into a new office and added 16 new team members to the team. These new hires joined the Client Services, Content, Marketing, SEO, Paid Media, and Web teams. 
Client Services/Strategy Team
Account Strategist Mercedes Fergus (bottom row, center) joined the Client Services team in January. Her previous experience includes working for the NBC News State in Wichita as an Account Executive. So far, her favorite parts of Go Local have been the laid-back environment and the human approach the team takes toward working with agency partners. An avid traveler, Mercedes has been to 48 states and 13 countries. Locally, she also enjoys visiting new places and restaurants around Kansas City.
Jackson Ozburn (top row, on right) is also new to the Client Services team as an Account Coordinator. Jackson says that he's looking forward to meeting the whole Go Local team and seeing how all the different agency roles and departments work together. Before joining the Go Local crew, Jackson was working as the Director of Recreational Programs at one of the largest soccer clubs in Kansas City. A KC native, Jackson's local favorites include Chiefs football, Ponak's Mexican Kitchen, Casual Animal Brewing Co, and in his own words, the Kansas City, MO, potholes. 
Right at the beginning of January, Noel Sandoval (middle row, second from left) joined the client services team as a new Account Coordinator. With experience in the entertainment data industry, Noel decided to join the Go Local team for the opportunity to work directly with agency partners and cultivate his skills in project management. He's excited to learn more about digital marketing and finds the industry exciting because it's always changing. When not working, Noel enjoys spending time with friends and family and exploring new places.
Content Team
The content team is excited to have Cameron Jordan (second row, third from left) on board as a Content Strategist. Cameron started with the content team in January, after finishing up his Master's in Communication at Missouri State. As someone who enjoys writing, Cameron says he's excited to work closely with this passion through his role. He's also really interested in the collaborative agency culture, and says has enjoyed the welcoming environment at the office since joining Go Local. In his free time, Cameron enjoys following sports and is a big Nuggets, Avalanche, Rockies, and Chiefs fan. He also can be found playing disc golf or visiting local coffee shops. An interesting fact: Cameron was once a voice actor for the pilot episode of a kid's puppet show that was pitched and picked up on Shark Tank (before Disney shut the show down).
Marketing Team
The marketing team also grew with the addition of Zach Baird (top row, third from left) as a Marketing Coordinator in January. A recent KU business school graduate with experience in sales, Zach is excited to pivot into a marketing role and use his experience to help support the GLI sales team and facilitate new business growth. So far, Zach says he's been enjoying the culture, environment, and energy of Go Local and the Kansas City area. When not spending time at the office, Zach enjoys following KU sports, cheering on the Chiefs, playing video games, spending time with friends and family, and playing with his dog.
Paid Media Team
Among our new Paid Media team members is Nick Admire, who is now the Manager of Paid Media Strategy. Nick brings extensive marketing and digital marketing experience to the table, including experience from roles at Archer Education, PlattForm, Voltage, Inside Response, and Seismic Digital (as co-owner). Coming to our team with an extensive professional background, Nick is excited to dig more into marketing in the pest control, multifamily, and self storage verticals. He's also enthusiastic about the fast pace of the agency environment and looks forward to leading the paid media team in using cutting-edge tools and strategic planning to help agency partners achieve new and continued successes. Fun fact: Before coming to GLI, and even before he got into digital marketing, Nick spent five years working in intelligence in the Navy.
The paid team is also getting a boost with the addition of Tandy Slane (bottom row, on left) as a Call Data Coordinator. Tandy has extensive experience working in customer service roles and even spent some 15 years working in self storage facility management across various states. Tandy said she was attracted to GLI due to the flexibility it allows her in her schedule and says that the kindness, energy, and focus of everyone on the team has stood out to her as she's started in her new role. When she's not at work, Tandy loves spending time with her son, cooking, gardening, reading, and recently, playing snakes and ladders.
Katherine Stonestreet (middle row, third from right) also came to the paid media team in January. A K-State graduate with a degree in marketing, a certificate in international business, and minors in French and Chinese, Katherine also has experience with paid media through a previous role. Now a part of the Go Local crew as a Paid Media Coordinator, Katherine is looking forward to delving even deeper into paid media and helping the team grow measurable ad results, as well as learning more about the relationship between SEO and Paid Media. Outside of work, you might find Katherine playing D&D with friends, writing nonfiction, playing video games, or even taking on a new digital art or embroidery project.
SEO Team
The Go Local SEO team has also been seeing serious growth this month. A 2021 Marketing graduate from Emporia State University, Courtney Edwards is joining the team as a Local SEO Coordinator. With previous experience working in sales roles at Twin Rivers Winery and Dynamic Discs, Courtney is excited to continue to work for a company with a community focus and is excited to now pursue working at a digital marketing agency through her relocation to the Kansas City area. She's excited to explore agency roles and work and settle more into her new city. Depending on the seasons and the weather, you might find Courtney camping, hiking, playing disc golf, hanging out with her dog outdoors, or staying in to read, watch Netflix, or crochet. 
A new Senior SEO Coordinator, Philip Nims (top row, fourth from right) also started at Go Local in January. Philip's experience with SEO is primarily from having started his own small digital content creation company. Having grown his YouTube and Twitch following to over 165,000 subscribers and 46 million channel views, Philip says that having a solid understanding of SEO is what really set him apart from other content creators, and now he's excited to join the Go Local team to continue honing his SEO skills. He says his favorite thing about Go Local so far has been the welcoming team, which has made easing into a new work environment easier. Philip tells us he enjoys board and tabletop games, playing disc golf, building computers, and working on small woodworking projects. He also loves cooking and playing video games (including everything from Minecraft and Stardew Valley to Valorant and Fallout). 
The SEO team is also excited to have Russell Satterfield on board as a Senior SEO Specialist. Russell has been working in the advertising space for nearly 20 years and says he's especially drawn to the ever-changing nature of SEO. With core Myers-Briggs strengths of "analytical," "individualization," "learner," "achiever," and "responsibility," Russell says his new role in Go Local's SEO department aligns with both his interests and core strengths. He says he's looking forward to the fast-paced and innovative nature of working at GLI and has noted the welcoming atmosphere here at the office. When he's not at work, Russell enjoys spending time with his daughters, collecting coins, and enjoying general movie buff activities.
Local SEO Coordinator Sydney Stewart (top row, third from right) also joined Go Local in January. Sydney has experience in the sales side of the multifamily housing industry and holds bachelor's degrees from Kansas University in English (creative writing) and Strategic Communications/Journalism. She's excited to dig into data and analyze the "why" behind the numbers in her new role, and she says the positivity, understanding, and team spirit of the GLI crew has stood out to her since beginning her new role. Sydney is from the Kansas City area, and you might guess that from her enthusiasm for following the Chiefs! She's also a huge fan of movies and impressively knows all the words to Billy Joel's "We Didn't Start the Fire."
Web Team
The Go Local web team also got a serious boost in January with the addition of Robert Erskine (top row, second from right) as IT Manager. Robert comes to Go Local after working as a System Administrator at a software company and is looking forward to the opportunity to get involved in building out the IT department at GLI. He's also looking forward to learning about digital marketing and agency work through his new position. Robert is a lifelong resident of Kansas City and says that local BBQ, especially, KC Joe's, is a personal favorite. As a fun fact, he was also a semipro PC gamer at one point.
New Software Engineer Cody Lacey (top row, on left) also joined the GLI web team in January. Prior to starting with our team, Cody worked in sales while also doing freelance web development work. Referred to join our crew by another GLIer, Cody says he's enjoyed the helpfulness of the team as he settles into his new role. Outside of his work interests, Cody enjoys hiking, playing disc golf, and playing video games. He also has a private pilot's license.
Trenton Sadrakula (middle row, on left) is also a new Software Engineer on the team. Joining our crew with previous experience as a computer sales expert, Trenton was attracted to Go Local for the opportunity to work in a mission-focused company. He says he's looking forward to collaborating with his new team and growing his confidence in his role going forward. Trenton says he's been enjoying the team atmosphere and sense of culture here at Go Local as a new team member. Outside of the office, you might find Trenton playing video games, hanging out with his dogs, or working on classic vehicles.
Chloe Sportsman (bottom row, second from left) was also a new addition to the Web Department this January. Chloe studied software development through the Nucamp coding boot camp and is now joining our team as a Software Engineer. She says she's looking forward to expanding her technical knowledge, seeing the entire process of working with agency partners from start to finish, and learning how agency projects fit together. Chloe's favorite thing about working at Go Local so far has been the helpfulness and communication of the team. When she's not at work, Chloe says she enjoys hanging out with family, spending time with her cats, and following KU football and basketball. She's also a born-and-raised Chiefs fan! 
Growth With Go Local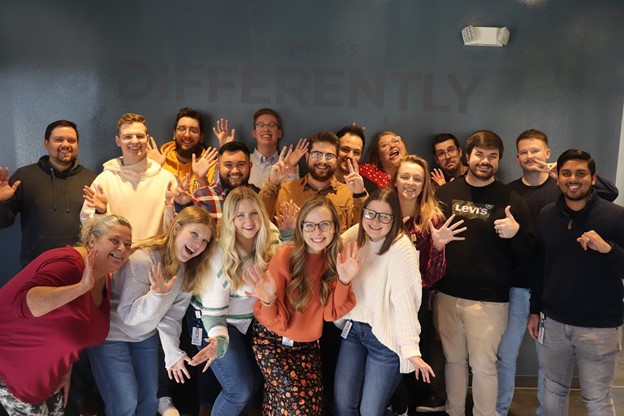 Although we might be 21 excellent new hires stronger now, the Go Local team is still looking to grow! We have open positions throughout the agency and would love to hear from you about how you might fit into our open positions.