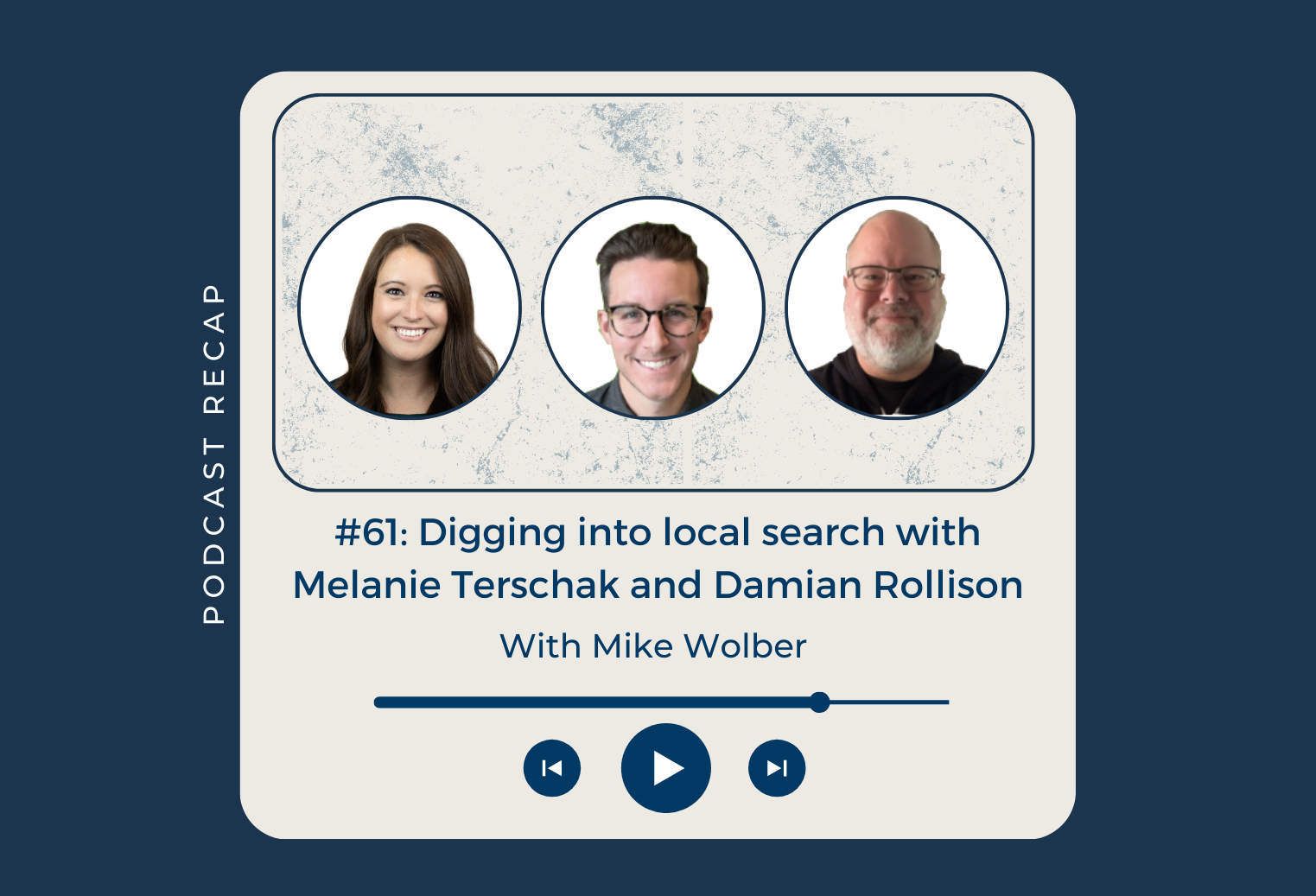 When considering local marketing tactics in the multifamily industry, it's important to always evaluate your performance in the areas of local search, social, and reputation. On a recent episode of the Modern Multifamily podcast with host Mike Wolber, our Marketing Director,Melanie Terschak joined SOCi's Director of Market Insights Damian Rollison to discuss all things local marketing and how multifamily companies can improve their local marketing strategy.
To learn more about how local search, social, and reputation all play a role in your marketing strategy as well as ways to improve in those three areas, continue reading, and listen to the full podcast episode.
What Is SOCi's Localized Marketing Benchmark Report?
This report established benchmarks for performances within three categories of performance: search, social, and reputation. To create this report, SOCi audited around 230,000 locations and looked at the Google, Yelp, and Facebook profiles of companies in those markets. 
SOCi selects those profiles because they are good shorthand indicators within different fields, with Google being a good representation of search, Yelp a good representation of reputation, and Facebook, of course, being a good representation of social. These profiles also allow SOCi to look at about 100 different measurements such as how often your community appears in the Google three-pack for your most competitive search term, how many of the communities under your management are actively claimed and managed on Google, and so on.
In this year's report, SOCi produced a follow-up that specifically dove into property management companies subdivided into multifamily, senior living, and student housing. This allowed them to dive deeper into those verticals to establish different benchmarks as they move across those different areas within property management. 
Key Takeaways for Multifamily Companies
Rollison and Terschak discussed some key takeaways for multifamily companies that were highlighted by this report. Terschak pointed out that search scores were "particularly low for multifamily." The highest score for multifamily was for reputation. Social came next, and search ranked last. Rollison attributes these rankings to multifamily industries being particularly good at responding to reviews on their search and social media profiles but having a little less understanding of basic concepts around search optimization.
One specific piece of data in regard to search is that the percentage of locations that show up in Google's three-pack is about 11%. This means that, if your company is below this benchmark score, you have some room for improvement when it comes to ranking within that three-pack. As Terschak pointed out, listings aggregators like Apartments.com are "particularly dominant within the multifamily industry." This makes it hard for individual properties to rank organically on the standardized link, making the map pack especially important for multifamily companies. 
Another key take-away in regard to social media within the multifamily industry relates to the types of content being posted on Facebook. SOCi found that video posts generate about twice the engagement as photo posts. However, utilizing both of those content types is a great way to drive recommendations to your properties. 
How To Improve Your Apartment's Search Results 
After taking a look at this report and making note of the key takeaways within the multifamily industry, the next step is reflecting on ways your company can improve in the areas of search, social, and reputation. Both Terschak and Rollison have some words of wisdom to offer as you begin this process of improving your local marketing strategy.
Improving Your Apartment's Local Search Ranking 
Terschak urges companies to ensure their "Google Business Profiles are built out as much as they possibly can be" to best improve their local search ranking. Make sure to set up as many categories as makes sense for your business and pay attention to providing good photos of your properties. Terschak also recommends having Google Business Products on your profile to showcase your property's floor plans. Finally, you can improve your Google Business Profile by using localized keywords in your business description to ensure they are useful for users.
The next step to improving your local search results is to focus on your landing page. It's important that this page is SEO-friendly and utilizes relevant keywords within the content. When you create content about the location's neighborhoods, amenities, and other key elements, you ensure that Google understands you are an authority in that specific market. This, in turn, boosts scores in your map pack. Lastly, Terschak emphasizes the importance of responding to Google reviews and Q&As section to ensure the most accurate information is being provided and to allow you to engage with the community.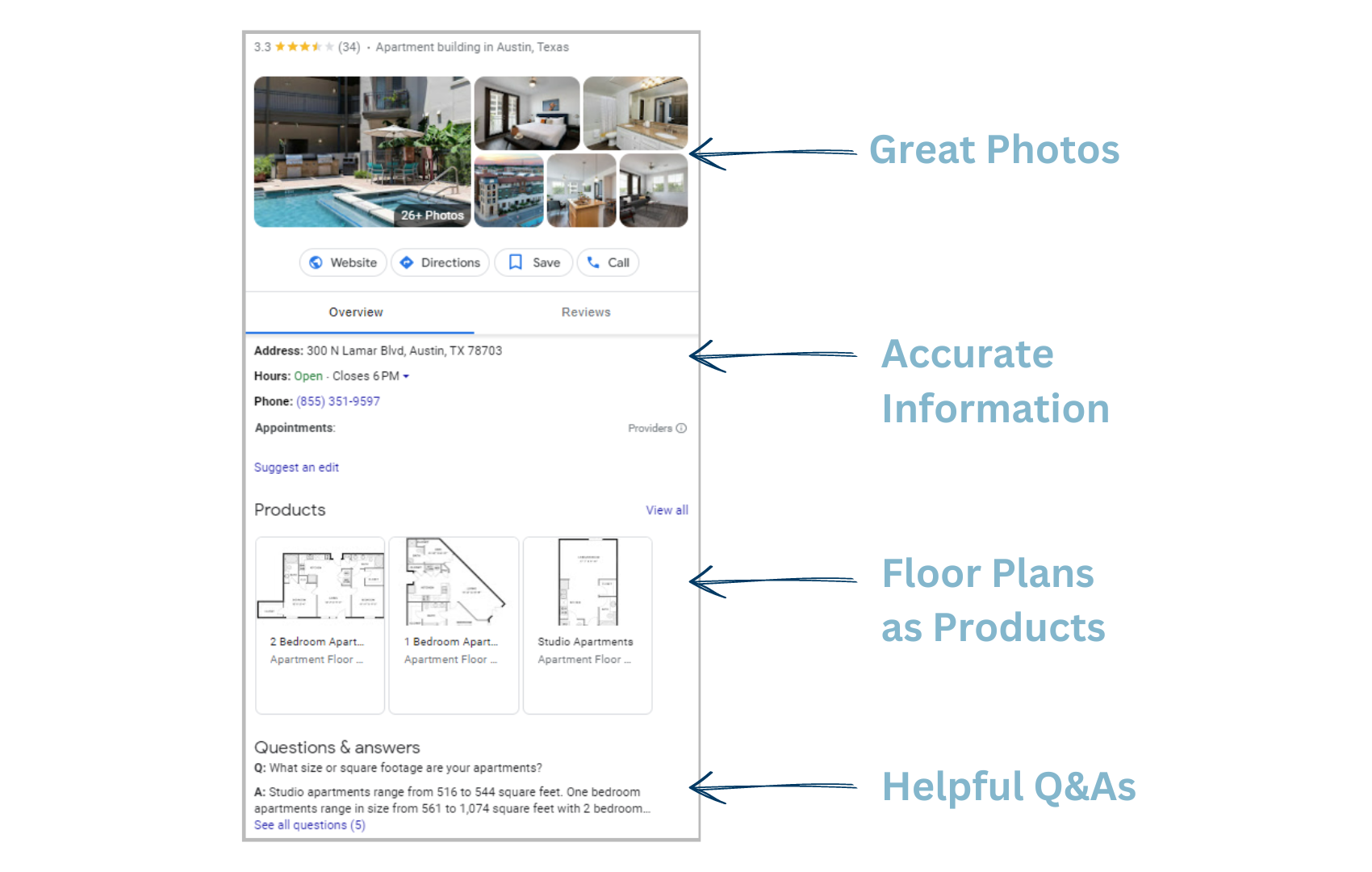 Improving Reputation Scores
Rollison echoes Terschak's comments on responding to Q&As, as "the data shows it's only happening 23% of the time." Not only is there significant room for improvement in terms of helping with your search, but working on your response to Q&As can improve your reputation with customers as well. Priority number one for multifamily companies should be responding to these reviews.
An effective response strategy begins with responding in a timely manner, normally within 48 hours. At the moment, data at SOCi shows that the average response time to reviews is 45 days, proving there is serious room for improvement and concrete solutions to improving reputation. However, one caveat is that you should ensure you aren't just responding to positive reviews. 
Rollison even cited a Yelp stat that says, "If the business effectively responds back to a negative review within 24 hours, the reviewer is much more likely to upgrade the rating." Not only does the response improve your reputation, but reading those reviews helps you improve and learn from mistakes.
Improving Your Apartment's Social Scores
The most important thing multifamily companies can do to improve their social media is build a community and give people the sense that they belong. In order to build this sense of community within each of your markets, make sure you are posting helpful content on your social accounts frequently and not just when you have openings. Video content can be extremely helpful in this endeavor as it has proven to be the most effective type of content for optimal engagement. 
Rollison also discourages multifamily companies from engaging in what he refers to as "waterfall posting" or posting the same basic content across all markets. This method is ineffective at building engagement because it isn't specific to the local community. Avoid this by utilizing localized content and getting to know the communities within each specific market you are trying to target. 
Improve Your Multifamily Local Marketing With Go Local Interactive
At Go Local Interactive, we are ready to offer our wealth of expertise to help your multifamily company improve your local marketing strategy. We specialize in large-scale local search marketing campaigns and offer services in a variety of areas, including content, SEO, paid media, and web development. Our mission is to offer you a customized and more flexible approach to your marketing strategy. Schedule a free consultation with us to begin improving your local marketing today.