Jason Barrett, CEO
Educational Background: Bachelor of Science in Business Administration with a focus on Management from Kansas State University and MBA from Wichita State University with a focus on Entrepreneurship and Marketing.
Usually, I ask how an employee found their way to Go Local. Since you're an owner, I'll ask you a bit differently: How did Go Local begin? The last agency I was at was closing its doors, so they offered to sell the agency as a whole. It didn't sell, so they broke it up into chunks instead, and we took that opportunity to form our own company. We got the ones we thought were the best fit going forward, and it all started from there.
What do you love most about your job here? The people. I know it sounds corny, but I enjoy coming in and working with this group everyday. This group is intelligent, fun to work with, they enjoy their jobs, they do a great job with the clients, and it's all very fulfilling.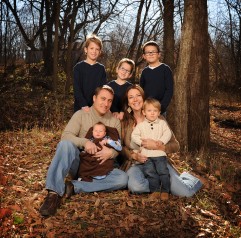 What is it like to have 5 kids? It is a full schedule all the time. These guys are all full of life. It is a blessing, and just so busy, but it's fun. I never have to worry about finding something to do or having someone around. With it being all boys, it's right up my alley. The athletic endeavors, I'm made for that. It certainly can be a lot like around here (at the Go Local office), where things have to be scheduled out. You've got to get help, and I have it: Stephani – I lean on her. We team up to get things done.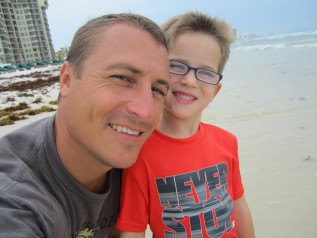 When you're not at work, what do you do for fun? It's always about finding time with the kids. I really enjoy going to dinner and hanging out with my wife, travel, extended family. I've got a Harley, I like to ride that. I've got the Jeep, which I love to ride around. I like to think of it as balancing city life with country life. I love to get out there where no one can find me. Water skiing, snow skiing, softball.
What's your favorite KC restaurant? Oklahoma Joe's is easily my favorite. It's a Kansas City classic. My wife's favorite is Rye. I am still looking for a great steak restaurant.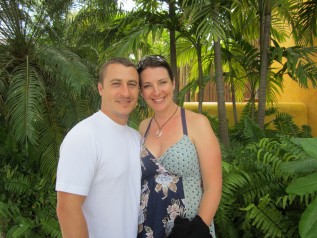 What is your dream vacation? A month-long trip to Europe. I'd like to go to Italy again. I'd love to see the southern part of Italy, England, France and Germany.
What is your favorite Go Local memory? Probably starting out in my basement. Being down there with Andrea, Caleb and some of those first meetings we had, taking phone calls from the table in my basement. Those are some of my favorite times. We used to take calls on the back deck if it was a nice day. There was, of course, the time the police came by to say we had too many cars in the driveway. Another great one was playing baseball in the office when we moved here. That was fun.
Do you have any pets? I do. A dog named Kirby. He is part Dachshund and part Lab. He looks like a long, black puppy.
Do you have a Go Local nickname? Jase-bud. That came from my Dad, actually. My dad used to say "Jase – bud can you come over here?" so my friends starting calling me that because they thought it was hilarious.
Have you ever given a Go Local nickname? I'm somewhat responsible for Tom-Cat. We all made up our own back then. I use K-love for Caleb from time to time. Chriss gets called "fathead" because of the sign I hung above his door. Rae-Burns? Barrold? That came from Andrea, I think. Ashfree and Joanie. When I heard Joan's friends call her "Joanie," I said "Fine, me too." Then of course, there's "Sweet Baby Ray," given to our very own Rachel Burns.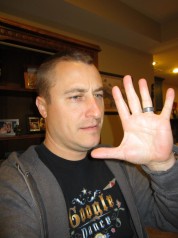 What is something that no one would know about you by looking at you? The Harley thing. I think that's interesting. I'm actually very tall inside.
OK, pretend you have the day off. What would we find you doing? I would probably be hanging out with Stephani. I'm sure we'd be out, running around eating lunch and doing things like that. I'd also love to go golfing.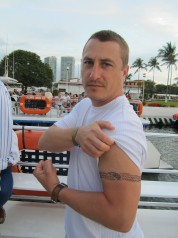 Do you have any vices? What are they? Coca-cola classic. That's my biggest vice. 
Tell me a great Jason-and-Tom story. You two are famous for your back-and-forth rivalry around the office: There were some incidents that occurred on the road in Las Vegas of which I can't speak about. I have to probably leave it at that. There were cameras involved, photos taken, questionable activities done.
There are constant voice mail battles going on between the two of us. (Plays voice mail of Tom questioning Jason's whereabouts since he didn't answer his office phone.) There are also Snapchats, text messages, instant messages, all day, every day. Public Facebook battles are common, and the way we look at it is steel sharpens steel. So it keeps us both on our toes. It's a good thing.
Describe yourself in 3 words:  Boss, entertainer, friend (described by Lacey Bruce)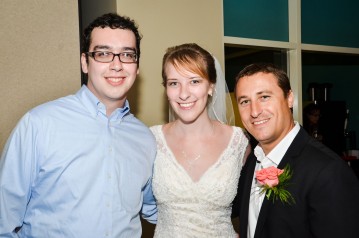 You officiated Rachel and Blake's wedding, what was that like? It was one of the greatest highlights of my entire life. I've never had an experience like it before, and I'll never have it again.
I'm doing my cousin's wedding this summer, in fact. I thought it was a joke at one point when Rachel first asked, but clearly it wasn't. I think Rachel's wedding has started something within the agency: there are several others to follow within Go Local. I'm waiting on Ashfree, Joanie, Melanie. I'm going to miss Lacey's, unfortunately. I'm still not sure that I'm not doing Michael's wedding. I've been invited, and I think it might be a spur of the moment, surprise kind of scenario in which I have to officiate last minute.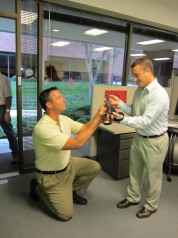 As a special feature for Jason's employee spotlight (and by popular demand around the office), we have a few words from Jason's self-described "BFF" and Go Local Interactive's Vice President of Business Development, Tom Carroll:
I went into business with Jason after working with him for several years at our previous agency. We worked together on a few new business sales and his reputation as an experienced SEO expert preceded him. I never would have guessed at the time that we would become BFF's (to the point of Jason pressuring me to have our families buy a house together in Kansas City).
The ultimate test of our partner-friendship was last summer when we took his five kids, my five kids and our wives to Branson. We managed to not only survive, but found out that our families really enjoyed hanging out together.
From a work perspective, Jason has a brilliant, entrepreneurial mind that never stops churning out new ideas for Go Local. He has been attending more new business meetings with me as his enthusiasm and vision is contagious –  making prospective clients excited to partner with us. Jason has overcome crippling adversity in his life to become the CEO of Go Local.For most of his adult life, he has suffered from a dual diagnosis of acute Trichomycosis Axillaris with an unrelated, but equally devastating inability to articulate sibilants. Every time I see him speak publicly with these conditions, I am inspired to be a better person. He is a great choice for the employee spotlight!