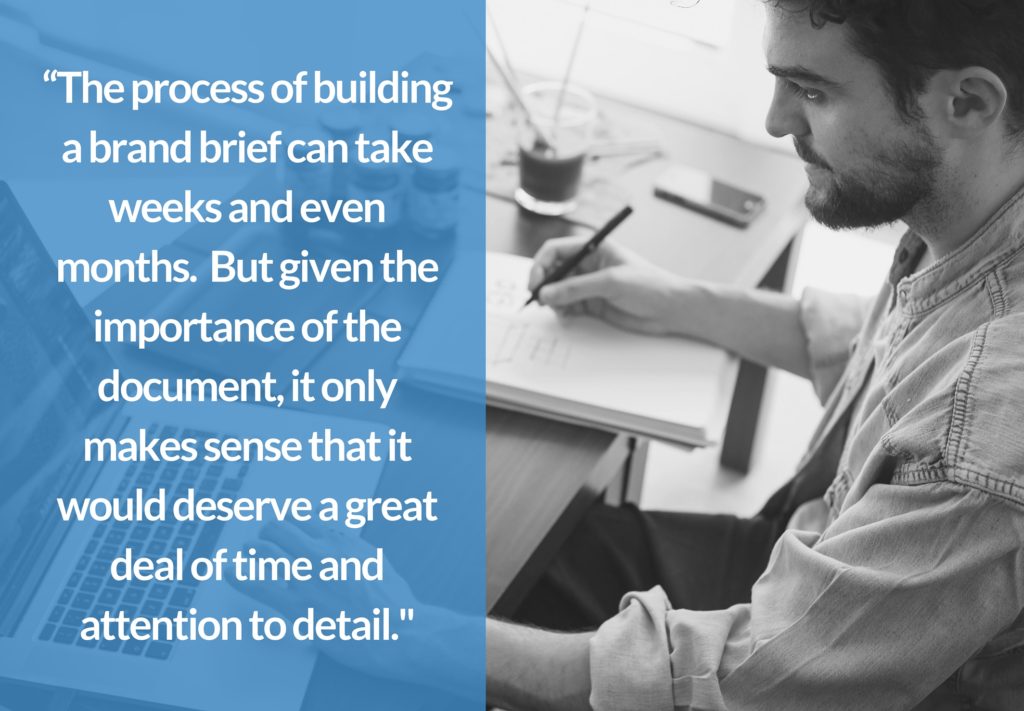 Alright, so in Part One, we went over why having and using a brand brief is critical for your business.  We also outlined the common elements to include in your brief, and what those entail.  Now, you're ready to build it.  And of course, if you'd like some further information subscribe here to learn more about branding and get in contact with our branding team.
Building Your Very Own Brief
First of all, the process of building a brand brief can take weeks and even months.  But given the importance of the document, it only makes sense that it would deserve a great deal of time and attention to detail.  You will also want to involve a lot of different people at the company – people who have been there a while, people who understand what the company is about.
So, before I go into the steps needed to develop a brand brief, I want to offer some pointers:
+   Brainstorm with people from different departments.  You will want a variety of feedback, so get a good mix of employees together.
+   Do not rush the process and do not procrastinate.  If you're trying to meet a deadline, start as early as you can because along the way you will undoubtedly run into some roadblocks.
+   If something doesn't feel right, it probably isn't.  What happens to many people during this process is they'll start bouncing around ideas and someone will say something really catchy.  Everyone gets excited and immediately, you run with the idea.  But once they have committed, they start realizing that the new "Big Idea" sounds good but doesn't really apply to the company.
Now, I will walk you through the steps needed to build your brand brief.
1. REQUEST MATERIALS
+   Here you gather branded materials that are the best, most accurate representation of your brand.  A few key items will be: content, imagery, advertisements, example of customer interaction and any current company values, mission, vision, etc.
2. EXECUTIVE INTERVIEWS
+   You will want to perform 30 – 45 minute interviews with the key executives of the company.  These questions should be tailored based off of the information reviewed in step one.  Ask things like – "Where do you see the company in the next 5, 10 years?" "Who is your ideal customer?" and "If your brand was a character in a movie, which actor or actress would best personify your company's personality?"
3. EMPLOYEE SURVEYS
+   Send out this survey to 10+ employees in the company.  This survey should take no longer than 10 – 15 minutes to complete.  Find out what they like about working at your company, what makes them excited to come to work every day and what the company offers that they value most.
4. COMPETITIVE RESEARCH
+   There are a few different ways that the competitive analysis can be done – but keep in mind that this research is focused on the brand.  Choose 3 – 5 examples of your company's most relevant competition and create a side-by-side comparison of things like their brand's personality, voice, positioning, typography, imagery, etc.
5. POSITION & PERSONIFY BRAND
+   For this part of the process, there are a few smaller steps within.  So, start by compiling and analyzing all of the information you've gathered in steps 1 – 4.  Review it.  Look for themes with your team members.  Then, perform a SWOT analysis [Strengths, Weaknesses, Opportunities & Threats.]  Now, you are ready to begin the most important part – actually creating the elements of the brief, described in Part One under the "Brand Brief Basics" heading [Vision, Mission, The Big Idea, Core Values, Brand Promise, Voice + Tone, Culture, Competitive Advantage, Target Audience + Key Markets, and Key Competitors.]  I guarantee that this will take multiple meetings and multiple people brainstorming to completely nail down.
+   I would advise that you first worry about the heart.  Figure out who your brand really is, get it all down on paper.  And then, after you've all agreed on the elements, finalize the wording and make it all sound accurate, based on the personality and tone that has been approved.
6. DESIGN THE BRAND BRIEF
+   There are two deliverables that you'll end up with.  And they should both be branded to fit your company's design criteria.
 

Poster: 

Compile all of your brand brief elements and place them on an 11×17 inch poster.  This will only be a summary, but it is something that you can proudly pass out to your employees or display on a wall.  This should be set out and easy to access so that employees can easily refer back to it.

 

Booklet:

 This will contain more detailed information so you can elaborate on each element and provide more thorough explanations.  The booklet should be given to new employees and incorporated into training.  This should be the ultimate guide on how the company should be represented.
Below you'll find an example of what your poster might look like, with a compilation of examples from brands you'll recognize.  I've also included links to each of the company's featured on the brief so you can review their more detailed information.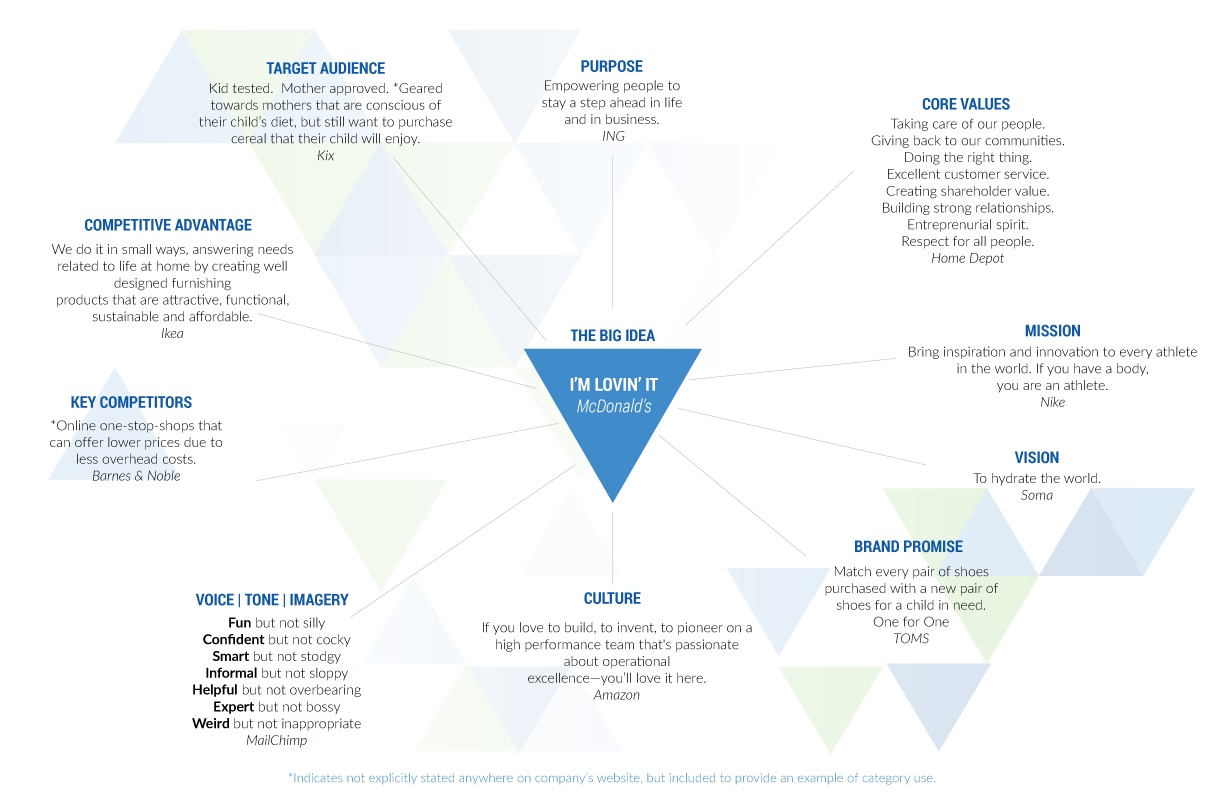 Big Idea | Mission | Vision | Purpose | Core Values | Brand Promise | Voice, Tone, Imagery | Culture | Competitive Advantage | Target Audience | Key Competitors
Now that you've completed your brief, use it.  Make sure that it is introduced to the company and that your employees fully understand its purpose, importance and the time spent to perfectly craft this living document.
---