Meet Our New Team Members for May and June! 
As we continue through 2023, our team at Go Local Interactive has greatly expanded across May and June. We've welcomed 26 new employees to our team in the last two months. We're excited to see our company grow and provide new opportunities to our newest Team Members! To learn more about what we do as an agency, browse our marketing solutions here. 
May Hires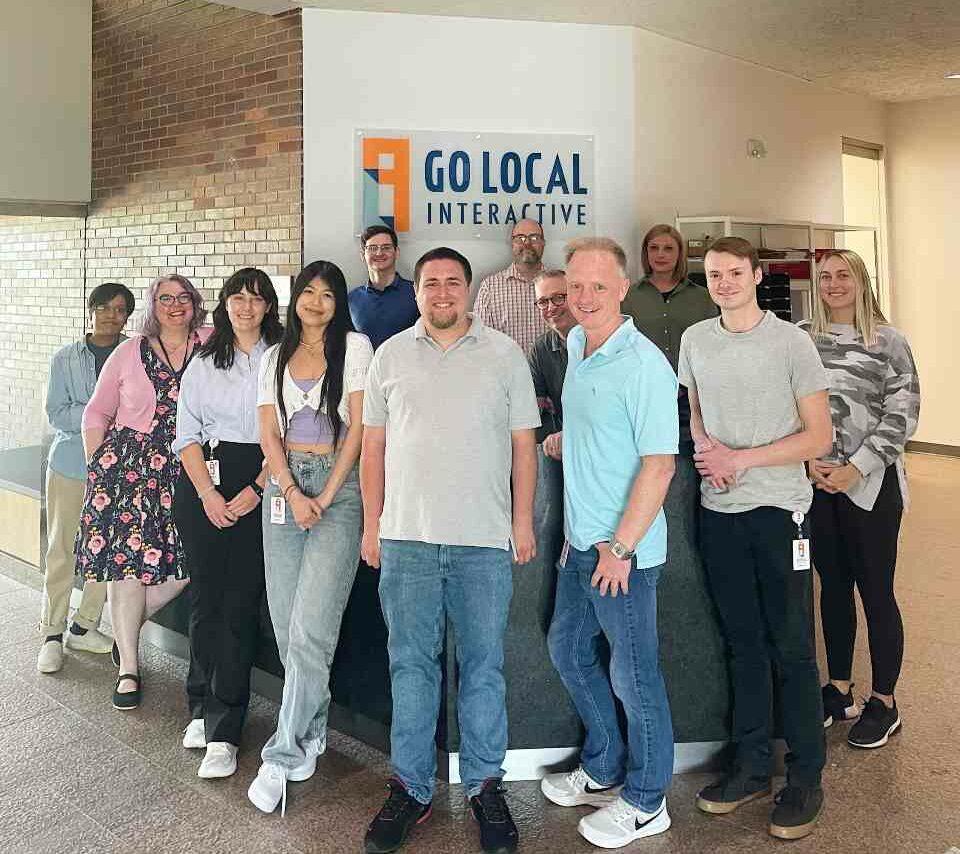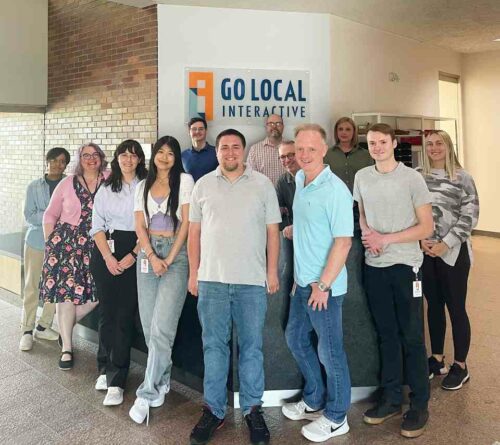 Web Team
In the month of May alone, the GLI Web Team welcomed five new members! Rachel Scott comes to GLI as the new Software Engineer I. Previously a kindergarten teacher, Rachel enjoys working with user interfaces and looks to develop those skills here. In her spare time, she enjoys outdoor activities such as hiking, biking, kayaking, and more. 
Joining us with a background as a web developer in Hutchinson, Matthew Leverich joins GLI as our new Software Engineer II. Matthew looks forward to learning how to develop in the new programming language for GLI's web development. Outside of work, Matthew runs a Facebook group about ghost towns in Kansas. 
Along with Matthew, Elizabeth Townsend comes to GLI as our new Software Engineer III and brings with her nearly 20 years of previous experience as a graphic designer! Elizabeth has been impressed by the people and the professional relationships she's established thus far at GLI. Elizabeth has also read 39 books so far this year. Happy reading, Elizabeth!
Client Services/Strategy Team
The Client Services/Strategy Team has two new members on board. Erik Freeman comes to the GLI Client Services team after his time at Kansas State University and has worked previously as a Client Services Supervisor. He looks forward to client interactions in a sales and marketing capacity. Being a very active person, Erik loves to run, swim, and play sand volleyball and tennis, among other activities. 
Joining Erik on the GLI Client Services team is our newest Client Services Manager, John Manthey! John has more than 18 years of experience in telecommunications and strives to use his position to dive deeper into marketing and further develop his skills from past work. John is also a sixth-degree black belt in traditional Okinawan Kenpo Karate and a first-degree black belt in American Kenpo Karate.
Content Team
The content team continues to grow rapidly, with three new hires in May. Jared Lefert joins GLI as a Content Strategy Coordinator after studying English and Communications at the University of Kansas. Jared is excited to learn about the marketing process and how website content is made and produced. Since 2021, Jared has been on numerous road trips to places like North Carolina, Indiana, and Arizona.
Coming to the team as a Content Production Coordinator is Adeta Chareunsab. Adeta is excited to not only learn how marketing content is made and implemented but see how the other departments at GLI connect with the content she'll create. In her spare time, Adeta loves to read and do yoga. 
Alongside Adeta, Jenna Manzelli joins the GLI Content Team as a Content Production Coordinator. Jenna obtained her master's degree in English from Truman State University. She loves to create and write and is fascinated by how content is created in a marketing environment. Jenna was also a yoga instructor for three years at her university.
SEO Team
Joining the GLI SEO Team in May, Clay Cartwright comes aboard as the new SEO Manager after working in multiple marketing disciplines for roughly a decade. When he's not at work, Clay likes to play music and watch sports. He has also traveled to 45 states and 14 different countries.
Paid Team
Joining the GLI Paid Team is Kirstin Collins. Kirstin comes as the new Senior Paid Media Coordinator after deciding to pursue a specialization in digital advertising for her career. She's excited to work with new marking technology and explore new ways to use old martech in GLI's work. When she's not at work, Kirstin loves to play video games and listen to podcasts.  
June Hires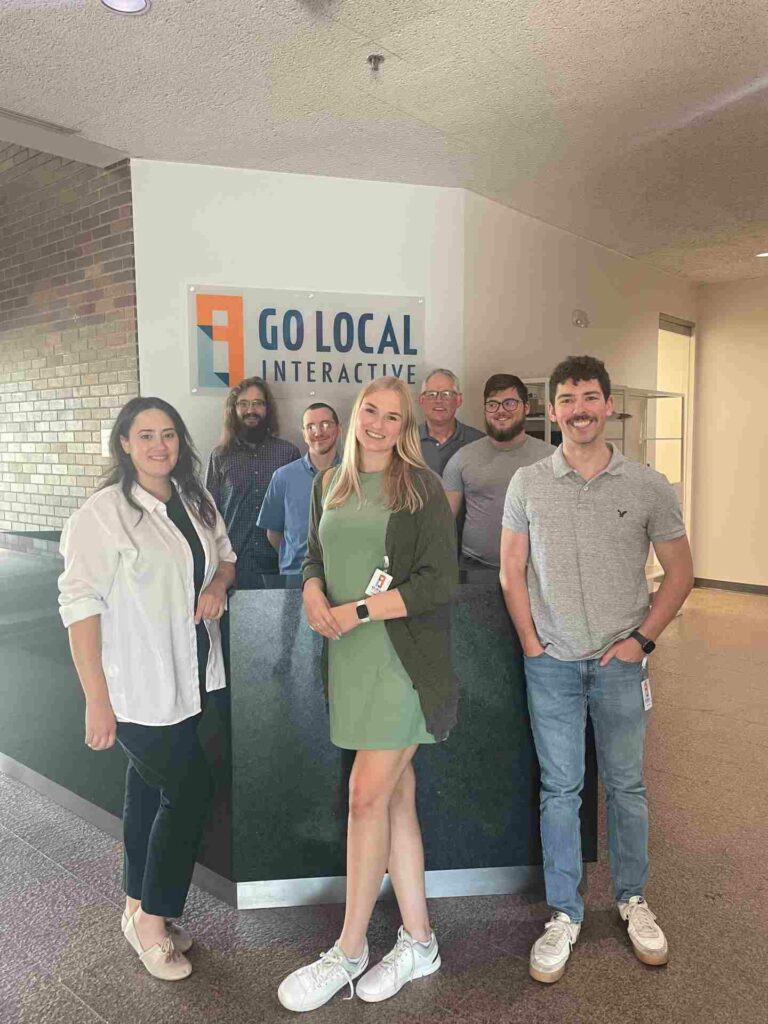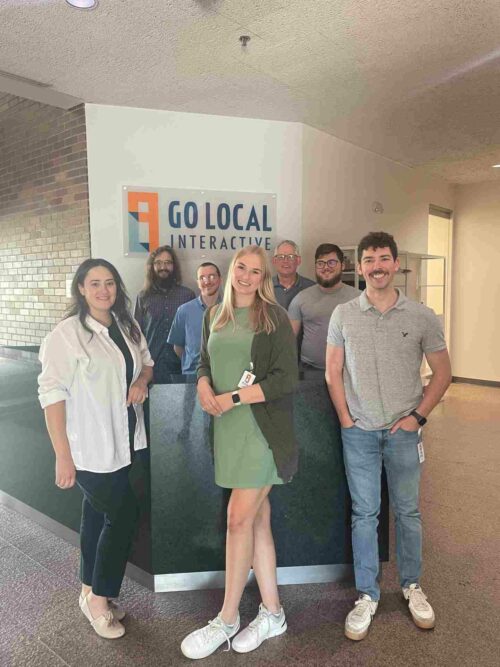 Web Team
Moving forward, the GLI Web team added a staggering six new employees in June alone! One of these hires is Edward Doris, who joins us as a Software Engineer after time as a data science instructional staff member and social studies teacher. At Go Local, Edward looks to provide responsive development for clients' needs in the office setting. Edward has recently gotten into making Halloween costumes for his son. 
Coming on board as a Software Engineer I, Ethan Hulen was computer science at Kansas State University and is excited to gain a new skill set at Go Local. He is particularly fascinated by SEO and has been impressed with the people at Go Local thus far. Ethan has previously visited the Amazon Rainforest in Peru. 
Joining us with experience in freelance web design, we welcome Joshua Alexander as our new UX Designer. Joshua is looking to improve his skills as a designer and is excited to see how his work influences the digital marketing sphere and relationships between clients and the company. Joshua is also a piano player with more than 25 years of experience playing with local jazz bands.
One new member who comes from a mathematical and educational background at Rockhurst is Kyle McEnery, our new Data Entry Administrator. Kyle looks to get his foot in the door in the data field and is excited to build around the good culture of Go Local. When he's not at work, Kyle likes to play strategy board games and is an avid breakfast fan. 
Carly Hastings joins the GLI Web team as a Data Entry Administrator. This being her first office job, she is excited to see and learn more about the work environment and learn as much about the digital marketing scene as possible. Away from the office, Carly enjoys spending time with her friends and exploring the city. 
As the new VP of Data Science, Greg Tolleson comes aboard GLI's Web team after many years in the marketing scene, including 12 years of building accelerated and automated underwriting projects. Greg strives to bring positive change and develop a skill set to detect changes and opportunities in SEO. Greg has a knack for winning raffles, including sports tickets and gift certificates. 
New Business Team
In June, the New Business team at GLI welcomed Sawyer Smith as a New Business Development Coordinator. Sawyer seeks a position where hard work leads to success and is excited to learn the ways of digital marketing in the process. Sawyer was previously an NCAA men's basketball coach before coming to Go Local. 
Client Services/Strategy Team
The Client Services team saw a new face in our crowd as Jolie Barnhart joined as our new Account Coordinator. With a degree in Strategic Communications from the University of Kansas, Jolie enjoys finding solutions for clients and is excited to meet them and learn about Go Local. Jolie is proud of her Irish heritage and is a regular at several Kansas City Irish activities. 
Paid Team
The Paid team at GLI added three new Team Members in June alone. Madisyn Krause joined as a Paid Media Coordinator after studying advertising, public relations, and art at the University of Nebraska-Lincoln. Madisyn is excited to dive deeper into Google Ads and implement them for partners alongside her teammates. Madisyn has hiked a volcano before! 
Joining the team as a Paid Media Specialist is Cinthya Luna. Cinthya has prior experience in marketing and sales at a position in Seattle. With Paid Media being heavily correlated to her experience, Cinthya is excited to establish relationships with clients and coworkers across different departments. Cinthya enjoys reading, shopping, and traveling and is a believer in ghosts. 
Bringing with him seven years of experience in sales and traditional marketing, Derek Sechi joins GLI as a Senior Paid Media Specialist. Derek is interested in large-scale strategy and data analytics and is excited to implement his skills in digital marketing. Outside of work, Derek loves to camp, hike, read, and listen to music. 
SEO Team
Coming with a background in interior design and web design comes our newest SEO Coordinator, Ian Golden. Ian is fascinated by SEO and is eager to expand his knowledge of market research and local SEO. In his free time, Ian is interested in cooking, thrifting, and yoga.
Returning to GLI after a five-year absence, Thomas Adams joins the team as a Senior SEO Specialist. Having enjoyed his previous time here, Thomas looks forward to developing good relationships with professional partners and developing in-depth analyses. Away from the office, Thomas loves singing and dancing. In fact, he busted some moves at the 2017 GLI Holiday Party. 
Join Our Team at Go Local Interactive 
As we head into the latter half of the year, we're eager to find new and exciting talent to add to our team at Go Local Interactive. Join us today by visiting our careers page to see what openings are available!