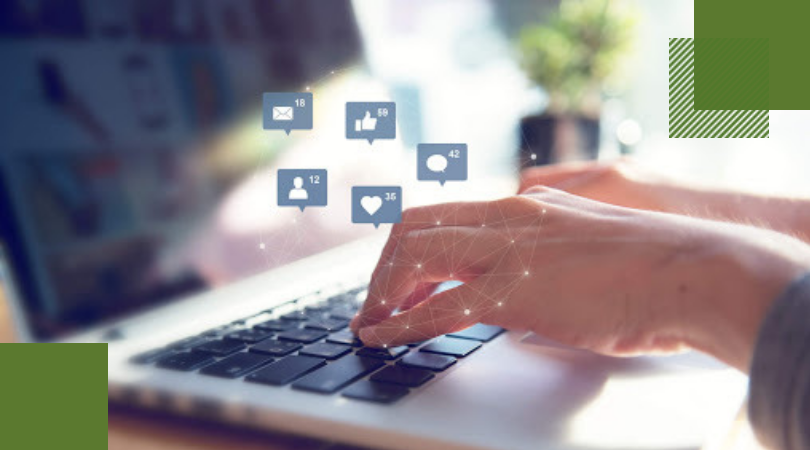 Facebook is – like it or not – everywhere. In 2018, it was the third most-visited website behind YouTube and Google. It's a centralized hub where users can talk to their friends, share photos, and post updates on their lives. But they can also use it as a tool to find reviews, business information, and learn more about brands, companies, or services. It's this second aspect that makes it a powerful advertising tool.
Whether you agree with their data practices or not, Facebook allows brands and businesses the ability to target highly specific segments of the population with relevant advertising.
Even as their algorithm shifts to prioritize people over pages, there's still a very good reason to keep tabs on your brand or business's Facebook page. Posting relevant branded and non-branded content shows your potential customers and site visitors that you're not just knowledgeable about your industry, you're also on top of current lifestyle or business trends. Clickable messaging and content can sometimes put you in front of a wider audience than normal as it gets shared between people. Engaging with enthusiastic customers can help foster brand loyalty and referrals.
But with the possibilities of positive outcomes through engagement, there's also an opportunity to really stumble. If you're not careful when it comes to engagement, Facebook can leave a black stain on your brand's reputation.
Set Up Your Page Correctly
In order to make sure your business has its own Facebook page, it's important to ensure things are set up correctly. This helps weed out impostor pages, too. A major stakeholder in the business should do this, because they will ultimately be responsible for approving other administrative users.
Alternately, a great marketing agency can help you achieve this. One benefit is that they'll do it in such a way that you maintain ownership over your social media profiles. Even if you decide to take your page elsewhere in the future, you'll still have all the rights and privileges you would enjoy if you'd done all the work on your own.
Respond to Reviews or Messages
People have bad experiences with companies all the time. It's a fact of life. Sometimes it's a result of miscommunication. Other negative reviews might result from lofty expectations. And, yes, sometimes the bad reviews come because they didn't deliver that high standard of customer service.
But negative reviews aren't always a bad thing. They offer a granular, up-close perspective on how a business is performing – even if it's just in one location. But more than that, they give the company a true opportunity to turn a net loss into a potential win by showing their interest and understanding of the situation. It's true that companies or brands can't always give customers everything they want to keep them happy. But they can, at the very least, engage with that criticism, take it to heart, and think about how to prevent a similar situation in the future. A company might ask some key questions like:
Is the disclaimer language too unclear?

Is pricing competitive based on the services we offer?

Are employees knowledgeable about their products?

Are there training opportunities for customer service?
The important thing is to not take social media interactions personally. The negative review in question isn't coming from a place of anger at the person working on the account or posting the content. It's frustration with the process, the company, or a mixture of both. Being cordial, understanding, and (perhaps most importantly) prompt will not only help them save face. It can also create new potential to really "wow" someone in the process of making it right.
Answer Your Customers' Questions
Your Facebook page is an excellent opportunity to answer questions from potential customers. With the real estate available to you, it's simple to provide access to your business hours, address, and contact information. As long as you're maintaining up-to-date information, you're doing this correctly. But how often do you log into your Facebook page and engage with your own content?
Even if you hire an insightful agency to handle your content marketing strategy – planning, writing, and posting to your page – there's a great opportunity for you (and your team members) to engage with that content, provided you do so correctly. Encourage your team to share and like your page, including members of leadership. Promote buy-in from all stakeholders. But, most importantly, make sure to check up on what your customers are commenting on those posts.
Sometimes, customers will ask questions or post reviews in comments on posts unrelated to their concern. This is a fantastic opportunity to engage and provide tangible service – but you have to be aware of it. That's why it's vital to have someone from your brand engage with your page; even if you designate just one person to handle these social media inquiries as a representative of the company, it's still better than ignoring them.
Also be sure to check the sidebar for other posts to your page. Facebook does not put this content front and center in your newsfeed (sometimes a small blessing), but it's still vital that you treat it with just as much care as you would any other review or message.
Take Ownership of Your Side of the Conversation
At the end of the day, the biggest understanding you need to have about the impact of social media presence on your business is that it is a conversation between you and the customer. And the customer's cousin. And that person's dog groomer. All interactions are inter-connected in some way, so a failure or success can spread out and grow much faster you'd expect. It's the new word of mouth. But by staying aware of how your business is being discussed on social media, what your customers are saying, and what you're responding with, you can build a strong foundation for marketing your brand.
Go Local Interactive works with our partners to help shape their social media brand messaging. We can help you build a platform if one doesn't exist or take a look at what you're doing and see where improvements can be made. If you have questions about what that look like – from an advertising or content creation standpoint – touch base with one of our experts today.