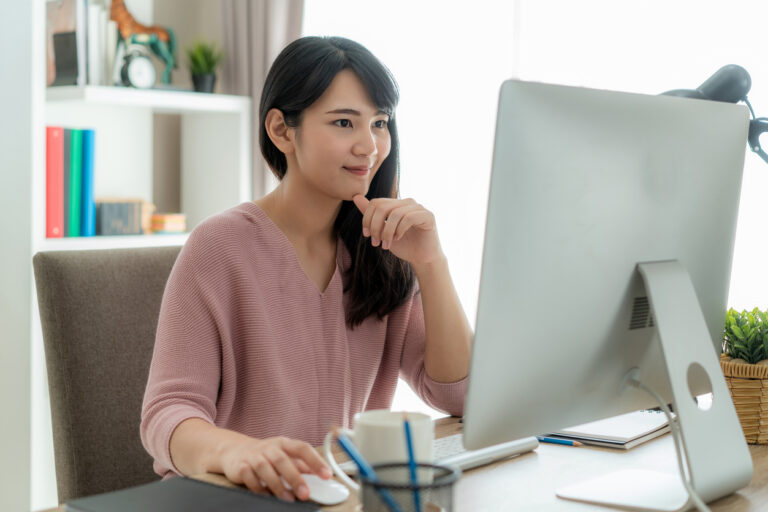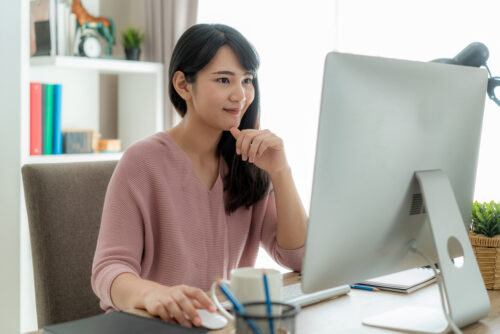 Every Google search is simply an interaction between the user and the search engine. Nothing about search remains static—user search trends change, and the way search engines serve results varies entirely on their search algorithm.
In mid-June 2021, Google tweaked their part of the equation via a new algorithm update, which Google themselves are calling the page experience update. Google has rolled out the update in phases, and it is slated to be completely in place by the end of August.
So, what is the page experience update? What are the factors involved in the update? And what are the consequences for your site and the future of organic search?
What is the Page Experience Update?
The Google page experience update is an update to Google's search engine algorithm that prioritizes page experience, as the name suggests. This update is not a core update, which Google rolls out about twice a year. As a result, there is a smaller likelihood for significant ranking changes for the page experience update than for core updates. Additionally, the gradual rollout minimizes ranking volatility even for sites affected by the update.
What makes the page experience update different is its emphasis on page experience elements. Google announced the update in November 2020 and that it would change the way Google uses users' page experience to assess ranking position. Google's foray into page experience is a relatively new one in the history of organic search, and intends to reward websites for providing good web experiences.
What is Included in the Page Experience Update?
Per Google, the page experience update will include multiple changes and inclusions. The main changes are as follows:
Page experience signals such as the three Core Web Vitals metrics will be a ranking factor
Google AMP format will not be required for a page to rank in the Top Stories feature
Non-AMP content will be further added to the Google News app to provide a broader range of available stories
Additionally, the page experience update is limited to mobile search results. Desktop search results will not be affected by this update, though Google intends to implement a desktop version of the page experience update at a future time.
What are Core Web Vitals?
For most sites, the largest impact of this update is the addition of Core Web Vitals as a ranking signal. Prior to this update, Google had included some page experience signals for search rankings—including HTTPS integration, Mobile Friendly websites, and more—but the Core Web Vitals are the most purposeful way Google has incorporated page experience as a ranking factor to date.
There are three Core Web Vitals signals, which focus on page loading, interactivity, and visual stability, respectfully. These Core Web Vitals are:
Largest Contentful Paint—Also called LCP, this metric evaluates how quickly the main content within a page loads
First Input Delay—Also called FID, this metric evaluates how quickly the user is able to interact with a page
Cumulative Layout Shift—Also called CLS, this metric evaluates how many elements within a page shift and by how far as the page loads
For Google, a good web page experience is one in which the web page loads quickly, can be interacted with quickly, and does not shift or change as the elements finish loading.
What Qualifies a Passing Score for Core Web Vitals?
Google considers a page to have good Core Web Vitals statistics if:
LCP occurs within 2.5 seconds
FID is 100 milliseconds or less
CLS is 0.1 or less
However, Core Web Vitals is not strictly a pass or fail. Google evaluates each page for Core Web Vitals on a scale, with "Good," "Needs Improvement," and "Poor" as the three grades.
How Can I Check If My Site Passes Core Web Vitals?
Your website's Core Web Vitals scores are accessible in two places: the Core Web Vitals report in Search Console and the PageSpeed Insights tool.
To find the Core Web Vitals report in Search Console, navigate to the "Experience" section of the menu and select "Core Web Vitals" from the dropdown.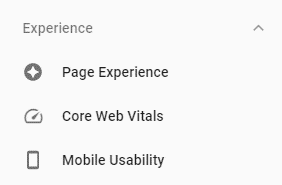 This report offers both a Mobile and Desktop overview, as well as a detailed report. Within each of these two reports  there is a breakdown of pages under each of the three classifications within Core Web Vitals.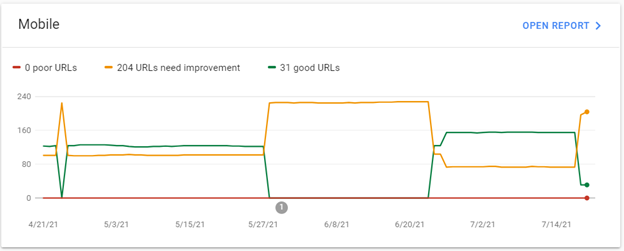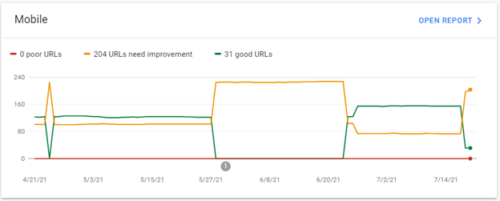 For pages classified as "poor" or "needs improvement," search console provides the issue type and number of URLs affected.

The other way to find out about your website's Core Web Vitals is to use the PageSpeed Insights web performance tool. To use the tool, simply input your URL to see the mobile and desktop page score. This tool also includes both field and lab data related to page load metrics, where you can also check individual pages to see if they pass Core Web Vitals.


What if My Site Doesn't Pass Core Web Vitals?
If your website doesn't pass Core Web Vitals, don't panic: you are not alone. According to Search Engine Land, less than 4% of websites pass all Core Web Vitals tests. Furthermore, Core Web Vitals is only a relatively small portion of Google's search algorithm. John Mueller, Google's Senior Webmaster Trends Analyst, explained that Core Web Vitals is a supplement to what matters most: relevant, quality content.
"So just because your website is faster with regards to Core Web Vitals than some competitors doesn't necessarily mean that come May you will jump to position number one in the search results.

We still require that relevance is something that should be kind of available on the site. It should make sense for us to show the site in the search results because, as you can imagine, a really fast website might be one that's completely empty. But that's not very useful for users.

It's useful to keep that in mind when it comes to Core Web Vitals. It is something that users notice. It is something that we will start using for ranking. But it's not going to change everything completely."
Because so many sites do not pass Core Web Vitals, and because content is still king, it might be a more helpful exercise to see how your site stacks up against direct competitors in your industry rather than against Google's independent standard. After all, your website isn't competing across industries—it's competing against specific competitors and types of competitors. As long as your website is comparatively faster and more user-friendly than your competitors, you'll be well off. And if it's not, it might be something to talk to your development team about.
What Does the Page Experience Update Mean for the Future?
When using search engines, users want to find relevant results for their searches. Google wants to provide the best results for that search intent. As a result, exceptional content and search relevance are going to continue to be the most important factors in search results.
However, there are a lot of sites out there on the internet, and there are a lot of sites with good content. And because there are more searches now more than ever, users don't just demand good content: they demand a good website experience. Google knows this, and that's why it's taken strides to provide the best possible search experience.
While many sites do not yet meet Google's Core Web Vitals standards, the metrics serve as a challenge to developers and those with a hand in creating sites of the future. Page speed, responsiveness, and stability are factors in how a user responds to a web page. That they are now part of the algorithm only makes sense.
Modern SEO for a Modern World
Gone are the days of optimizing your site solely for search engines. Writing content, designing pages, and developing your site to provide an exceptional experience for your users is likely to set your site up for success as Google continues to evolve with the same goal in mind. At Go Local, our SEO experts can help you implement a holistic SEO strategy to make the most of your site. Contact us today for more information and a free assessment.