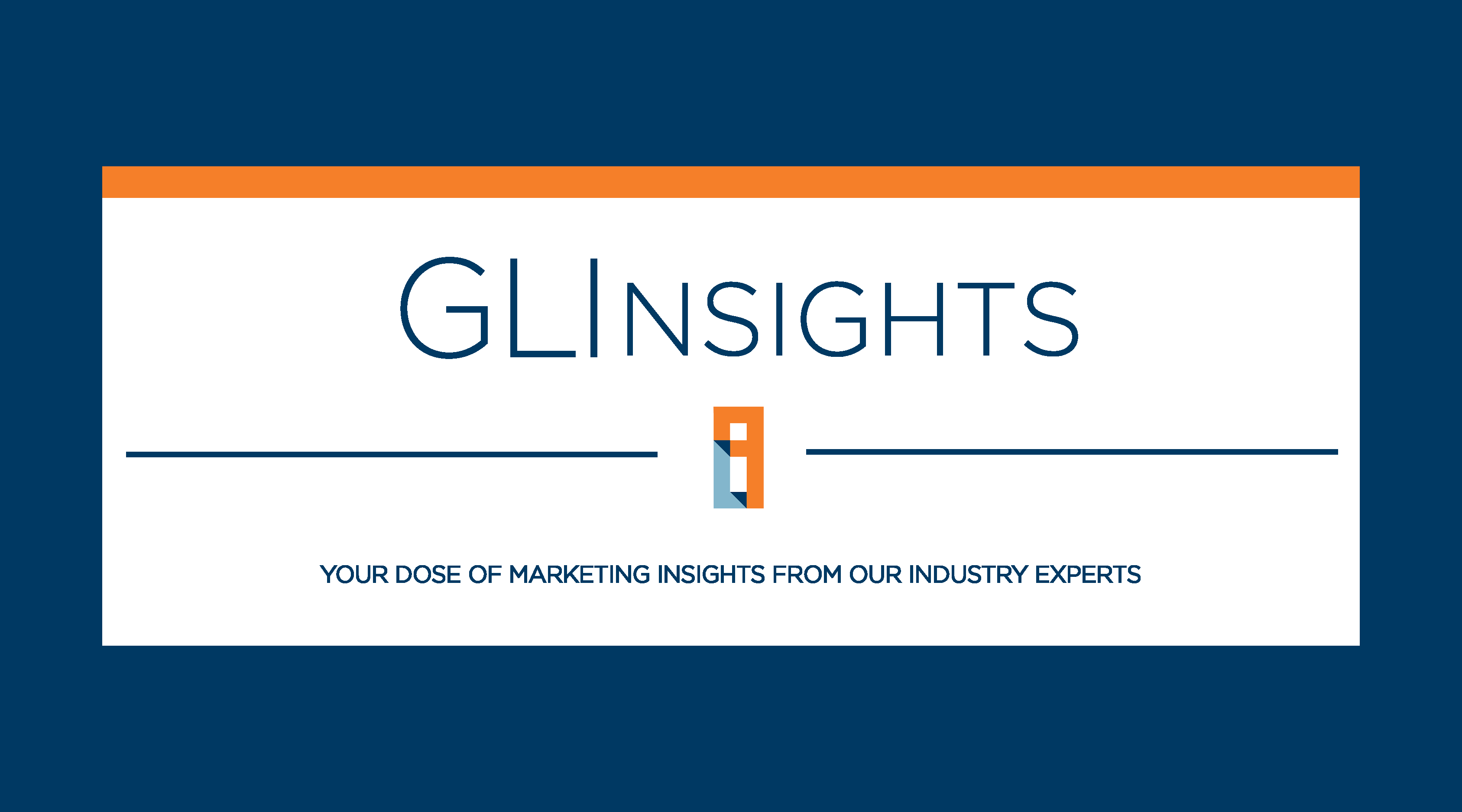 As a digital marketing agency, we spend a lot of our time understanding our clients' needs in order to offer them solutions for the benefit of their consumers. To ensure that we give our clients the best possible solutions, we stay as up-to-date and on-trend as possible. In GLInsights, we will be sharing our knowledge and giving you the opportunity to dive into the minds of our employees. You'll get industry expert opinions on everything from digital marketing practices to pop culture.
This week we decided to take a look at the popularity of different internet-connecting devices and how Go Local employees utilize them. Nearly eight-in-ten U.S. adults own a desktop or laptop computer, 77% own a smartphone and around half own a tablet (PEW Research). So Americans are connecting to the world of digital information more and more – but between smartphones, tablets, and desktops, we've found that each device has its best uses. Here's the GLI insight of your week.
Do you use mobile, tablet, or desktop the most in a day for non-work related activity?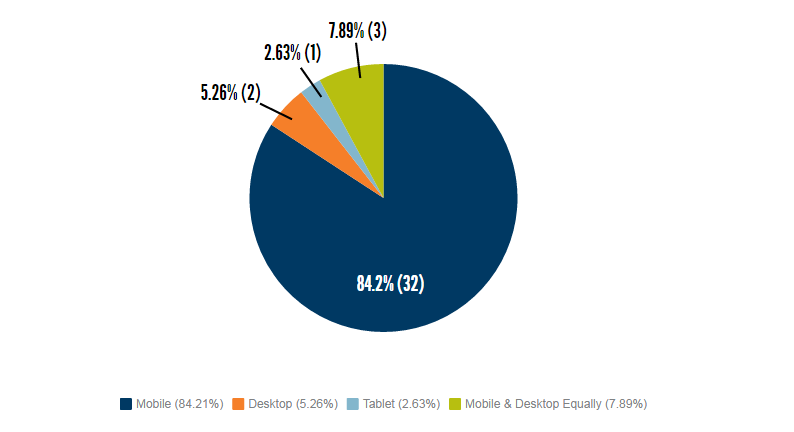 Nearly 85% of our surveyed employees use mobile for non-work related activity.

What's the first thing you do each morning? Odds are you reach for your phone and catch up on text messages, check your email, or scroll through various social media platforms. Roughly three-quarters (77%) of Americans now own a smartphone; so it's no surprise that individuals are increasingly engaging with mobile content while they're on-the-go or relaxing at home. With an increase in technology in recent years, the smartphone dependency has escalated alongside it, this is especially true for younger adults ages 18-29. According to a Deloitte study, the average American checks his or her phone 46 times per day, with millennials looking at their phones around 74 times per day. This behavior is why we preach responsive design! If 85% of your customer's time is on mobile, their mobile experience has to be a good one.
Do you use mobile or desktop the most for online research? How about online purchasing?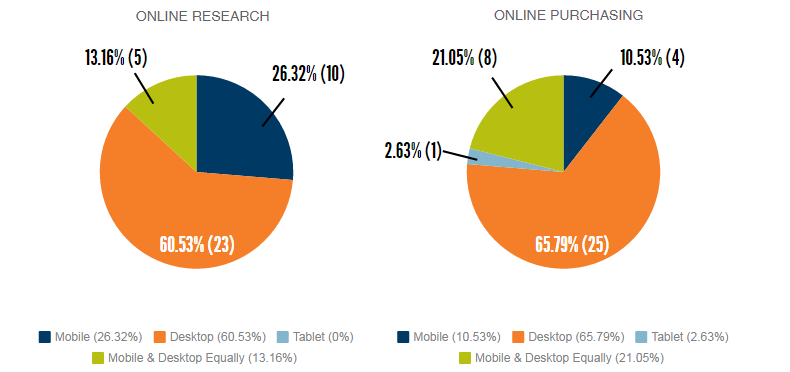 Over 60% of surveyed employees use their desktop to conduct online research and 66% of employees use a desktop for an online transaction.

The digital revolution has been crucial when it comes to information being readily available at our fingertips. But even though mobile growth is undeniable, a large majority of our employees still prefer conducting online research and purchasing via desktop. (In our study, we defined online research as anything ranging from purchasing products to work/industry-related research.) According to Hubspot, 81% of shoppers conduct online research before making a big purchase and B2B researchers perform 12 searches on average prior to engaging with a specific brand's site. While mobile usability is on the rise, users still prefer to research by desktop. This could be due to the time invested in the decision-making process and a general weariness of mobile commerce.
Do you think mobile or desktop experience should be the focus for online research when creating content? How about online purchases?


Over 47% of surveyed employees believe that mobile and desktop should be an equal focus when creating content for customer research. Around 53% of employees believe that mobile and desktop experiences are equally important when designing the customer purchase path.

We currently live in a mobile-first world, so it is vital that companies get their products online and accessible via smartphones. More Google searches take place on mobile devices than on computers in 10 countries including the U.S. (Hubspot). One thing we focus on as a digital marketing agency is how usability and responsiveness transfers from desktop to mobile, so it's no wonder that our employees see the importance of both platforms. Around 48% of consumers start mobile research with a search engine (Smart Insights), so it's important to produce valuable content that is mobile responsive. Even if they don't purchase on mobile as often (see the last poll), they do start deciding where to by on their phone.
Currently, fewer than half of U.S. retailers offer a mobile experience, so organizations are losing out on ways to connect with its consumers via m-commerce. Online sales will continue to grow in 2017 and shopping via apps will rise, so it's essential more companies adopt a mobile-first strategy. Predictions of growth vary, but many experts expect m-commerce to grow by over 200% (Information Age). 
Do you think mobile or desktop should be the focus for online marketing strategies?

About 53% of surveyed employees think that mobile and desktop should be an equal focus for online marketing strategies.

While companies have increased their mobile experiences over the last few years, many have yet to invest in responsive design. Navigation, text, and speed all need to be optimized for smartphones. Employees favored mobile for browsing and research early in the sales funnel, then switched to desktop for research when deeper in the sales funnel for the final purchase. That's the great thing about responsive design: it's optimized for all devices, smartphone and desktop and tablet, and even your TV. We live in a world where both mobile and desktop are critical.
At GLI we think that when crafting online marketing strategies, both mobile and desktop experience must be at the forefront of marketer's priorities. And we're clearly practicing this on the job and outside of work! After all, focusing on all digital touch-points ensures that your customers have the best possible experience.