Enhancing Your Online Presence with Google Knowledge Graph
The digital engagement with your customers and potential customers is a vital part of any business' success. One such way of digital engagement is your online presence. An online presence is defined as what can be determined about a business or person by a search query. Your online presence can include your website, social media, news articles, and anything else that brings awareness and eyeballs to your company.
Whether it's your store's contact information or a link to your business's product pages, your online presence drives sales. That's why it is vital to display the correct details about your company to build trust and reliability with customers.
Every company should take advantage of the numerous opportunities Google offers to enhance their online presence. Yet, not all do. Claiming and updating your Google Knowledge Graph is a powerful yet underutilized tool that will help you maximize your online presence – and perhaps get a leg up on competitors.
What Is A Knowledge Graph?
The Knowledge Graph is a snapshot of information that displays on the right side of a search engine results page. It contains important information about your business searchers may be looking for when they search for your business, such as the website, prominent employees, and location.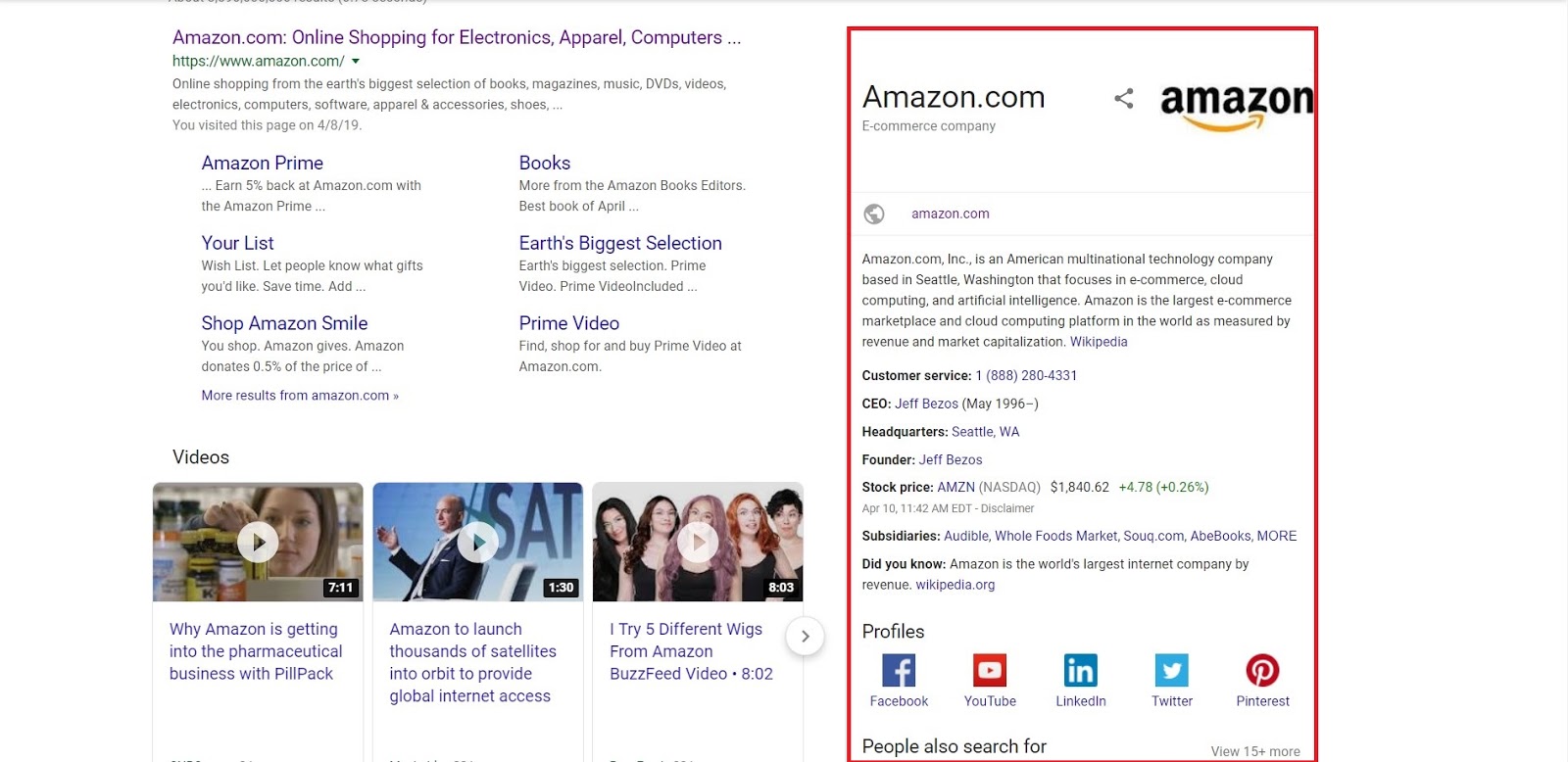 A Knowledge Graph does not automatically populate for your business, and so must be built by Google when it decides a business has earned enough credibility with multiple online sources.
How Do You Set Up a Knowledge Graph?
Google does not grant Knowledge Graphs to every business, so the first step in changing modifying your business' Knowledge Graph is confirming that it exists. You'll know if your business has a Knowledge Graph if it appears in a search for your business's name on Google. If you do see that Knowledge Graph, making sure it isn't a simple location listing, you can then proceed to the claiming process. If you don't see it and think it should be there, try another search, adding 'LLC' or 'Corporation' to your business' name.
If you see that Knowledge Graph, it's time to claim it. Google is very particular about who is requesting to claim these types of graphs, so you must first sgn into the Google account linked to your business (not your personal Google account) and also turn your Web & Activity on.
Once you click 'Claim this Knowledge Panel' within the Knowledge Graph, you will be led to another site where you will click 'Get Verified.' This next step will ask you to sign into the Google Search Console account linked to your business. Once verified, you can begin to suggest edits for the graph by clicking on the pencil.
From my experience, I have seen the Knowledge Graph be 'hidden' temporarily after the edit requests have been submitted. It may take a day or two, but don't panic! It will come back.
What Are the Benefits of a Knowledge Graph?
The Knowledge Graph is a fantastic way to enhance your online presence because it's readily and clearly available from the search results. In other words, the searcher doesn't have to crawl your website to find the info they're looking for.
Whether a searcher finds your Knowledge Graph before or after they buy something from you, you have the opportunity to make them feel connected to your business. It doesn't seem like much, but letting people know basic company information invites people to connect with you and your business. Take this example of Amazon's Knowledge Graph: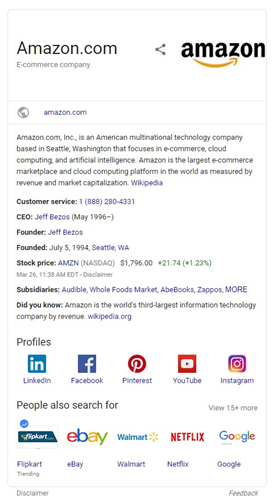 On the graph, a searcher can see the recognizable logo for Amazon, access their website, and discover other companies that are owned by Amazon. This Knowledge Graph probably offers more information than the searcher expected to find, yet it creates curiosity. What else can I find about this company that I didn't know before? What are their social media accounts like? What's on their website? These questions prompt searchers to learn more about Amazon so they feel connected to them. In addition, the prominent position of Amazon's website makes it easier for the searcher to go there, thereby increasing the possibility that they make a purchase.
What can go on a Knowledge Graph?
So, what can go on this Knowledge Graph in order to drive conversions and make people feel more connected to you? Common information on Knowledge Graphs include company name, website URL, logo, contact information, and social media profile links. After a little while, when a company has established E-A-T (Expertise, Authority, and Trust) with Google and other online sources, additional in-depth information might be displayed, such as CEO, HQ, subsidies, and stock prices.
An ideal Knowledge Graph experience will prompt searchers to look at company information in more depth, clicking on social media links, or going to your website. As a result, the integrity of your listed information is vital. If you have incorrect links or information, the searcher is likely to be confused and frustrated, perhaps instead turning towards a competitor. Making it easy for your customers to find your information both enhances the experience this potential customer has with your company as well as the chances that searcher becomes a conversion
Why Don't More Businesses Use Knowledge Graphs?
The reason many companies don't go through the claiming and updating process is because it's a time consuming, multi-step process. Google wants multiple reliable sites to display about your business, as this adds credibility to the information they present on the Knowledge Graph. Unfortunately, if you're trying to update information on a Knowledge Graph, but there isn't a substantial amount of evidence to prove it's valid, Google may not accept the update.
For instance, in Amazon's case, Google would feel best about giving them a Knowledge Graph if they have several sources writing about them, such as Wikipedia. If Amazon wanted to update a piece of information on the graph, like the CEO, Google would want substantial evidence that they should update this field. Luckily, Amazon has built a lot of E-A-T over the years, but even though they are a well-established company, they still rely on what outside sources are saying about them – like Wikipedia.
The reason why Google wants additional sources is because they only want to offer this feature to reliable businesses. Google depends on its results being clear, relevant, and correct. There's not a worse result for Google than prominently displaying wrong information about potentially irrelevant or bad faith businesses.
For Amazon, gaining Wikipedia's credibility is somewhat easy because they are so well known, but for smaller businesses, this can obviously be difficult. It may be impossible for brand new businesses or particularly small operations to obtain a Knowledge Graph. But, for Google, that's part of why Knowledge Graphs have value.
Knowledge Graphs Are Waiting for You
Though it's difficult, there are many rewards for those who have their Knowledge Graph claimed and maintained. To enhance your online presence, you must create reliability between you and the searchers, but before you can build that reliability, you must start with building that foundation with Google. Once you've built credibility, you can connect people to your business by providing relevant, updated information that brings value to searchers, but enough curiosity to encourage them to find out more about your company.
Thankfully, you don't have to go it alone. Go Local Interactive provides a wealth of digital marketing experience and product offerings, including Knowledge Graph assistance, that can help your business get to the next level. Contact us today and we'll be happy to have a conversation about what you need.