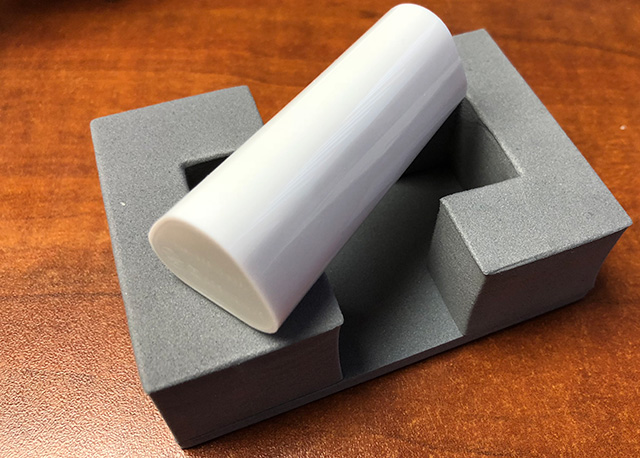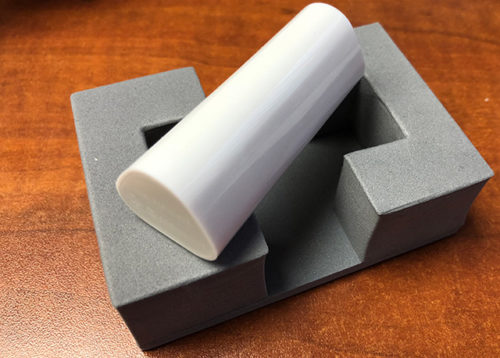 (Courtesy of Visionisto)
In 2015, Google Beacons launched to help businesses gain visibility with customers as well as account for more accurate in-store traffic. The beacons are small white devices that are mounted in central locations of businesses and built using Eddystone Bluetooth technology in order to create signals to devices within its proximity. Although the device is primarily for businesses with physical locations to help track store visits, some businesses with general service areas could also receive a beacon.
Is My Business Eligible to Receive a Beacon?
Businesses may receive the beacon if they have a Google Ads account with location extensions in place. Additionally, they must meet the requirements established by Google to be considered for the device. 
The official way to acquire a beacon is to request one, but Google––in an effort named Project Beacon launched in 2018––also began sending them to eligible businesses at random. If your business is eligible for a beacon but hasn't received one, try reaching out to your Google representative.
Are There Privacy or Security Concerns?
If it seems invasive or unsecure for Bluetooth technology to send notifications to personal mobile devices, know that neither beacons nor business owners cannot access personal data from your smartphone or tablet. Rather, it is only used to find the location of the device when its location services are active. Google protects the privacy of users and does not allow for the collection of data. Therefore, businesses are not able to identify any user; all data collected from the beacons are anonymous. 
As a customer, you may opt-out of participating in the gathering of this data if you wish: Simply find the location services settings on your mobile device and turn it off. (Note that doing so may hinder the functionality of other apps or services you use on your smartphone.)
What Are the Benefits of a Beacon?
Insights on Foot Traffic
Another great aspect of the beacon is its ability to collect information on store visits, such as times when the business receives the most in-store traffic. This feeds into features like popular times and visit duration, which highlights both how busy a location is on particular days and times, as well as the average amount of time spent there.
New and existing customers benefit from this type of content by having more information about the business so they can better plan their visit. It also enhances the business's Google My Business (GMB) listing when searched, with insights on visitors' regular behavior and even a live look at foot traffic: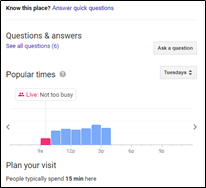 Aside from the data gathered by the beacon, individual customers also support a location's GMB visibility and transparency by adding photos of the business and writing a review. This can be done by locating "Write a review" or "Add a photo" under the business listing information. This customer interaction gives prospective patrons a more personalized sneak peek. 
Tracking and Measuring Campaign Success
In addition to beacon data enhancing GMB listings, store visit conversions can be tracked from paid campaigns. Based on your business's eligibility and meeting the necessary requirements by Google, you can receive more insightful data into how certain campaigns and keywords are contributing to more store visits. Google Ads collects stats on store visits using previous and current data for customers who view or click an ad then visit the location. All data collected is anonymous and cannot be traced to any customers interacting with the ad(s). 
How Do I Install My Beacon Device?
If you are expecting to receive a beacon device, getting it up and running requires only a few simple steps. 
The beacon will arrive in a small box from Google. Beacons should already be powered by a battery within the device. 
Decide on a place for it, ideally in a central, open area of your store. When you have found a nearby wall or pillar, mount the beacon by removing the adhesive strip on the device. 
The final step is to install the device with Google. Activation time varies from business to business, but it is expected for results to appear within the first few weeks. 
If your organization is not interested in the beacon, it can be returned to Google with the address on the box. 
Lift Your Local Listings Capabilities 
Local listings for businesses are now capable of providing more information than ever before––and with greater insights into their locations––to Google users. Electing to use the Google beacon can boost local search engine results by increasing your visibility and more accurately tracking customer visits. 
Go Local Interactive has the marketing and SEO experts you need to help manage your local listings, paid search efforts, and more. Reach out to Go Local today to see how we can strengthen engagement and trust with your customers!